Your Guide to International and U.S. Airline Pet Shipping Policies
Published on: January 22, 2020 | Author: Starwood Pet Travel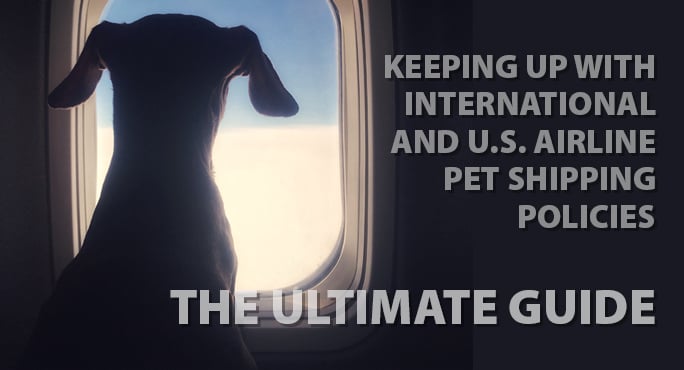 This comprehensive guide contains the most current information available, but it is titled "Keeping Up" for a reason – things change in the world and in the world of pet travel. We will update this guide periodically as airlines change their policies or if key information changes regarding paperwork, vaccinations, service animals, crates, etc., found in the following chapters.
We recommend that you bookmark this guide and check back occasionally if there is a chance you will be traveling with your pets.
If you hoped you would find a simple checklist of all airline pet policies – everything you need to know in one handy place – you will be disappointed. Unfortunately, understanding airline pet policies is not that simple. The only way to know what is allowed (or not) by the carrier you're considering is to read their website and/or call them to ask questions. It's often best to do both, to be sure you're getting the most current, correct information.
Chapter 1: International vs. Domestic Airline Travel with Pets
The single most important thing you need to know is that every airline has its own rules. Those rules can dictate which types and even breeds of pets are allowed, where on the plane they are allowed to ride, when they can travel, what paperwork they will require, and more. Careful research is a must – if you can't find an answer on your own, contact the airline and ask. As noted above, it's also a good idea to verify the information you find or are given. Things can change, and mistakenly relying on out-of-date information will throw your pet's travel plans into a tailspin.
While every foreign country has its own set of requirements for pet import, some airlines also have documentation requirements for pets in transit. Research both to be sure you haven't overlooked something. Every detail is critical. If you don't follow the rules exactly, all of them, your pet could be denied boarding at his point of departure or turned away on arrival at his destination. No devoted pet parent wants that!
Note that pets traveling only domestically (state to state within the US) should still carry current health and rabies certificates, just in case the airline asks to see them. The exception is Hawaii. Hawaii may be a state, but it is treated as a separate country when it comes to paperwork due to overriding rabies concerns. Regardless which airline you choose, if your pet is headed to Hawaii you must meet the state's documentation requirements and plan for quarantine.
Advance reservations are a must when booking pet travel. The earlier, the better, because all airlines limit the number of pets they will accept in different parts of the plane and on different flights. If you're flying Qantas, you'll need to make your pet's reservation before you can make your own.
You will find lists of international and domestic airlines that accept pets in Chapters 10 and 11 below. If you already have a specific airline in mind, feel free to choose an article from the list to review the specific regulations that apply to your airline. If you are unsure about options, reviewing multiple airline policies will help you pick the most appropriate carrier for your beloved companion.
But there's a lot more to pet travel than choosing an airline and making reservations. Below you can read about important general guidelines that apply to all or many airlines. Also, take a few minutes to read our article that explains what to look for in an airline pet policy.
Chapter 2: Paperwork
Every pet who travels need documentation, just as humans need a passport. What your pet will need depends on where you're going and where you live now. In some cases, paperwork will be minimal – perhaps just an international health certificate and verification of current rabies vaccination. However, most countries require more. You may need an import permit, and your pet's paperwork may need to be officially endorsed by the USDA veterinarian in your state (if you're in the US). Many countries require multiple immunizations, tests, and/or treatments.
Start early! This process can take as long as six month to complete. Each step has to be completed within a specific timeframe, which can get a little tricky, so it is not something you should put off. This article will help you understand the general paperwork process.
Chapter 3: Vaccinations
If your pet is in good health and up-to-date on his vaccinations and flea/tick medication, he may not need any additional immunizations or treatments to travel overseas. Then again, he may need several tests or vaccinations for diseases that are no concern where you now live. (Even if not, this is a good question to discuss with your new local vet once you have relocated.)
One thing every country around the world requires is a microchip. This number is your pet's unique identifier, so it must be implanted before any health-related vaccinations or paperwork can be completed.
Chapter 4: Service Animals
All airlines make special accommodations for verified service animals, but again, the rules differ from one carrier to another. Some airlines also make special accommodations to transport pets of certain military or State Department families.
Most airlines now differentiate between trained/certified service animals and emotional or psychological support animals, and they have detailed rules that apply to either category. These rules vary widely, so as with everything else, it is critical to learn the details in advance.
Chapter 5: Crates
Your pet's travel crate is his home-away-from-home while he is in transit. Choosing the proper style and size carrier will be one of your most important decisions when planning your furry friend's overseas travel.
Pets traveling in-cabin must be in a carrier that meets airline criteria and fits under the seat in front of you. It has to be roomy enough for him to comfortably stand up and lie down. That sounds simple, but bear in mind that the dimensions of under-seat space can vary considerably from one airline (or type of aircraft) to another.
Pets traveling as checked baggage or cargo must be in a kennel that meets guidelines set by the U.S. Department of Agriculture and the International Air Transport Association. The requirements are very detailed, all coming together to ensure your cat or dog remains safe, secure and as comfortable as possible during their journey. You can facilitate that by crate helping your pet acclimate to his travel kennel well in advance of his departure.
Chapter 6: Where pets can ride
Many airlines allow dogs and cats to ride with you in the cabin, as checked baggage or as cargo. Some airlines allow two out of three, and some – Southwest, for example – only offer cargo service for pets. The more types of aircraft the airline flies, the more convoluted the rules. That's because smaller planes have smaller holds. Either there isn't enough room for both luggage and pets, or larger dog kennels literally do not fit. (Unlike your suitcase, your pet has to remain upright at all times!)
For in-cabin travel, United and a few others have different policies depending on what class of ticket you purchase. KLM has different rules depending on where you're traveling. (Many airlines that allow in-cabin travel domestically do not allow it for international trips.) Every airline requires pets to remain in their carrier during takeoff, landing, and during the flight, but your little guy may walk with you on leash in the airport.
This brings up a critical research note. If your pet is traveling in-cabin, you are responsible for his potty breaks as well as his food and water. Because pet travel has increased so dramatically, most airports now have designated pet relief areas. You don't want to be wandering the concourses looking for this location toting a pet that has to go. Before you leave, check the website for every airport where you will be on the ground, to note where the pet relief areas are.
Chapter 7: Breed restrictions
Virtually every airline refuses to accept the most dangerous dog breeds, regardless of what your destination country may allow. Which breeds make their list differs by airline, but pit bulls are almost never welcome. Designated dangerous breeds are excluded because they can pose a safety hazard for airline personnel as well as themselves.
Brachycephalic (flat-faced) dogs and cats also face increasing restrictions on most airlines. This can get really complicated for you as a pet parent, but the goal is to ensure your short-snouted pooch or kitty can breathe comfortably at altitude. We can all agree that this is a good thing! The result, though, is that there are a lot of factors at play, from plane size to pet size. And every airline uses a somewhat different list of dogs and cats they consider "brachycephalic."
If your pet fits this category, it is critical to discuss the situation with your vet as well as the airline. Here are some additional resources that will help you consider whether air travel is appropriate for your snub-nosed cutie:
Chapter 8: Weather restrictions
All airlines have some type of weather embargoes in place that prevent pets from flying when it's too hot or too cold. The purpose is to protect animals who may have to spend time waiting on the tarmac, where they are exposed to the weather. Pet-friendly airlines always work to shorten this by loading animals last and unloading them first, but sometimes a wait is unavoidable.
These rules apply to any location along your itinerary. So if your pet is traveling from, to or transiting through an airport experiencing extreme weather conditions, flight plans could unravel. Airlines make day-by-day decisions about this in summer and winter, based on daily weather predictions.
Almost all airlines use 85o F as the heat threshold. However, some airlines (Alaska is one example) impose stricter limitations or even total pet embargoes when temperatures are very hot, at least to/from certain destinations. Confirmation of availability is critical before making reservations.
The definition of "too cold" varies from one carrier to another. Most use 45o F as the cut-off, but Delta allows pets to travel when it's as cold as 20o F. A few airlines make exceptions for dogs such as huskies or malamutes who are acclimated to extreme cold, but you'll need a letter from your vet.
Chapter 9: Sedation
Although a few airlines will allow sedated pets with your veterinarian's permission, the American Veterinary Medical Association strongly recommends against using any tranquilizers on animals that will be airborne. Reputable professional pet shippers do not accept tranquilized animals.
Current best practices no longer support sedation because the dangers outweigh the potential benefits. Cats and dogs on drugs are not merely "relaxed," they become physically and mentally disoriented. That can increase their anxiety instead of relieving it, and it can put them at risk of injury because they cannot maintain balance.
If you're concerned about your pet, talk with your vet about non-drug calming options such as lavender oil or pheromone sprays.
Chapter 10: International Airlines
Chapter 11: Domestic Airlines
Chapter 12: What's the best policy?
Contact a professional pet transport company as soon as you know your pet will need to travel by air. Whether you're headed from San Francisco to Atlanta or Chicago to Singapore, the pros knows all about airline policies. They know which carriers are truly pet-friendly, and they know which flights will get your pup or feline to their destination efficiently, to minimize stress (yours and theirs).
Knowing the rules is important, but confidence and peace of mind trump everything when it comes to air travel for your beloved four-legged family.
Starwood Animal Transport has rebranded to Starwood Pet Travel. We are still the same great company with the best team, just now with a slightly different name.
Subscribe to the Blog
Enjoy our content? Get them sent to your inbox!
Subscribe Now!
Related Posts
Air France Pet Policy
Air France welcomes some pets to travel in the passenger cabin, in the hold (what you might call "checked baggage"), or as ...
Read More