Southwest Airlines Pet Policy
Published on: October 15, 2015 | Author: Starwood Pet Travel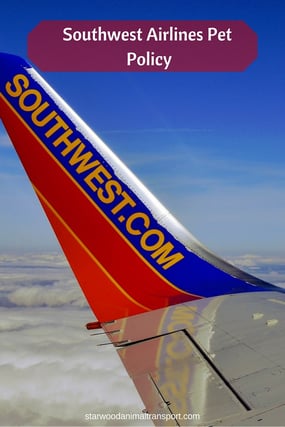 Like many airlines, Southwest accepts pets along with their humans. But while most airlines allow pets to fly as cargo, and some allow you to check pets as baggage, Southwest does not. Pets must ride in the cabin – only dogs and cats and only on domestic routes. Pets may not travel in-cabin on any Southwest Airlines international flight, even if that's only part of your itinerary.
However, if you're traveling with a trained assistance animal or emotional support animal, Southwest allows them to ride with you on international flights as well. Note that Jamaica has country-specific rules that make it impossible for Southwest to allow even service animals on flights to or from this country. Emotional assistance animals must have current documentation to that effect, which you will be asked to show.
As with all airlines, pets traveling in-cabin on Southwest ride underneath the seat in front of you. For obvious reasons, then, Southwest will not work for you unless your pet is a cat or your dog is diminutive. Aside from small size, Southwest says your pet must be "harmless, not disruptive, odorless and require no attention during flight."
Although Southwest says your pet must be vaccinated, they do not require you to produce a health certificate or other paperwork from your vet.
Making flight arrangements
Pets cannot travel alone. They must be accompanied, by an adult, not an unaccompanied minor. You may bring one pet carrier on board, though it may contain two dogs or two cats – if they are small enough to stand, lie down and move around comfortably within their carrier. They must be at least 8 weeks old.
Your pet's carrier will count as either your personal item or your carry-on – you cannot board with three items. Normally you can sit anywhere you want on Southwest, but with pet in tow you cannot sit behind the bulkhead or in an exit row. Your pup or kitty must stay in the carrier the entire time you're in the gate area or on the plane.
Southwest Airlines requires advance reservations for pets, but you don't have to pay until you're ready to depart. The current pet fare is $95 each way per pet carrier, but you should double-check this when you book because pricing can change. Spaces are allotted on a first-come-first-served basis. Under normal circumstances, Southwest allows a total of 6 pet carriers on any given flight.
Approved pet carriers
Southwest sells branded pet carriers which you can purchase online or at any of their ticket counters. Whatever carrier you choose, it must be:
Specifically designed to tote a pet, whether it's hard-sided or soft.
Well-ventilated and leak-proof.
Not larger than 18.5" long x 8.5" high x 13.5" wide, because it has to fit under the seat in front of you. (The Southwest-logoed carrier is 17" long x 10.5" high x 10" wide.)
Checking in for your flight
You can check in using any of Southwest's options – online, curbside, at a kiosk or the ticket counter. However, you'll have to visit the ticket counter anyway, to check in your pet and pay their fare.
Pets destined for in-cabin travel must go through security, just as you do. You will remove your dog or cat from her carrier and hold her in your arms as you pass through the screening device. Meanwhile, her carrier will be x-rayed with your other belongings. TSA and airline employees also have the right to search the carrier.
Be sure to plan ahead for your pet's personal needs, especially noting where each airport's pet relief area is located in relation to your gate. Southwest Airlines stresses the fact that they will not hold a plane if you're running late because little Princess had to do her thing. They will fly away without you.
Starwood Animal Transport has rebranded to Starwood Pet Travel. We are still the same great company with the best team, just now with a slightly different name.
Subscribe to the Blog
Enjoy our content? Get them sent to your inbox!
Subscribe Now!
Related Posts
Why You Should Use A Professional Pet Shipper When Moving To The UK
Are you moving with your pet to the United Kingdom? The pet import requirements are very strict, so it's definitely ...
Read More