Paperwork Required for Moving Overseas with a Flat-Faced Cat
Published on: October 4, 2019 | Author: Starwood Pet Travel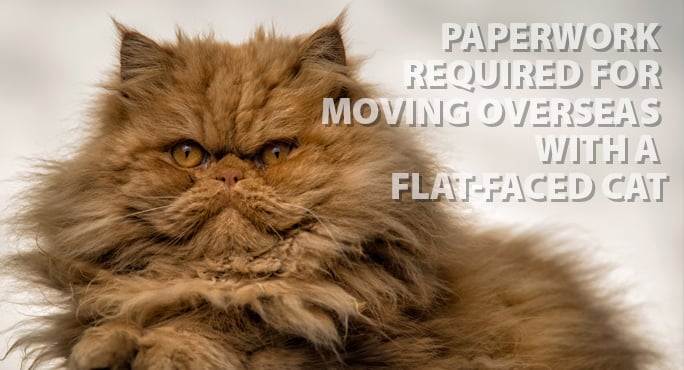 No matter what kind of pet you have or where you're moving overseas, the will be paperwork. Probably lots of it. Foreign countries naturally want to be sure your pet is healthy – not bringing pests or disease that could infect local populations of pets or wildlife. So, you need paperwork to confirm your cat is, indeed, a good candidate for immigration. However, things are more complex for flat-faced cats and dogs.
The official documentation you'll need for your flat-faced cat is essentially the same as for any other cat traveling overseas. However, every country has different requirements, so you'll need to find out what applies to your new country. In general, you may be required to obtain:
International health certificate. If you're moving from the US, most countries accept USDA's Form 7001, although the European Union and some individual countries have their own form for your vet to fill out. To obtain this certificate you will need to make more than one trip to the vet, and your cat may need to have new or booster vaccinations, a blood test, and/or treatment for certain internal or external pests. Your kitty will need a microchip, perhaps a new one if hers doesn't meet ISO standards.

Government endorsement of the health certificate. You may need to have your pet's paperwork "notarized" by the USDA vet in your state, even if your own veterinarian is accredited by the USDA.

Import permit. Some countries require this, and some do not.
This may sound pretty straight-forward, but it rarely is. You might get lucky, moving to a country that requires only a health certificate and proof of current rabies vaccination. If not, assembling the paperwork you'll need can be complicated because each document, vaccination, etc., has its own timeframe. You'll need a calendar, and you may need to budget months to get everything done if a blood test is involved.
Get started on this right away! But, before you do there are special factors you'll want to consider before deciding IF your kitty should make the trip.
It takes more than paperwork to relocate your cat overseas
These days, moving with a brachycephalic cat – or dog – is a lot trickier than it used to be. Airlines are a lot more conscious of the ways in which air travel can put additional stress on flat-faced pets, increasing health and safety risks. Some no longer accept snub-nosed dogs and cats. So, along with learning what paperwork is required by your destination country, you need to find an airline that will accept your kitty, then learn their rules that apply to her.
One rule all airlines agree on is the need for a travel crate that meets the specifications of the International Air Transport Association (IATA). Proper size is based on pet size, but we strongly recommend choosing the next-largest crate for flat-faced cats and dogs, for added ventilation in transit.
Is your kitty healthy enough to fly?
If your airline does accept snub-nosed cats for transport, there are still other factors to consider:
Flat-faced dogs and cats often suffer from a range of health problems related to their abnormal facial structure.

Your cat may have a chronic health challenge that is not related to her brachycephaly (such as diabetes or heart disease) that could be worsened by the stress of travel.

Is she overweight?

Is she getting up there in years?
It is essential that you talk to your vet about your girl's overall fitness to fly.
The easiest way to make sure you're getting all the information you need – information that is reliably accurate and up-to-date – is to ask our Starwood team for help. Rules and conditions can change, but we are always informed because animal transport is our business. We're pet parents, too, so we're as committed to your cat's health and safety as if she were part of our own family.
You might need more paperwork after you arrive
Getting there is one thing. But you'll also need to know what is required of pet owners in your new home. Many countries – or specific cities or regions within the country – limit where certain type of pets can live. Or have rules about whether pet cats can roam around outdoors on their own or must be kept indoors at all times. Your cat may need to be officially registered and/or licensed, just like a dog.
Researching the local requirements and petiquette customs ahead of time will make it easier for both you and your furry feline to settle in quickly and happily to your new home.
Starwood Animal Transport has rebranded to Starwood Pet Travel. We are still the same great company with the best team, just now with a slightly different name.
Subscribe to the Blog
Enjoy our content? Get them sent to your inbox!
Subscribe Now!
Related Posts
Cathay Pacific Pet Policy
Here's what you need to know about pet travel on Cathay Pacific. You can find additional details on the airline's website, or ...
Read More