What Vaccinations Does My Pet Need Before An International Move?
Published on: February 1, 2023 | Author: Starwood Pet Travel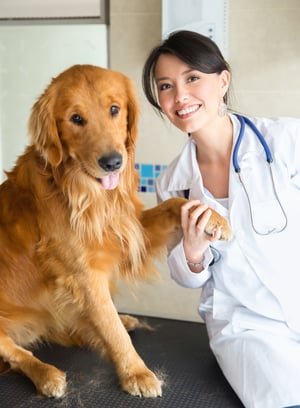 One of the most time-consuming and often frustrating aspects of organizing an international move for your pet is the paperwork. The US has export rules, though they're minimal, every airline has rules and every destination country has rules. It's critical to understand and follow all the rules that apply to your pets, to ensure their entry into your new country goes smoothly.
All the documentation serves the same basic purpose – to validate your pet's health. Nobody wants to transport an animal that might be ill, and no country wants to allow entry for animals that could bring contagious diseases or parasites. Therefore, proof of relevant vaccinations is a must.
What vaccinations are needed?
Nearly every destination requires a rabies vaccination. Many countries require your pet's rabies vaccination to be at least 30 days old but less than one year old at the time of travel. That means if your dog or cat received a 3-year vaccination more than a year ago they will need a booster to meet the timing requirement. You'll have to provide a signed rabies certificate.
Cats and/or dogs may need additional vaccinations, too, depending on the destination country. Additionally, if your pet will be boarding before or after their travels, they will require other vaccinations.
We recommend making sure your pets are up to date with the following:
Dog Vaccinations:
Rabies
DHPP (Distemper, Hepatitis, Parainfluenza, Parvovirus)
Bordetella (Kennel Cough)
Leptospirosis
CIV (Canine Influenza Virus) - required for some boarding facilities
Cat Vaccinations:
FVRCP (Feline Viral Rhinotracheitis, Calicivirus, Panleukopenia)
FeLV (Feline Leukemia Virus) - required for some boarding facilities
The vet must follow the vaccine manufacturer's guidelines regarding revaccination. In general, a booster vaccine is required 2-4 weeks after the first to be considered fully vaccinated. Following the first booster, the vaccinations are then valid for 1-3 years (depending on the vaccine).
Take a look at our Country Pet Travel Guides for country-specific vaccination information.
You need more than vaccinations for an international move.
Most countries require an ISO-compatible (15-digit) microchip. Again depending on your destination country, you may need:
A USDA-endorsed international health certificate
A country-specific import permit
A rabies titer blood test
Other blood tests
Internal & external parasite treatments
Other treatments
Plan ahead for your pet's health and safety.
It's a good idea to research before you move (or right away after you arrive) whether there are potential local problems your pet may encounter that cannot be addressed by vaccines.
It's easy to overlook the fact that indigenous insects, rodents, reptiles, etc. might present problems for your kitty or pup that they wouldn't have to deal with at home. It pays to be aware.
Start the paperwork process early.
It can take weeks or months to meet all of the pet import requirements for your destination country. First, confirm with your international pet transport company what documentation you will need and the specific timing for each item. They can provide you with guidance along the way, which can save you countless hours of online research, phone calls, and vet office visits.
Please be aware that this is not the full list of requirements to move your pet and having a professional pet transport company in your corner will help you cover all the basics.
Starwood Animal Transport has rebranded to Starwood Pet Travel. We are still the same great company with the best team, just now with a slightly different name.
Subscribe to the Blog
Enjoy our content? Get them sent to your inbox!
Subscribe Now!
Related Posts
How Can Pets Be Shipped?
Zoos and other organizations ship all manner of living creatures around the world on a regular basis. For families, though, ...
Read More