What to Look for in an Airline Pet Policy
Published on: December 10, 2018 | Author: Starwood Pet Travel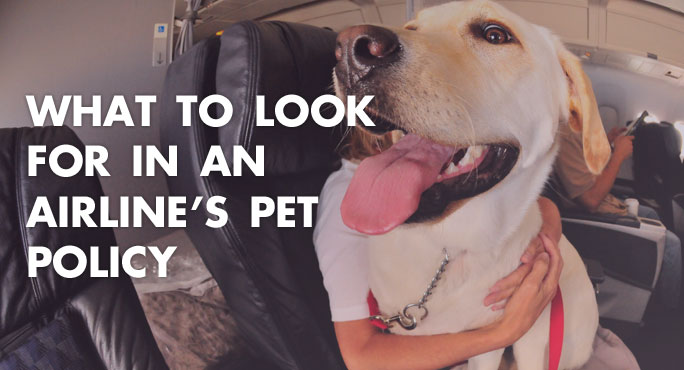 Who knew you might have to become an expert on airline pet policies? Pet travel, by air as well as car, has increased dramatically in recent years. Dogs, cats, and other animals are acknowledged members of the family, so of course we want them to accompany us when we're on the go. Last year, more than two million pets took flight for travel, and that's only within the US.
But leisure travel is one thing. If you're planning a relocation, across the country or half-way around the world, you definitely want your furry family member to move with you, if at all possible. That will require considerable planning, but of course your Dear One is well worth it. One major decision you'll have to make is which airline to choose for your pet's journey.
Airline pet policies differ from one carrier to another. And it can be difficult to navigate the maze of details. We've put together this guide to help you understand what information you'll need in order to choose an airline and arrange air travel for your pet.
Not only does every airline have somewhat different rules, there is no standard format they use to communicate airline pet policies. That makes it even more important to know the right questions to ask, because the facts you need may not be immediately apparent.
Whose website is most helpful? That depends on your needs as well as your personal preferences. For one thing, not all airlines are the same. Southwest, for example, flies primarily to destinations within the US, and they only allow pets in the cabin. So they have less information to communicate than, say, KLM, which is a major international carrier. To get people and pets to destinations worldwide, KLM partners with other airlines plus an air cargo carrier. That makes their website more complex.
The best examples are airline websites where information is divided into "bite size" categories with clear headings. That makes details easy to find, not buried in paragraph four of some lengthy section or accessible only after clicking here, there, and everywhere. KLM makes it as easy as possible, providing a table of contents right up front. You can click on a topic to go directly there, or scroll down through all the information.
To consolidate space, Lufthansa lists content topics with a drop-down menu for each one, so you can go directly to the information you want. The drop-downs provide a summary of each policy with a link to more detailed information, if you need it.
The bottom line, though, is that you'll have to deal with each airline's website as it is, whether that's easy or not so much. As you read through this article, make a list of the questions you need answered, so you don't overlook anything, no matter how each airline's site is arranged. The list will also help you identify what's not there, so you can ask about those details later. There are a lot of details when it comes to pet travel.
The First Question to Ask
Which airline(s) serve my departure and destination cities? These will be your only options, for obvious reasons. Depending on your destination, there may be only one.
Can You Do This Yourself?
The short answer is generally yes. However, while it is easy to book human passengers for air travel, pets are a different story. The process is far more complex and time-consuming. Unless you're an old hand at it, it's hard to know what questions to ask or potential barriers to organizing your pet's move. You have to get everything right, and booking their flight is just one part of the process.
Some destination countries require you to use a professional pet transporter such as Starwood rather than handling the arrangements yourself. Both Qantas and British Airways require you to use a commercial pet shipper if your pet is flying internationally. Hawaiian Airlines (link to article) also has special rules for pets coming into the state of Hawaii from elsewhere.
(Don't be offended if you aren't allowed to DIY your pet's travel arrangements. This rule often relates to the fact that pets must go directly into quarantine upon arrival. A few countries, and Hawaii, are rabies-free and they require a quarantine period to confirm incoming animals are as healthy as their paperwork indicates. Some airlines also prefer to work with commercial companies because they know all the rules and won't make a mistake. Everyone's goal is to give your beloved furry companion the best possible, safest experience.)
What Animals Are Allowed (or Not)?
Airlines differ when it comes to what animals they consider pets, service animals, and/or emotional/support animals. And they have different rules for each category. Some airlines, such as Lufthansa, also have special requirements for dogs they consider dangerous.
Snub-nosed breeds of dogs and cats are also treated differently by an increasing number of airlines. A few carriers no longer accept them. Some don't refuse, but strongly recommend you not allow your brachycephalic pooch or kitty to fly – at least as cargo. These rules are based on the fact that "brachys" are naturally susceptible to breathing problems, which can be exacerbated by anxiety. This is something you should discuss with your veterinarian, but you still need to know the airline's rules.
Where Can My Pet Ride?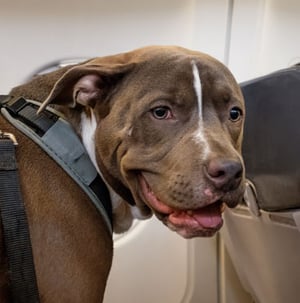 Potential options include in-cabin (under the seat in front of you), as checked baggage, or as cargo. Some airlines allow all three under certain circumstances, some allow just one option. Look for destination exclusions or other special rules.
Can pets fly to ALL of the airline's destinations? Look for location restrictions within the cabin – pets not allowed in business class, for example – as well as limitations regarding certain aircraft, or flights, or times of year. Alaska, for example, embargoes pets during high-traffic holiday periods.
There are also factors that you cannot control but which could affect or disrupt your pet's travel plans. One of the most common is weather embargoes. All airlines cut off pet travel when it's too hot or too cold, and as we all know, weather is not always predictable in advance. Ask about this because the details can differ from one carrier to another.
Is your pet flying to a country that is part of the European Union, or between EU countries? If so, the EU Pet Scheme comes into play, and you'll need to learn how that affects your pet. That's why British Airways explains this on their website but many other airlines do not.
What If My Pet Has to Change Planes?
Who is responsible for ensuring your pet gets from one plane to another, and how will this work? What if there is a delay? Many airlines code-share – that is, they partner with affiliated airlines to offer joint routes. If your pet's itinerary will include more than one carrier, will you have to contact each one separately? Who is responsible for coordinating all that once your pet is in transit (assuming you aren't carrying her on board)?
How to Book Travel
Once you've chosen an airline, how do you secure your pet's reservation? Look for information on how and when you should check in. If your pet is riding with you in the cabin or traveling as checked baggage, you will all check in at the passenger terminal. If your pet is traveling as cargo, you can expect an earlier check-in for her, at an entirely different terminal.
Required Documents
Every country sets their own pet import rules. Some airlines barely mention this critical detail, whereas others make special note of it because your pet's "passport" is essential. If you are moving to a foreign country, your pet will need whatever health exams, vaccinations, tests, and official paperwork that country requires. This can become an onerous research project, entirely separate from reviewing airline pet policies.
If you're relocating to the United States from another country, the US Department of Agriculture is the agency that sets the rules for importing pets. You can check their Animal and Plant Health Inspection Service information page here for details.
Does the airline require any other paperwork? If your pet is traveling only within the US, she won't need the international documents, but the airline may require a health and/or rabies certificate anyway. Be sure to ask, because pets without proper paperwork do not fly.
Travel crates

Airlines generally don't provide travel crates, but every pet who flies must ride in an approved carrier. You have some leeway if your cat or tiny dog will ride in-cabin with you. However, to travel as checked baggage (if allowed) or in cargo, pets must be in a crate Link to travel crates that meets International Air Transportat
ion Association (IATA) specifications. You must purchase the correct size c
rate.
On the airline's website, look for the maximum dimensions for an under-seat carrier. Aircraft can be surprisingly different. A soft-sided carrier is more accommodating in every way. If you have a large dog, your concern is the size or availability of the cargo hold because if her crate won't fit – a potential issue with smaller
planes -- her itinerary will have to be adjusted.
All airlines address the crate issue within their pet travel policies, some in greater detail than others. Several, including Alaska and United, go further by offering tips on how to help your pet become comfortable with her new home away from home. This is a big deal, because crate familiarity is a major factor in reducing anxiety in transit.
Cost
United (ink to United article), spells it out in a separate section. Delta includ
es a chart that shows rates by destination. Most airlines require you to ask about pricing. Unless you're planning a nonstop cross-country flight, every pet's itinerary is unique. Numerous variables such as pet type, size, number of flights, destination, potential overnight layover, etc. can affect what the airline will charge you.
Perks
A few airlines go the extra mile, so to speak, for pet parents. For example, Alaska has partnered with Banfield Pet Hospitals that are located inside PetSmart stores, to offer free pet health exams and a discount on preparing the health certificate pets need for international travel. And Lufthansa welcomes pets to their airport passenger lounges (as long as you don't let them loose!) Wine for you, water only for Fido.
Helpful Hints about Pet Travel
One thing airlines have learned in recent years is that pets may travel in the cargo hold, but their owners do NOT consider them "cargo." Pets are revered family members, and pet parents are sure to worry about what kind of travel experience their precious companions will have. Therefore, beyond information you need to book an itinerary for your animal, several airlines provide tips to smooth the way.
United does a nice job of explaining what you'll need to do and what to expect, with sections on required documents, day-of preparations, and the process you'll undergo at the airport on travel day. They have also assembled a page of frequently asked questions. KLM offers a downloadable checklist of tips. You can also consult our Starwood blog to find an entire series of articles describing step by step how to prepare your pet for international travel.
"Why Us"
Every airline wants your business. Ultimately, you'll choose based on your level of trust and confidence that they will treat your pet like a member of their own family. Thanks to the internet and social media, you can verify their claims about that, at least to some extent. United goes so far as to offer a PetSafe Performance Guarantee. Other airlines? You'll have to ask.
Contact Information
You're going to have more questions. Does the airline prominently display their phone number
so it's easy to get in touch with them? Do they have a dedicated team of agents responsible for pet travel? When are agents available?
On KLM's site, there is a link at the end of each section where you can either click to make a reservation or click to a link with more detailed information (such as how to choose the right travel crate for your pet). United provides a form to submit questions to their pet travel agents, so you can converse with them online instead of having to pick up the phone.

Always Confirm the Details
No matter how clear the airline pet policies appear to be on the website, we recommend you always talk to them in person or via phone to confirm. That way you won't discover you have misinterpreted something or made an innocent, but unfortunately wrong, assumption.
Conclusion
Every family's move is different, in terms of destination, time of year, and type of pet(s) involved. In addition, airline pet policies are always subject to change based on current conditions, etc. For instance, American Airlines recently announced they will no longer accept Chow Chows as checked baggage. They posted a note about that right at the top of their pet travel web page, but what if they had not? Or what if something changes you cannot so easily learn about?
That's why you want to work with a pro that stays up to date on everything. Even if the airline you choose does not require use of a professional pet transport company, it is really the only way you can be absolutely certain that no detail has been overlooked or misconstrued, and that all is well with your girl's journey.
We hope this guide has helped you make a list of what to look for as you consider different airlines for your pet's move. We're pretty sure you'll have more questions, though. We would expect nothing less from dedicated, loving pet parents. We're pet parents, too, so we understand. We're always ready to answer questions or point you in the right direction. And of course we can lift the entire burden off your shoulders, literally with door-to-door service.
Starwood Animal Transport has rebranded to Starwood Pet Travel. We are still the same great company with the best team, just now with a slightly different name.
Subscribe to the Blog
Enjoy our content? Get them sent to your inbox!
Subscribe Now!
Related Posts
Hotels and Airlines that Cater to Pets
Everyone who travels loves hotels that go out of their way to be accommodating. It's the little extras that make us feel at ...
Read More