American Airlines Pet Policy
Published on: March 25, 2022 | Author: Starwood Pet Travel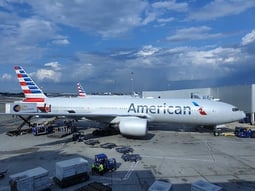 American Airlines has been transporting animals for more than 50 years, so even if your pet is flying for the first time, they will be in experienced hands. American has a help desk for pet owners, which is available around the clock.
While some pet travel rules are the same among all air carriers, details can vary significantly from one to the next. Even within a given airline, policies can differ from one route or aircraft to another.
Where can your pet ride?
American currently allows cats and dogs to travel in-cabin, as checked baggage (only for US Military & US State Department Foreign Service personnel) or as manifest cargo.
In-cabin
American allows fully-trained service dogs to fly in-cabin at no charge if they meet the requirements.
American will allow one pet & kennel as your carry-on bag for an additional fee and they must stay inside their kennel under the seat in front of you for the duration of the flight. Hard-sided kennels cannot exceed 19 x 13 x 9 inches (mainline flights) or 16 x 12 x 8 inches (regional flights). Soft-sided kennels cannot exceed 18 x 11 x 11 inches.
There are additional restrictions depending on which seat you are sitting in and which aircraft so please review those with the reservations desk.
Checked pets (checked baggage)
American will only allow pets to travel as checked baggage if you are active-duty U.S. military or U.S. State Department Foreign Service personnel traveling on official orders.
You can take up to two pets with you but capacity is limited on a first-come basis. You must contact Reservations at least 48 hours prior to travel and check in at the ticket counter with your official orders. It's recommended to allow extra time for check-in (2-4 hours prior to departure). Your pet will still need to meet all required health and document criteria for your destination.
All pets traveling as checked baggage or cargo must have an IATA-compliant travel kennel.
Checked pets cannot travel on certain aircrafts, so you will need to check when you make your reservation. Additionally, American will not accept snub-nosed (brachycephalic) breeds including Burmese, Persian, Himalayan or Exotic Shorthair cats. They will also not accept the following dog breeds: Affenpinscher, American Staffordshire Terrier, Boston Terrier, Boxer (all breeds), Brussels Griffon, Bulldog (all breeds), Cane Corso, Chow Chow, Dogue De Bordeaux, English Toy Spaniel, Japanese Chin, Lhasa Apso, Mastiff (all breeds), Pekingese, Pit Bull, Presa Canario, Pug (all breeds), Shar Pei, Shih Tzu, Staffordshire Bull Terrier or Tibetan Spaniel.
Lastly, American will not transport pets as checked baggage if the current or forecasted temperature at any stage of travel will be above 85 degrees Fahrenheit or below 45 degrees Fahrenheit. Pets cannot travel to, through or from Phoenix, Tucson, Las Vegas or Palm Springs between May 1 and September 30 due to temperatures.
Manifest cargo
American's PetEmbark program allows pets to travel as cargo when they don't meet the requirements for in-cabin or checked baggage. Pets traveling as checked baggage or cargo travel in the same place beneath the plane in an area that is temperature-controlled, pressurized and oxygenated. This program has many of the same breed and temperature restrictions as listed above. Your pet must be over 8 weeks old and healthy to fly.
Starwood has partnered with American Airlines, so we are happy to assist you with a full door-to-door pet transport!
Starwood Animal Transport has rebranded to Starwood Pet Travel. We are still the same great company with the best team, just now with a slightly different name.
Subscribe to the Blog
Enjoy our content? Get them sent to your inbox!
Subscribe Now!
Related Posts
What to Look for in an Airline Pet Policy
Who knew you might have to become an expert on airline pet policies? Pet travel, by air as well as car, has increased ...
Read More