Paperwork Required for Moving Overseas with a Flat-Faced Dog
Published on: November 26, 2019 | Author: Starwood Pet Travel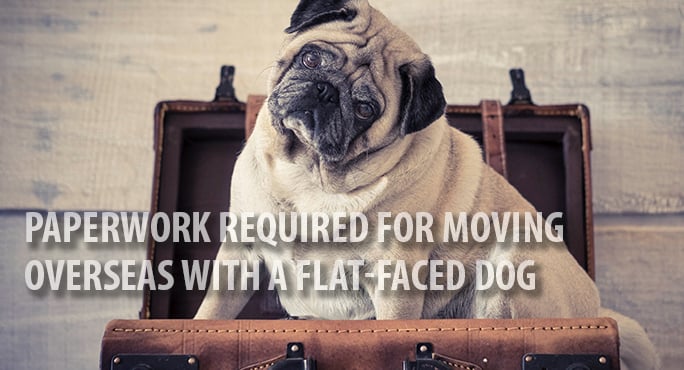 Every dog who hopes to move overseas with his family needs a passport. Not a little leatherette booklet like his humans use, but documentation nonetheless. In his case, your dog's paperwork is intended to prove his personal health as well as his identity. Some countries require fairly straight-forward paperwork, whereas others make the process more difficult because they are extra-cautious about pets they allow in.
Caution is good, but obtaining the paperwork your pooch will need can be daunting. And if he is a flat-faced breed, you can expect the complexity to increase, no matter your destination. Air travel for brachycephalic dogs can be a caution in itself.
Basic paperwork is the same, regardless of breed
Wherever you are headed, preparing your pup for his journey requires certain documents. These forms are the same whether he has a flat-face or a long snout. Since every country sets their own rules, you will need to research the requirements for your destination. These may include:
International health certificate. If you now live in the US, most countries will want you to use USDA's Form 7001. The European Union and a few non-EU countries have their own form for your vet to fill out. Obtaining your dog's health certificate will require more than one trip to the vet. In addition to an exam, your pup may need to get new or booster vaccinations, a blood test, and/or treatment for specific internal or external pests. But first, he will need a microchip – maybe a new one if she currently has a chip that does not meet ISO standards.
Government endorsement of the health certificate. Many countries require your dog's health certificate to be "certified" by your state's USDA State Veterinarian -- even if your own veterinarian is accredited by the USDA.
Import permit. Some countries require this, but some do not.
Obtaining paperwork is rarely simple
If you are lucky, you will be moving to a country with minimal documentation requirements – perhaps only a health certificate, microchip and proof of valid rabies immunization. But don't count on that. Each document you need, and any additional tests, vaccinations, etc., will have specific timelines associated with them. Blood tests can take months.
Creating a calendar will help, but the key to success is starting early. Before you get started on the paperwork, though, you'll need to think about whether or not your beloved companion should accompany you overseas.
Is your flat-faced dog air-worthy?
In the not-so-distant past, airlines didn't differentiate between brachycephalic and longer-snouted dogs. But they do now, due to increasing concerns about health and safety risks specific to snub-nosed pets. Now, there are airlines that will not accept flat-faced dogs and cats at all and many more that have instituted strict limitations about how and when these pets can fly. This means that you will need to confirm that your airline will allow your dog on board.
All airlines adhere to specifications set by the International Air Transport Association (IATA) for pet travel crates. Your dog's size would normally determine his proper crate size, but here at Starwood Animal Transport, we strongly recommend that you buy a crate that is one or two sizes larger, to ensure adequate ventilation for your pooch during his journey.
Is your precious pup healthy enough to fly?
Once you've figured out if your dog is eligible to fly on a particular airline, you'll want to consider other factors that might affect his overall fitness for air travel. For example:
Flat-faced dogs often have physical problems in addition to breathing difficulties due to their abnormal structural development. Does your guy suffer from gastrointestinal problems, dry eye, or neurological challenges?
Like any other dogs, flat-faced breeds can also suffer from chronic medical ailments such as heart disease or diabetes. These can exacerbate your dog's travel-related stress, thereby worsening his breathing problems. In some cases, his travel itinerary could also interfere with his medication schedule.
Is your dog overweight?
How old is he?
Let us help you breathe easier
Daunting as it may be to understand and acquire the paperwork needed to move your flat-faced dog overseas with the rest of your family, don't give up! Our Starwood Animal Transport team is up-to-date on all the latest requirements set forth by both air carriers and foreign countries. And as pet-lovers ourselves, we also know how concerned you are to have your dear guy travel safely as well as comfortably.
Starwood Animal Transport has rebranded to Starwood Pet Travel. We are still the same great company with the best team, just now with a slightly different name.
Subscribe to the Blog
Enjoy our content? Get them sent to your inbox!
Subscribe Now!
Related Posts
How to Find Pet Cafés in a New Country
When we think of pet travel, we usually envision moving with our pet across the country or to a foreign land. Naturally, ...
Read More