Medical Requirements for Moving Overseas With a Flat-Faced Dog
Published on: November 6, 2019 | Author: Starwood Pet Travel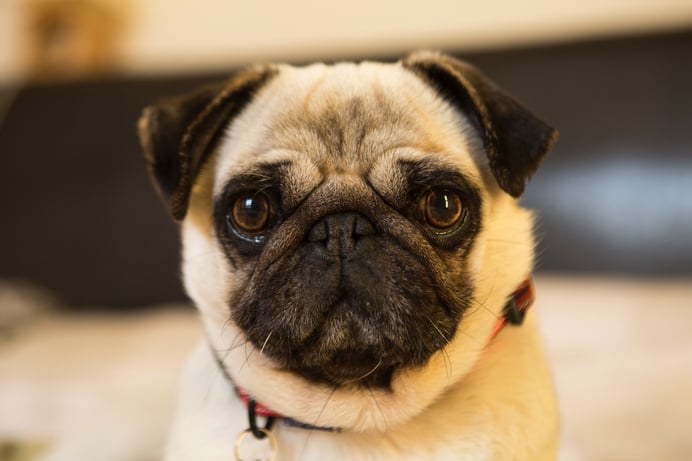 It is important to recognize that health certificates are not just a mere formality when it comes to pets traveling overseas. This is especially true for flat face (brachycephalic) dogs, as their medical conditions can greatly impact their ability to travel comfortably and safely. Regardless of your dog's specific breed, understanding the medical requirements for moving abroad with a flat-faced dog is crucial.
While you may refer to your furry friend as flat-faced, snub-nosed, or short-snouted, veterinarians categorize them as brachycephalic. These dogs (and cats) all experience breathing difficulties, whether their muzzles are slightly shorter than average or completely flat. Despite having the same nasal anatomy as dogs with longer snouts, their facial structures are compressed into a smaller space, leaving less room for proper airflow.
This chronic lack of oxygen can result in various medical issues that can affect your pet's well-being.
Air travel is harder on flat-faced dogs
Air travel can be a nerve-wracking experience for any dog, even the most laid-back ones. The unfamiliar noises, smells, and sights can create a stressful environment. Additionally, factors like weather can further complicate matters for flat-faced dogs. Hot weather and humidity can significantly impact their breathing, and panting, which is a natural way for dogs to cool down, doesn't work as effectively for brachycephalic dogs. As a result, these dogs are at a higher risk of heatstroke during travel.
Because of the growing concerns about the health implications of flying for snub-nosed dogs and cats, some airlines have chosen to no longer accept them as passengers. However, there are still airlines that allow brachycephalic pets under specific circumstances. Therefore, before you embark on your journey with your furry friend, it is crucial to confirm that your chosen airline welcomes flat-faced dogs to your destination. Once you have this confirmation, you have successfully overcome the first obstacle in your overseas move.
What is your dog's overall medical condition?
Flat-faced breeds, also known as brachycephalic dogs, are prone to respiratory and neurological diseases due to their unique facial and genetic deformities. These breeds often suffer from ocular problems, especially those with protruding eyes, and may also experience ongoing digestive challenges. These medical issues can further increase the risks associated with air travel for these dogs.
If your dog is elderly or has a serious health condition such as diabetes or heart disease, their vulnerability to problems related to air travel becomes even greater. It is crucial to consult with your vet to determine if your dog is a suitable candidate for flying.
Once you have received confirmation from your vet that your dog can safely travel by air, the next step is to complete all the necessary health requirements for their overseas move. This may include vaccinations, blood testing, health certificates, import permits, parasite treatments, and/or quarantine arrangements required by the destination country.
Remember, the process of meeting these requirements can take weeks or even months, so it is important to start the process as soon as possible after confirming your pet's eligibility for air travel.
Obtaining your dog's medical documentation
When it comes to traveling internationally with pets, it is important to remember that all countries have strict health requirements that must be met. This goes beyond just having a rabies certificate and a general health certificate. In most cases, there is a detailed list of vaccinations, treatments, and tests that must be completed before your furry friend can accompany you on your journey.
In addition to meeting these requirements, it is crucial to have the health certificate prepared by your veterinarian officially endorsed by the USDA APHIS office nearest you (if you are in the US). This process must be completed within specific timeframes, and it can take several weeks or even months to meet all the requirements. Therefore, as soon as you know you will be moving abroad and your pet is ready to travel, it is imperative to begin the paperwork and process immediately.
Let us help!
Why go through the stress of arranging overseas travel for your dog on your own when you can leave it to the experts at Starwood? We understand the unique needs of flat-faced dogs and have the knowledge and experience to ensure their safe and comfortable journey. Instead of worrying, you can have peace of mind knowing that your pet is in the hands of pet-loving professionals. So let us take care of all the arrangements while you focus on enjoying the excitement of your upcoming move.
Photo by Diana Parkhouse on Unsplash
Starwood Animal Transport has rebranded to Starwood Pet Travel. We are still the same great company with the best team, just now with a slightly different name.
Subscribe to the Blog
Enjoy our content? Get them sent to your inbox!
Subscribe Now!
Related Posts
What Travel Conditions are Stressful for my Flat-Faced Dog?
For dogs, travel can be a stressful experience, especially under certain conditions. While most pups enjoy an exciting ...
Read More