United Airlines Pet Policy
Published on: October 1, 2015 | Author: Starwood Pet Travel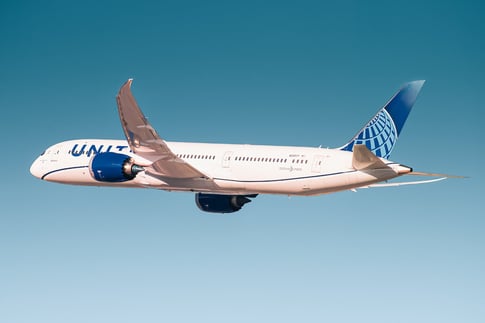 When it comes to pet air travel, there are similarities across airlines, but each carrier has its own set of policies and procedures. It's crucial not to assume that what's acceptable with one airline will be the same with another. These differences can be significant and may impact your entire travel plans. Understanding which pets are allowed in the cabin and which are not is especially important. We've outlined the highlights of United Airlines' pet travel policy below.
Where can pets travel?
United has stopped its PetSafe program, so the only option for pet travel is in-cabin. The only exception to this is for US Military members on current Permanent Change of Station (PCS) orders, or State Department Foreign Service Personnel (FSP) on current reassignment. These members' cats or dogs may be allowed to travel as checked baggage between Guam (GUM) and Honolulu (HNL) [under specific conditions].
Cats or dogs that are small enough may ride in-cabin under the seat in front of you on most United flights, depending on your destination. Your pet will need a paid reservation to do that and you must be booked on the same flight. In-cabin animals cannot be accompanied by a minor. Each pet must have its own travel carrier. Where you're allowed to sit with your pet will depend on the aircraft you'll be on. You are not permitted to sit with a pet in an emergency exit row, a Premium Plus seat, or in the front row of each cabin. Additionally, your pet must stay in the travel carrier under the seat in front of you at all times while onboard the plane.
Some destinations do not allow pets to ride in the cabin, regardless of United's rules, due to pet import regulations. That being said, United will not allow pets to fly to, from, or through these areas: Australia, Barbados, Cuba, Guam, French Polynesia (Tahiti), Hawaii, Hong Kong, Iceland, Ireland, Jamaica, Marshall Islands, Micronesia, New Zealand, Northern Mariana Islands (Saipan), Norway, Palau, Panama, Philippines, Saint Kitts and Nevis, South Africa, Sweden, Tahiti, Trinidad and Tobago, United Arab Emirates, and the United Kingdom.
Service animals are an exception and are allowed in-cabin under certain conditions.
Aircraft restrictions
United operates a variety of aircraft, each with its own limitations on the number of pets allowed in the cabin. Additionally, different planes have specific seating restrictions for passengers with pets. For instance, pets are not permitted in emergency exit rows, United Premium Plus seats, or the front row of any cabin.
What kind of kennel does your pet need?
Every airline requires you to use a pet carrier that is compliant with the International Air Transport Association's (IATA) regulations. The travel kennel must be large enough so that your pet can stand, sit, lie down, and spin around comfortably. When it comes to traveling with your pet in the cabin, you have the option to use either a hard-sided or soft-sided carrier. However, it's important to note that these carriers must fit snugly under the seat in front of you. This can sometimes be a bit challenging since different planes have varying dimensions. In the case of United Airlines, it's highly recommended that you inquire about the specific requirements for your flight. Remember, if your pet's carrier doesn't fit comfortably under the seat, they won't be allowed to come onboard with you.
What kinds of paperwork will your pet need?
If you're traveling internationally to or from the US, your pet will need a rabies certificate and health certificate. The rabies vaccination must be given at least 28 days prior to arrival to the US - this applies to both cats and dogs. However, your final destination will determine what other pet travel paperwork will be required.
If you're entering the US from a high-risk rabies country, then additional requirements must be met. These are outlined on the CDC website. If you're traveling within the continental US, a health certificate and current rabies vaccination are strongly recommended. *Hawaii is the exception, as they have their own pet travel requirements.
United requires puppies and kittens to be at least 2 months old for domestic flights and at least 4 months old for international flights.


Starwood Animal Transport has rebranded to Starwood Pet Travel. We are still the same great company with the best team, just now with a slightly different name.
Subscribe to the Blog
Enjoy our content? Get them sent to your inbox!
Subscribe Now!
Related Posts
Is Air Travel Safe For Pets?
At some point in all the excitement of learning you are moving a long way from home – perhaps to a far-away foreign country – ...
Read More