Alitalia Airlines Pet Policies
Published on: October 17, 2019 | Author: Starwood Pet Travel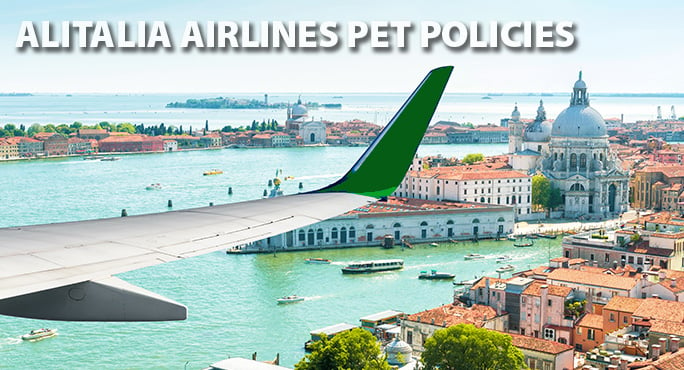 Alitalia – Italy's official airline – is one of the smaller international carriers that transports pets as well as humans. So you might be considering this airline if you and your four-legged family member will be moving to Italy, or you're considering a vacation there, or you're already in Italy and planning a trip to somewhere else.
You can find everything you need to know about the airline's pet travel rules on the Alitalia website, but we've pulled together the essentials for you here.
What pets can fly on Alitalia?
The number one issue for any pet parent is determining if a given airline will allow their particular pet on board. In Alitalia's case, puppies and kittens younger than three months are not allowed. Alitalia does not accept pets traveling to the United Kingdom or Ireland.
This airline accepts only dogs as service animals, whether they are with you for direct service or as emotional support. Your dog may ride in-cabin with you but must be properly documented and meet certain restrictions for size and behavior. Although pets are not accepted for transport to the UK or Ireland, guide and service dogs are exempt and may travel with you at no charge.
Due to increasing concerns about health hazards for flat-faced dogs and cats, many airlines now embargo or restrict travel for these breeds. Alitalia allows these pets, but suggests that you "evaluate carefully the overall health of your pet and consequently assess the risks associated with air travel." They use the IATA guidelines to identify brachycephalic breeds.
That includes four cat breeds:
Burmese
Exotic Shorthair
Persian
Himalayan
The list of dogs, on the other hand, is very long:
Affenpinscher
American Pit Bull Terrier
American Staffordshire Terrier
Bichon Frise
Boston Terrier
Boxer
Brussels Griffon
Bulldog
Bullmastiff
Cane Corso
Cavalier King Charles Spaniel
Chihuahua (apple-headed)
Chow Chow
Dogo Argentino
Dogue de Bordeaux
English Mastiff
French Bulldog
Japanese Chin
King Charles Spaniel
Lhasa Apso
Maltese
Neapolitan Mastiff
Newfoundland
Pekingese
Presa Canario
Pug
Shar-Pei
Shih Tzu
Silky Terrier
Tibetan Spaniel
Valley Bulldog
Yorkshire Terrier
Alitalia also accepts pet rabbits, hamsters, and birds as long as they meet proper requirements. (You can learn more from the airline's web page.)
Where can your pet ride?
Like most airlines, Alitalia uses different sizes of aircraft for different routes. Not all planes are able to accommodate pets, especially larger dogs. As you're planning your pet's itinerary, you'll need to check on plane size as well as scheduling convenience. Also, every country has rules about whether arriving pets may travel in cabin or must arrive as cargo. So you'll need to check on that as well.
In order to ride in the passenger cabin, pets and their carrier plus any food you're carrying for them cannot exceed 17.6 pounds. The carrier must meet IATA standards and fit under the seat in front of yours. Maximum dimensions are:
However, the airline recommends you choose a carrier that is soft-sided or at least semi-soft. In this case it can be an inch or too taller, since you can scrunch it down a bit as you get settled. Nonetheless, the carrier has to provide adequate ventilation and be both sturdy and waterproof. Your pet must be able to move around and lie down comfortably inside the carrier, and must stay inside at all times while you're on the plane.
Pets traveling as cargo must also travel in an IATA-approved crate made of fiberglass or hard plastic. Any wheels must be removed or retracted and secured. For dogs, the crate must have a metal door that locks every closure point and metal side-ventilation grates. If your dog or cat is a snub-nosed breed, we strongly recommend choosing a crate that is a size or two larger than the IATA-specified size, for added ventilation.
Do note that where your pet is allowed to ride on board is not totally up to your airline. Some countries allow arriving pets to ride in-cabin, but many require incoming pets to travel as cargo. So even if Alitalia's rules work for your pet, you'll want to check on your destination country's rules, too. (You'll have to do this anyway, because each country sets its own requirements for importing pets.
Pet reservation fees
Airlines charge for pet reservations, just as they do for human passengers. On Alitalia, the cost depends your pet's weight, his itinerary, and whether he will be riding in the cabin or as cargo. This airline posts their prices, so you can see a chart that describes pet fares here.
If you're considering an overseas move – to Italy or any other destination around the world – the easiest and most reliable way to choose an airline and itinerary for your beloved pet is to let our Starwood team handle the details for you. Knowing your dog or cat (or rabbit, ferret, or bird) is in the hands of caring professionals can bring untold peace of mind to your moving plans.
Starwood Animal Transport has rebranded to Starwood Pet Travel. We are still the same great company with the best team, just now with a slightly different name.
Subscribe to the Blog
Enjoy our content? Get them sent to your inbox!
Subscribe Now!
Related Posts
Cathay Pacific Pet Policy
Here's what you need to know about pet travel on Cathay Pacific. You can find additional details on the airline's website, or ...
Read More