Thai Airways Pet Policies
Published on: November 26, 2019 | Author: Starwood Pet Travel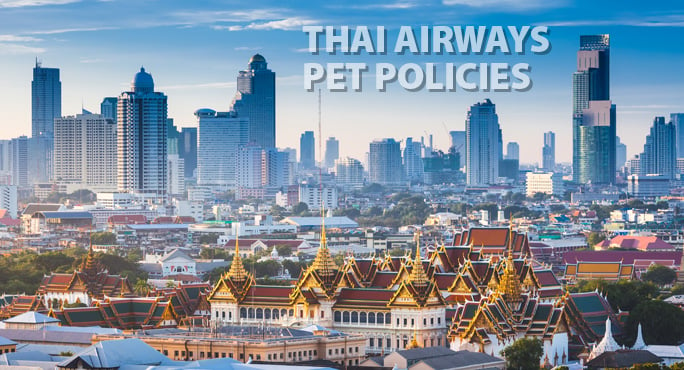 If you and your furry family member are headed to Thailand, you may be considering Thai Airways to get you there. Since every airline that accepts pets has different rules, here's what you need to know about Thai Airways.
Only service dogs are allowed in-cabin
If you are blind and have a guide dog or you are deaf and have a service dog that accompanies you, your dog is welcome to join you in the passenger cabin, free of charge. No seat, though, he'll have to sit on the floor next to you. And you won't be able to sit in an emergency row. Do note, though, that not all destinations allow service dogs, so you'll have to confirm your itinerary with Thai Airways in advance. They ask that you give them at least 48 hours' notice to make a reservation.
This airline allows emotional support dogs (yes, it must be a dog) only on flights to and from the United States.
Many pets are allowed as checked baggage
When pets travel as checked baggage, you can check them in for their flight and pick them up when you arrive at the passenger counter, rather than making a special trip to the cargo terminal. Thai Airways refers to pets traveling as checked baggage as AVIH, which translates to "live animal in hold."
These animals are eligible for AVIH travel, as long as they are healthy and not pregnant:
Dogs (see list of banned breeds below)
Cats
Ferrets
Hamsters
Rabbits
You'll want to make your pet's reservation as soon as possible, because only a limited number of pets can travel as checked baggage on a given flight.
Due to destination country quarantine requirements or other special conditions, there are certain flights departing from Thailand that do now allow pets as checked baggage.
Embargoed breeds
Thai Airways does not allow American Staffordshire Terrier, American Pit Bull Terrier, or Staffordshire Bull Terrier dogs on any flights.
And because the airline is concerned about the safety of pets as well as crew members, flat-faced dog breeds and certain breeds considered dangerous are not allowed in AVIH. However, these dogs may travel as cargo.
American Bulldog / Bully
Boston Terrier
Boxer
Brussels Griffon
Bulldog
Chinese Pug
Chow Chow
Dutch Pug
English Bulldog
English Toy Spaniel
French Bulldog
Lhasa Apso
Japanese Boxer
Japanese Pug
Japanese Spaniel (Chin)
Mastiff (All Breeds)
Pekinese
Pit Bull
Pug
Shar Pei
Shih Tzu
Tibetan Spaniel
If your dog (or cat or rabbit) is a flat-faced breed, our Starwood team strongly recommends that you choose a travel carrier that is one or two sizes larger than the required minimum. (See Pet Travel Crates below.)
Pets traveling as cargo
Thai Airlines allows these types of pets to travel in the cargo hold, so long as they are not pregnant or sick:
Birds
Cats
Dogs
Ferrets
Hamster
Rabbits
At check-in, you will have to provide copies of all your pet's travel documentation, including their health certificate, which must be completed and signed by a licensed veterinarian within 10 days or your pet's departure.
Approved pet travel crates
All pets riding as AVIH or as cargo must be confined in a travel crate that meets standards set by the International Air Transportation Association. Your furry friend must be able to sit or stand without touching the ceiling and also turn around and lie down in a normal way, so you must use the proper size crate. You can learn more about that and other tips for moving your pet overseas here.
We also invite you to contact us directly here at Starwood Animal Transport to answer questions or for professional assistance in moving your pet to Thailand or anywhere else in the world.
Starwood Animal Transport has rebranded to Starwood Pet Travel. We are still the same great company with the best team, just now with a slightly different name.
Subscribe to the Blog
Enjoy our content? Get them sent to your inbox!
Subscribe Now!
Related Posts
Cathay Pacific Pet Policy
Here's what you need to know about pet travel on Cathay Pacific. You can find additional details on the airline's website, or ...
Read More