Cathay Pacific Pet Policy
Published on: April 15, 2022 | Author: Starwood Pet Travel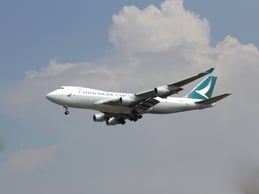 Here's what you need to know about pet travel on Cathay Pacific. You can find additional details on the airline's website, or by contacting our pet travel experts here at Starwood.
Breed restrictions
Cathay Pacific does not allow the breeds below to travel for safety and health reasons. If your pet is listed below, you will have to choose a different airline for their travels.
Brachycephalic dogs
Affenpinscher
Boston Terrier
Boxer
Brussels Griffon
Bulldog
Cavalier King Charles Spaniel
Chow Chow
Dogue de Bordeaux
English Toy Spaniel
Japanese Chin (Japanese Spaniel)
Lhasa Apso
Mastiff (all breeds)
Pekingese
Pug (all breeds)
Shar Pei
Shih Tzu
Staffordshire Bull Terrier
Tibetan Spaniel
Fighting breeds of dog
American Pit Bull
American Staffordshire Terrier
Dogo Argentina
Fila Brasiliera
Japanese Tosa
Brachycephalic Cats
British shorthair
Burmese
Exotic shorthair
Himalayan cat
Persian cat
Scottish Fold
Sphynx cat
No in-cabin travel allowed
The only animals Cathay Pacific allows in the passenger cabin are service dogs. The airline defines a guide/assistance dog as one "that has been trained to help people with physical disabilities to gain more personal independence. These include guide, hearing, and service dogs, and they are permitted to fly with their owner in the aircraft cabin."
Guide/assistance dogs must be accredited by the Assistance Dogs International, Assistance Dogs Europe, or the International Guide Dog Federation. If any leg of your flight will be more than 8 hours, the airline requires you to notify their reservations office at least 48 hours in advance. Eight hours is a long time for an animal (humans, too!). Sometimes long flights are unavoidable, but here at Starwood we always work to identify the most pet-friendly itinerary, even if that means your dog or cat will travel separately from you.
Pets flying as checked baggage
If you are flying out of Hong Kong, your pet may be able to accompany you as checked or accompanied baggage. However you will need to check with your destination, because every country has different requirements for importing pets. If you are flying into or transiting in Hong Kong, your pet must arrive as manifest cargo.
Do note that if you are using multiple carriers for your trip, then your pet will NOT be able to travel as checked baggage or cargo.
To confirm your pet can join you as checked baggage, you need to make reservations at least 48 hours in advance. We strongly recommend that you do this as soon as you know your pet will be flying, for two reasons. Gathering all the paperwork you'll need to transport your pet can take weeks or even months. You'll also need to get an IATA-approved travel crate and give your dog or cat time to get used to it.
When you contact Cathay Pacific, they will want to know:
The total weight of your pet and their travel kennel
Dimensions, material and make of the kennel
A copy of their health and vaccination certificates, import permits and other documents required by the country of entry or transit
You will need to check in for your flight 3 hours ahead of time and present your pet's original travel documents.
Pets flying as cargo
The same rules about advance reservations apply to pets traveling in cargo. The cargo or checked baggage area of the plane is temperature-controlled and pressurized like the passenger cabin. Cathay Pacific suggests you tell the plane's captain that your pet is on board, so they can be sure to monitor the environment. The airline treats pets traveling in cargo as "special baggage" to expedite your reunion upon arrival.
Airline-approved travel crate
Any animal riding as baggage or cargo must travel in a crate that meets international airline standards. (The Cathay Pacific website has more details about this.) Cathay Pacific will not accept wooden travel kennels for dogs, but they may allow them for cats. The most important thing you can do to ensure your pet's comfort in transit is to give them plenty of time to familiarize themselves with the carrier. Do note that Cathay will not accept a pet and their carrier if the combined weight is over 32 kg (70 lbs) or 203 cm (80 in) in total dimension without prior approval.
Paperwork you will need
The final paperwork required will depend on your origin and destination. Any pet traveling will require a health certificate signed by a vet within 10 days of departure. If flying internationally, the international health certificate can only be completed by a USDA or government approved veterinarian and the documents must also be endorsed by the USDA or official government vet. If you are headed to Hong Kong, you can consult the Agriculture, Fisheries and Conservation Department or our Starwood website to learn what vaccinations, and other documents your pet will need.
Weather restrictions
If the temperature on the runway is higher than 84o F (29o C), or colder than 45o F (7o C), Cathay Pacific will not allow pets to fly. However, if your dog or cat is used to cold weather, you may submit an Acclimation Certificate signed by your vet.
Cathay Pacific promises to treat your pet as if it were their own when it comes to comfort and safety. That should be a comfort for you as well.
Starwood Animal Transport has rebranded to Starwood Pet Travel. We are still the same great company with the best team, just now with a slightly different name.
Subscribe to the Blog
Enjoy our content? Get them sent to your inbox!
Subscribe Now!
Related Posts
Alitalia Airlines Pet Policies
Alitalia – Italy's official airline – is one of the smaller international carriers that transports pets as well as humans. So ...
Read More