Delta Airlines Pet Policy
Published on: October 18, 2023 | Author: Starwood Pet Travel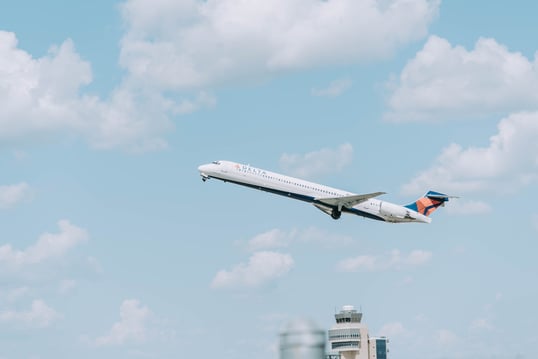 Delta Airlines offers the convenience of traveling with your pet, whether it's in the cabin or as cargo. However, it's important to familiarize yourself with Delta's specific pet policies beforehand. These policies can vary depending on the type of aircraft and the destination you're heading to. Not all planes are equipped to accommodate animals, and each international location has its own set of rules when it comes to bringing pets along.
Pets Traveling In-Cabin
Delta will allow small dogs, cats, or household birds to fly in the cabin as long as they fit in an IATA-compliant travel carrier that fits under the seat in front of you. There is a fee for carry-on pets, which can vary based on destination. Keep in mind that your pet and their kennel will count as your carry-on bag.

Some of Delta's additional in-cabin pet requirements include:
Pets to be at least 8 weeks old for domestic travel and 16 weeks old for international travel
Only one pet can be inside the kennel, with the only exceptions being a female cat or dog flying with her un-weaned litter (10 weeks to 6 months old) or 2 puppies or kittens age 10 weeks to 6 months old
Pets traveling in-cabin count as a carry on item
The maximum dimensions of the travel kennel may vary by flight since the space under seats varies by aircraft
Pets must stay inside the kennel with the door closed in the boarding area, airport lounge, and onboard the aircraft
Customers who bring pets in-cabin are not allowed to sit in the bulkhead seats, emergency exit row, and others, depending on the aircraft
Pets CAN NOT travel as a carry-on to or from these destinations (except for service animals): Australia, Barbados, Brazil, Colombia, Dubai, Hawaii, Hong Kong, Iceland, Jamaica, New Zealand, South Africa, United Kingdom, or the United Arab Emirates
In-cabin pets are first-come, first serve and there is a limit to the number of pets per flight
Pets Traveling as Cargo
Delta is not currently accepting pets as cargo due to varying flight schedules. The pet travel embargo includes all live animals transported in cargo as domestically or internationally.


Delta does have special exceptions for service animals and U.S. Military or U.S. State Department Foreign Service Offices.
Pet Traveling as Checked Baggage
Delta will only allow pets to travel as checked or accompanied baggage for passengers or spouses who are U.S Military or U.S. State Department Foreign Service Officers (FSO) on active transfer orders.
There is an additional fee and pets must be booked as checked baggage at least 48 hours prior to arrival. Pets still need to meet all regulations for the destination.
Other requirements include:
Limit of two kennels per flight

Only cats, dogs, household birds, guinea pigs, rabbits, or hamsters are permitted (depending on the destination)

Pets must be in an IATA-compliant travel kennel

Weather Restrictions
For pets traveling as accompanied baggage or cargo, the temperatures must be between 80˚F (26.5˚C) and 20˚F (-6.5˚C). If the temperatures at any point during your pet's trip (at origin, transit, or destination) go above or below that range, then pets will not be accepted for travel. If the temperatures are between 20˚F (-7˚C) and 45˚F (7˚C), then an Acclimation Certificate is required. It is essential to note that Delta Airlines reserves the right to decline travel for any live animals if their well-being is uncertain, or if extreme weather conditions could potentially jeopardize their health.
Breed Restrictions
Delta does not accept snub-nosed (brachycephalic) breeds as checked baggage. These dog breeds include Affenpinscher, American Bully, American Pit Bull Terrier, American Staffordshire Terrier, Boerboel, Boston Terrier, Bull Terrier, Boxer (all breeds), Brussels Griffin (Petite Brabacon), Bulldog (all breeds), Cane Corso, Chow Chow, Dogo Argentino, Dutch Pug, Douge de Bordeaux, English Toy Spaniel, Japanese Chin (Japanese Spaniel), Lhasa Apso, Mastiff (all breeds), Pekinese, Pit Bull, Presa Canario, Pug (all breeds), Shar Pei, Shih Tzu, Staffordshire Bull Terrier, and Tibetan Spaniel. Snub-nosed cats include British Shorthair, Burmese, Exotic Shorthair, Himalayan, Persian, and Scottish Fold.
Starwood Animal Transport has rebranded to Starwood Pet Travel. We are still the same great company with the best team, just now with a slightly different name.
Subscribe to the Blog
Enjoy our content? Get them sent to your inbox!
Subscribe Now!
Related Posts
United Airlines Pet Policy
When it comes to pet air travel, there are similarities across airlines, but each carrier has its own set of policies and ...
Read More