Alaska Airlines Pet Policy
Published on: July 19, 2023 | Author: Starwood Pet Travel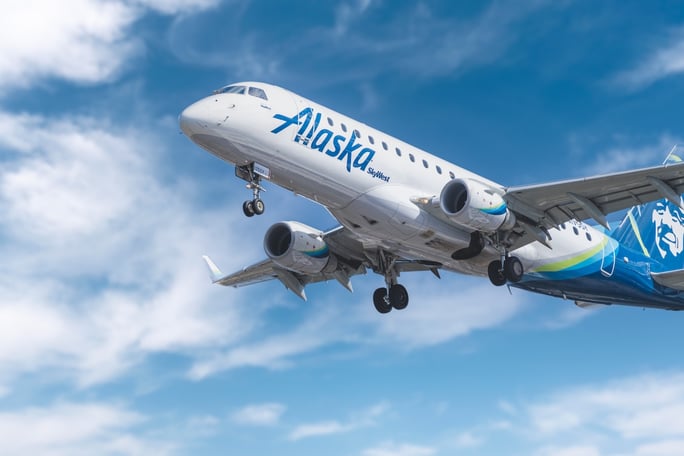 When your beloved pets embark on a journey with Alaska Airlines, they are treated like royalty in Fur-st Class™. With strict guidelines in place, Alaska Airlines offers various options for pet travel, including in-cabin, checked baggage, or cargo, all designed with the utmost care for your pet's safety and well-being. Let's take a closer look at what these options mean for you and your furry, feathery, or scaly companion.

Pets that are permitted
Alaska Airlines will allow dogs, cats, rabbits, and household birds to travel in the cabin of the plane. They will, however, allow cats, dogs, ferrets, guinea pigs, hamsters, household birds, non-poisonous reptiles, pot-bellied pigs, rabbits, and tropical fish to travel in the baggage compartment. There are different restrictions depending on where your pet can travel, as well as their destination.
Whether your furry friend travels in-cabin or as checked baggage, it's important to note that you must be on the same flight. If you happen to be traveling separately or your pet doesn't meet the requirements, then cargo will be the only option available. However, regardless of where your pet rides on the plane, rest assured that they will enjoy the same level of care, with pressure and temperature controls just like human passengers.
Service animals
Alaska only accepts dogs as certified service animals free of charge. However, service dogs must meet all requirements and follow the required booking process in order to be accepted. Only two service dogs per guest are allowed, and they must stay in your seat or foot area throughout the flight. You'll need to make sure you request your service dog's reservation at least 48 hours prior to travel, but they recommend at least 5 days prior since it's a two-step process.
Keep in mind that all service animals must still be well-behaved and non-disruptive. There may also be additional requirements if traveling to Hawaii or internationally.
Snub-nosed breeds
Brachycephalic breeds, such as dogs and cats with adorable snub noses, may seem irresistibly cute, but their reality is far from comfortable. Their nasal structures are similar to other pets, but they are packed into a smaller space, making it difficult for them to breathe. Stress can worsen their breathing issues, prompting airlines to update their policies for these precious snub-nosed companions.
Alaska no longer allows snub-nosed breeds to travel as cargo – this includes flights on their Horizon and SkyWest affiliates. However, they can ride in-cabin with you, if they are small enough. Alaska considers these breeds brachycephalic:
Dogs: American Pit Bull, American Staffordshire Terrier, Boston Terrier, Boxer, Brussels Griffon, Mastiff (All Breeds), Bulldog, Bull Terrier, Chow Chow, Dutch Pug, English Bulldog, English Toy Spaniel, French Bulldog, Japanese Boxer, Japanese Pug, Japanese Spaniel, Pekingese, Pug, Shih Tzu, Staffordshire Bull Terrier
Cats: Burmese, Exotic Shorthair, Himalayan, Persian
In-cabin
Alaska will allow small pets (dogs, cats, rabbits, and household birds) in the cabin of the plane for $100 USD/CAD each way. Of course, you'll need to meet their requirements, and in-cabin pet space is limited.
Your beloved pets must remain in their designated carriers throughout the duration of the journey. These carriers must meet specific size and other requirements, and they will count as your carry-on item. If you have purchased two seats, you are welcome to bring two pets/carriers. During the flight, your pets must stay comfortably under the seat in front of you, ensuring their safety and comfort throughout the trip.
Checked baggage
If your pet doesn't meet the criteria for traveling in-cabin, then they may be able to fly as checked baggage under your own ticket. The cost for this service is $150 USD/CAD, but if you're based in Alaska or part of the US Military, the fee is reduced to $100.
To ensure the safety and comfort of your furry companions, there are a few guidelines to keep in mind when it comes to their travel arrangements. Firstly, the combined weight of your pet and their carrier should not exceed 150 lbs, otherwise, they will need to be transported as cargo. Additionally, it is important for you to be on the same flight as your pet, and keep in mind that cats and dogs must be at least 8 weeks old to travel. It's also worth noting that pets are not allowed on any Airbus aircraft, and brachycephalic breeds cannot be transported as baggage. For further details and any additional requirements, please refer to Alaska's dedicated pet travel website.
Cargo
Alaska's Pet Connect program caters to pets that are too big to travel in the cabin or who are not eligible to travel as checked baggage, or are traveling separately from you. Nonetheless, certain aircraft are not able to accept pets in the hold, which could affect your pet's itinerary.
It's important to note that the requirements for travel kennels differ for pets traveling as cargo or checked baggage compared to those traveling in-cabin. Also, it's worth mentioning that brachycephalic breeds are not allowed to travel as cargo. Additionally, pets will not be accepted if the temperatures at any point during the journey exceed 85 degrees Fahrenheit.
Depending on the destination, most pets will need a health certificate issued by a licensed veterinarian within 10 days of travel, a current rabies certificate, and in some cases, an Acclimation Certificate if the temperatures are expected to be below 45 degrees. If your pet is traveling to Hawaii, then other requirements must be met.
Special pet travel embargoes
When extreme weather conditions arise or other unique circumstances occur, airlines often make adjustments to their pet travel policies. It is advisable to schedule your pet's flight for early mornings or late evenings during the summer months, as the temperatures are generally cooler during these times. In winter, midday flights are preferable as they tend to be warmer. It is important to note that if temperatures exceed certain limits, Alaska Airlines may restrict pet travel for the safety of the animals.
Pet travel during heavy holiday seasons can present challenges, both for pets and their owners. To ensure a smooth journey, it is recommended to check with Alaska Airlines before making any bookings during peak travel periods. It is worth noting that there are blackout dates for pet travel (excluding in-cabin) from November 15 to January 10.
As previously mentioned, the baggage compartment of Airbus aircraft is not equipped with temperature control, making it unsuitable for transporting pets.
Book ahead
If you've made up your mind that Alaska Airlines is the perfect choice for you and your furry companion, don't forget to make a separate reservation for your pet. With limited space available for pets on each flight, it's essential to book early to secure a spot. By doing so, you'll have one less thing to worry about as you plan your upcoming vacation or relocation.
For pets traveling as cargo, it's recommended to make the reservation at least 24 hours in advance, although the sooner, the better. And if you want complete peace of mind regarding your pet's journey, simply give us a call. We're here to assist you every step of the way.
Starwood Animal Transport has rebranded to Starwood Pet Travel. We are still the same great company with the best team, just now with a slightly different name.
Subscribe to the Blog
Enjoy our content? Get them sent to your inbox!
Subscribe Now!
Related Posts
5 Ways To Keep Your Pet Calm While Traveling
You adore your dog. Or your cat. You can't imagine leaving home without them. No wonder more and more pet owners are taking ...
Read More