KLM Airline Pet Policy
Published on: March 23, 2022 | Author: Starwood Pet Travel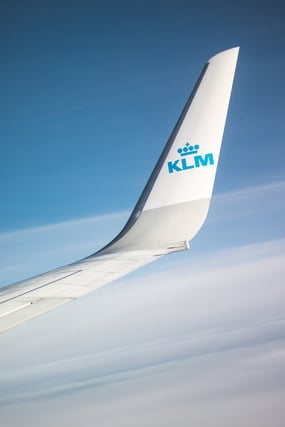 KLM gives added dimension to the expression "pet friendly." Their Specialized Live program guarantees that "all live animals are transported in optimal conditions of safety, comfort and hygiene." That's exactly what you want when your beloved four-legged family members are going to be traveling by air. And there's more.
When your precious pet arrives in Amsterdam – or should they require a layover there of more than two hours - KLM assures they will receive "royal treatment" at their 24-hour Animal Hotel. Yep, they really do have such a thing, located at Amsterdam's Schipol Airport. Transiting pets are given larger kennels, walked, fed and watered. Hotel staff are extensively trained in animal care.
Who wouldn't give all that a resounding woof (or purrrrrr) of approval? KLM flies to many global destinations, so your pet needn't be headed to Amsterdam as a final destination just to get royal treatment focused on care and comfort.
In-cabin travel for small dogs & cats
If your pet weighs less than 8 kg. including their carrier, they are welcome in Economy Class (but not Economy Comfort zone or Business Class) on most KLM flights. Reservations are required at least 48 hours in advance, with only a limited number of pets allowed in-cabin on any given flight.
Pets must stay in their carrier, under the seat in front of you, the entire time. Maximum dimensions for travel carriers are 46 x 28 x 24 cm.
Checked or Accompanied Baggage
This option may be available for cats or dogs that cannot travel in-cabin with you. Between November 1 and March 31, no pets are allowed as checked baggage on some KLM Cityhopper flights due to heating issues. You may NOT bring your pet as checked baggage if you have a layover longer than 3 hours or if your flight is operated with a Boeing 787-9 or 787-10 aircraft.
To ride in the plane's hold as checked baggage or as cargo, your pet must have a kennel that meets International Air Transport Association guidelines. To fly KLM, your pet's crate must be:
The kennel must be made of rigid plastic or fiberglass

Wheels must be removed or secured with duct tape

The door must have a centralized locking system that fastens both locks on top and at the bottom of the door.

The top and bottom must be secured by bolts. Other types of closing systems such as clips or twist-locks are not permitted.

You must have 2 empty containers for food/water which must be sealed or attached to the kennel and need to be fillable from the outside.

You can provide an absorbent pad such as a crate pad, thin blanket or pee pad on the bottom of the kennel. Straw is not allowed.
You must make reservations at least 48 hours in advance, though earlier is better because space in the hold is limited. Up to 3 pets may accompany you. KLM recommends you allow three hours before your scheduled departure time to check in, because the agent will go through a detailed checklist with you.
Manifest Cargo or Freight
KLM, Air France and Martinair jointly provide international pet cargo service. The goal here is also to ensure pets receive royal treatment. Your pet will have to fly as cargo if:
You want to bring an animal other than a cat or dog
Your pet and their kennel weigh more than 75 kg
Your pet's travel kennel is bigger than 122 x 81 x 89 cm (KLM flights), or bigger than 102 x 69 x 76 cm (KLM Cityhopper flights)
Your pet is traveling on a different flight than you
It is especially important to note that some countries require incoming pets to arrive as manifest cargo, regardless of airline policies. It is equally important to note that if your pet will be shipped as cargo, KLM requires you to use an international pet transport company. You cannot make these arrangements yourself.
Breed Restrictions
KLM will not allow the following snub-nosed breeds to travel as cargo or accompanied baggage (only in-cabin): English Bulldog, French Bulldog, Boston Terrier or Pugs. They will allow the following other snub-nosed breeds to travel as cargo only (not in-cabin or as accompanied baggage), but the kennel must be one size larger than usually required. These snub-nosed dog breeds include: Affenpinscher, Boxer (all breeds), Brussels Griffon, Cane Corso, Chow Chow, Great Dane, Lhasa Apso, Mastiff (all breeds), Pekingese, Petit Brabancon (Small Brabant), Shar-Pei, Shih Tzu, Spaniel (Tibetan, Japanese, English, and King Charles breeds) & Staffordshire Bull Terrier. Snub-nosed breeds of cats include: Burmese, Exotic Shorthair, Himalayan, and Persian. These restrictions protect your pet's safety and ability to breathe comfortably.
Service Animals
KLM has special rules for animals trained to assist rescue teams or provide personal service to individual passengers with disabilities. You should call and ask about this.
Documentation
Every country around the world has its own requirements when it comes to pet travel documents, health certifications and importation restrictions. KLM recommends you contact the embassy of your destination country to learn their rules. If you're departing from the United States, the Department of Agriculture can also help you with this. Learn what you'll need early, because assembling the required documents can take weeks or even months.
Starwood Animal Transport has rebranded to Starwood Pet Travel. We are still the same great company with the best team, just now with a slightly different name.
Subscribe to the Blog
Enjoy our content? Get them sent to your inbox!
Subscribe Now!
Related Posts
Protecting Your Pet From Snow and Ice Treatments
For many of us, winter brings freezing temperatures and snow. The cold is no fun, but the snow is a source of major excitement ...
Read More