Insider's Guide to Relocating Your Pet
Published on: August 11, 2022 | Author: Starwood Pet Travel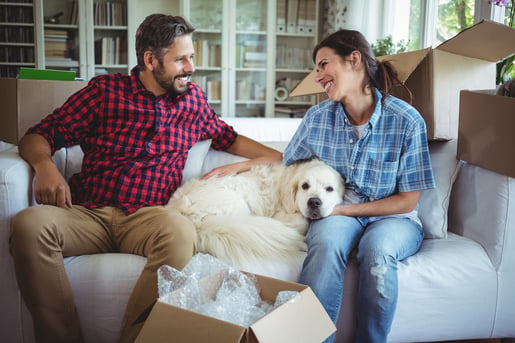 Introduction
Planning a relocation overseas with your pet sounds exciting – and it will be, once you get there. But the process of moving pets from one country to another is complex and time-consuming. You can look for information online. Unfortunately, it's easy to find plenty that is out of date or just plain wrong. That can be intensely frustrating because it is nearly impossible to discern good from bad information.
Who can you trust? We're talking about a beloved member of your family here, and nothing – nothing – is more important than your pet's safety and comfort. And the real problem isn't frustration, it's the fact that relying on inaccurate information or misinformed opinions can cause your pet's overseas relocation to go astray. As pet parents ourselves, we cannot imagine any more worrisome scenario.
That's why we're here to help, with tips and inside advice straight from our decades of professional experience successfully transporting pets and other animals all around the world.
Can They Go, or Should They Stay?
For most pet owners, the decision to take their furry companion along on an international move is a no-brainer. As one of our Starwood customers explained, "We discussed the logistics and costs of taking the dogs with us and whether it was right to move animals to a completely different culture with the very hot weather. We spoke for about 10 seconds about rehoming them and blew that idea out of the water."
But sometimes it isn't that simple. There are other factors that might affect your decision, depending on your pet and where you're headed. For example:
In general, though, air travel is very safe for pets. So unless your pet has a problem that cannot be overcome, relocating overseas with them will be a no-brainer for you, too.
Will My Pet Get Good Veterinary Care Overseas?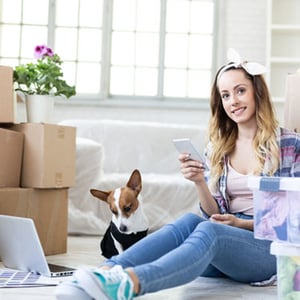 If you're moving from the United States, your pet is used to receiving top-of-the-line veterinary care. It's easy to obtain everything you need for them, from food and medications to toys and grooming appointments. But what will be available in your new country?
If you're concerned about putting your pet at risk by bringing them overseas, in most cases you'll have nothing to worry about. Pet ownership has soared in recent years, all around the world. And as the population of pet parents has grown, so has the demand for high quality medical care for their precious kitties and pooches. Still, the situation can differ from one country to another. Here are some examples of what to expect when you visit a vet in:
And here's some more good news, especially if you'll be learning a new language in your new country. Many veterinarians who live and work in other countries received their medical training in the US or the UK. So chances are excellent you can find a veterinarian who is not only skilled but speaks English. Here are some tips to help you find a new vet before you even leave your current home.
Relocation Overseas with Your Pet Is Very Logistical
Moving your stuff internationally is mostly a matter of contacting a shipper and then deciding what to take. Not so simple with pets. Living creatures require more than a container and shipping label. And it's up to you to make the logistical arrangements (unless you hire a professional pet relocation specialist).
Pre-trip logistics are detailed and time-consuming at the very least, and depending on where you're headed, they can be convoluted and confusing. You'll need:
Exactly what will you need? Every country has its own list of requirements to import dogs and cats. You cannot afford to guess or omit something, because your pet will be refused entry. Learning what your new country requires should be your first priority as you plan your move.
It Takes More than Paperwork to Relocate Pets
Your pet will need airline reservations, of course. But the itinerary that is safest, most comfortable, and most efficient for them might not be what you would choose for yourself. Even the airline might be different. Every airline has different rules about pet travel, and it can be difficult to read between the lines with their policies. You don't have time to call every airline that might serve your point of departure and destination, and you might not get the help you need anyway.
Plus not all airlines are considered pet-friendly. This is one area where consulting a professional pet shipper can be a real life-saver.
And speaking of reservations, some countries (Australia, New Zealand and Singapore, for example) require a quarantine stay before your pet can be released into your open arms. However, many locations do not require quarantine as long as your pet is compliant with all pet import regulations.
Now, about that shipping container and label we mentioned earlier – dogs and cats do need a specialized, airline-approved travel crate. Your pet's everyday carrier or fold-up kennel isn't nearly sturdy enough or designed to protect them from nose to toes. We strongly recommend getting a travel kennel right away, so they can become acclimated to it. This is just one way you can help them get ready to move overseas.
What Are The Potential Problems?
No matter how much research you do and how diligent you are, there are little details that can send your pet's travel plans sideways. Here are some common issues you might have to contend with:
Your pet will need to get to the airport, so at least a short part of their trip will be via ground transportation. If you live far away from a large airport, they may need a longer ride. If you have a snub-nosed (brachycephalic) breed, you may want them to travel by ground for as much of the trip as possible.
Here at Starwood, we provide ground transportation services that dovetail with our air-based services, to ensure pets have a streamlined experience.
Navigating Your New Land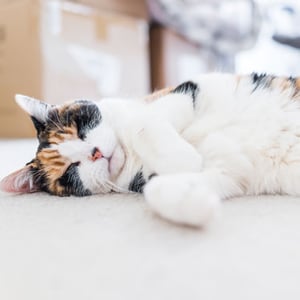 The basics of good manners for pets and their owners remain the same no matter where you go. Pets shouldn't be allowed to roam free, poop should be picked up, barking or other ongoing noise is not appreciated. Beyond that, though, "petiquette" expectations and laws can be very different from one country to another, thanks to cultural differences.
In some countries, just finding a suitable place to live that will allow your dog or cat could be tricky. On the plus side, you'll want to research how and where you and your pet can have fun together in your new country. And how to protect them from dangerous flora or fauna.
Articles like these will help:
Relocating Overseas with Your Pet the Stress-Free Way
Moving is infamously one of the most stressful experiences you can have. Make that an international move with your pet in tow, and the stress can multiply exponentially for everyone. But it doesn't have to. These tips will help you and your pet maintain your Zen:
Ready, Set, Go: Preparing Your Pet for an Overseas Move
The key to successfully relocating overseas with your pet is organization. As the experts on organizing pet moves, we suggest the following:
Start early, because the to-do list is long. Make a checklist of every task, and use a calendar to track the deadlines. You can't possibly keep it all in your head, especially the timeline associated with obtaining the proper health documentation. Many of the requirements have to be completed within specific timeframes, so you don't want to mess this up.
Make a separate checklist for the day before departure. By the time this date arrives, your brain will be overloaded with last-minute moving details. A pet-specific list will give you a chance to double-check your pet's preparations. You can catch anything you might have overlooked and take a deep, calming breath of relief. You're ready. They're ready. It's all good.
Make yet one more list, for the actual day of departure. This is your pre-flight check. Yesterday, you double-checked to be sure everything is ready to go, today the list is mostly to help you relax as you bid adieu to your precious pet. When you see them next, you'll both be in a new place far away.
Whew! Your Pet's Overseas Relocation is Complete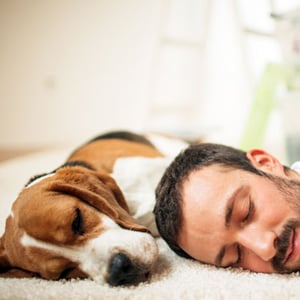 And, finally, the Big Moment has arrived! You're about to be reunited. Every pet and owner have a special way of greeting one another after they've been separated, but an international journey can be long, and we know you'll suffer far more than your pet from separation anxiety. So we've even created a list of tips on the best way to greet them after the journey.
Now to get out there and get after it. Being the practical FurMom or FurDad you are, you've already planned what you and your pet will do the first day in your new country. You know, check out your new digs, take a leisurely stroll around the balcony, the yard, the block – it's a sniff-fest for them and a chance for you to get the lay of the land. Be sure to set out their food and water bowls and bed right away, so they know for sure they're home, even though everything else is new.
Why Hiring a Pet Relocation Company Should Be an Easy Decision
It's our job to think of everything. And, honestly, no matter how meticulous you usually are, preparing for a pet's international relocation is a challenge. Sorry to say, the chances are good that you might overlook some small detail – or fail to ask every single question you should. We don't think you should have to worry about all that!
True, hiring a pet transport company does cost more. But you're saving time (a lot of time) when you have myriad other things to attend to for your international move. And you're getting peace of mind that would otherwise elude you. You can be confident, knowing that everything will be just right for your pet's move. Besides, some countries such as Australia require imported pets to arrive under the auspices of a commercial animal transport company. So even if you wanted to handle all the details yourself, you could not.
Obviously, then, teaming up with experts is a definite tail-wagger. But how do you choose a pet transport company? Keep your goal in mind: for you, it's all about your precious pet. You want a relocation company that is passionate about your pet.
It's reassuring to know we are experienced professionals. And that hundreds of thousands of pets fly safely overseas every year. But the one pet that matters most is yours. That's why it is even more reassuring to know that we treat each four-legged client as if they were our own dog or cat. Pets that travel under our auspices receive loving attention as well as attention to detail. And isn't that what you want most?
You can't be there for every moment of your pet's international journey, so we'll be there on your behalf. We'll even keep you updated on their progress (complete with photos) so you'll know they're doing just fine as you get closer to your reunion. No wonder it's an easy decision.
Conclusion
If you will be relocating overseas with your pet, we want you to have the big picture, and the full details. Because we have pets ourselves, we know from our hearts just what your pets mean to your family. And how much you worry about them. We believe that, when you have all the facts plus useful insider tips, you will feel confident instead of worried. Peace of mind is priceless in any event, most especially when it comes to your furry friend's safety and comfort.
We're here to help. The sooner you call, the more our pet travel pros can do to ensure your precious pet enjoys the smooth, efficient journey they deserve.
Starwood Animal Transport has rebranded to Starwood Pet Travel. We are still the same great company with the best team, just now with a slightly different name.
Subscribe to the Blog
Enjoy our content? Get them sent to your inbox!
Subscribe Now!
Related Posts
Moving With Pets - Tips For A Smooth Relocation
Moving with pets is a very different experience than moving people and "stuff." While the process of organizing your family ...
Read More