Moving With Pets - Tips For A Smooth Relocation
Published on: April 26, 2022 | Author: Starwood Pet Travel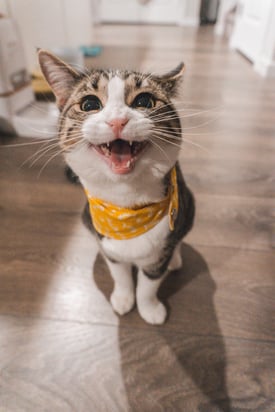 Moving with pets is a very different experience than moving people and "stuff." While the process of organizing your family and belongings can be a multi-tasking wonder, your beloved four-legged family members add a new dimension to relocation that can be both daunting and frustrating. However, if you take the right steps ahead of time, you can look forward to a (pretty) smooth move. The thing is, nothing is more important than your pets. You may be cat or dog a second-rate experience. Moving with pets across the country can be an involved procedure, but an international relocation can be extremely complex and you'll want to start planning early.
There are three key components to moving with pets – finding a place to live in your new locale, making travel arrangements and getting settled in at the other end of your journey.
Where to live
Are your pets a good match for your new location? You want them to be as happy and comfortable as they are now, but occasionally an international relocation isn't the best option for them. If your pets are older or not in good health, they may not be up to the move. Is the climate where you're going suitable for your type of dog? If it's all good, then let's talk about finding a place to live in your new home.
It's likely you'll be renting. If you have not rented with pets before, you may be surprised to learn that many potential landlords don't love your pets as you do. This can be due to differing cultural norms as well as landlord-specific concerns about noise or damage. Even pet-friendly rentals do not always allow both dogs and cats or they may have breed or weight restrictions or limit the total number of pets you can have. Start making a list of questions you need to ask, so you can find the perfect new abode.
You'll probably have to pay a deposit to rent with pets. It may be hefty, and it may not be refundable. Some landlords also charge higher monthly rent for pets. You might consider obtaining references attesting to the fact that your dog and/or cat is a good neighbor.
Just how "pet-friendly" is the potential rental? Will your pets have a fenced backyard where they can relieve themselves and get fresh air? A balcony where they can sit and survey their new universe? If not, you'll want to investigate local exercise and play options for your dog before making any decisions.
Getting there
This could easily be the most convoluted part of moving with pets. Do not wait until you've landed a place to live to start planning your pets' travels. Regardless of where an international move takes you, you'll need several pieces of documentation – microchip information, one or more health certificates, proof of vaccinations and so on. Many countries require more immunizations and tests or treatments, including a rabies titer blood test.
Each of these things has a specific timeframe associated with it, so making a to-do calendar will help you keep track of everything and ensure nothing slips by. The consequences of not having the proper paperwork can be devastating, and it's a problem that is entirely preventable. This is why you want to learn exactly what is needed and then get with your vet as soon as possible.
You can find a great deal of information online about what is "required" when moving with pets to wherever you're headed. Unfortunately, you have no way of knowing if the information you find is accurate or up-to-date.
The only way to be confident you're doing the right thing for your pets is to work with an international pet transport company. They are professional experts that know the rules and the best way to get your pet to your new home because they move pets every day. They can takes things off your plate such as documentation, providing a travel kennel and making flight arrangements that assure your pets' comfort and safety.
Getting settled
Your cat or dog may be a bit out of sorts initially, due to the excitement of travel and all the new sights, sounds and smells. Here are some tips for getting your pet used to their new home so they can settle in nicely. When you're reunited, be sure to give them extra smooches and play time so they know the family is still together, just in a new place.
Starwood Animal Transport has rebranded to Starwood Pet Travel. We are still the same great company with the best team, just now with a slightly different name.
Subscribe to the Blog
Enjoy our content? Get them sent to your inbox!
Subscribe Now!
Related Posts
Social Dog Walking Groups in the United Kingdom
If you're looking for some friendly folks and equally friendly canines to go walk-about with you, the UK is definitely the ...
Read More