How to Find a Vet When Moving Abroad with Pets
Published on: September 21, 2022 | Author: Starwood Pet Travel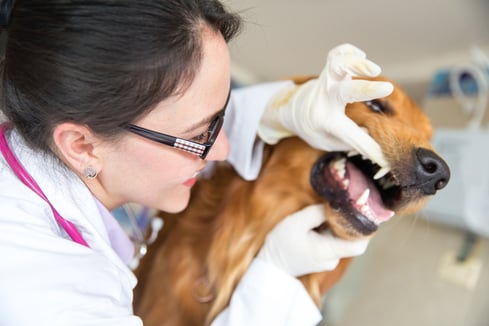 Moving abroad with pets in tow has become a common occurrence. Whether you're relocating for your job or simply to get a new perspective on global living, it's only natural to want your family with you. That includes your beloved four-legged family members. There is a lot to think about with any international move – even more when pets are involved. For instance, how will you find a new vet?
Make Sure Your Pet Can Travel
Are you sure your cat or dog will be allowed to move with you? Some countries embargo certain dog breeds such as pit bulls. Many airlines have breed-specific restrictions when it comes to pet transport. These rules apply to snub-nosed (brachycephalic) dogs and cats. If your airline only allows these pets to fly in the cabin and your dog is a Boxer, you could have a problem.
Even if you can take your pet, should you? If he or she is elderly or has a chronic health condition, talk to your current vet about the advisability of a long-distance move. It may be no problem, but you want to be sure. Pre-existing health issues may make finding a new vet before you depart even more important.
Moving abroad with the proper paperwork for your pet is critical. Each country has their own set of rules and regulations for importing pets, as well as its own list of required documents. These pet import requirements generally relate to your pet's health. No country wants to import pests or diseases that could harm existing household pets or wildlife. Rabies is the most prominent example, but there are several other diseases countries guard against.
Your pet shipping professionals can help you sort this out. You may want them to handle acquiring all of your pet's documentation, too. It can be extremely time-consuming and frustrating. While they're doing that, you can concentrate on the personal side of moving abroad with your pet.
Finding A New Vet
There are many resources you can use to learn about veterinarians in your new country or city. In some ways, the process is no different than if you were moving from one town to the next. But it's a bigger challenge because you are also dealing with potential language and cultural differences. As with everything else, which of these resources will work best for you depends on where you're headed.
Ask your current vet if they have a recommendation. This may sound silly, but you never know. Maybe your vet's favorite classmate now practices overseas. Or suppose you're moving from the U.S .to Canada. If your vet is associated with VCA animal hospitals, they also have multiple facilities in four of Canada's provinces.
Ask for suggestions from colleagues who are already in place in your new country. There's nothing like a personal referral to build trust and peace of mind.
Research online, just the way you do for something more local. After all, it is literally the World Wide Web. Depending on the country you may not find online vet reviews. But it's worth a try to learn the names and locations of vets. Hong Kong even provides a list of registered veterinary surgeons right on their official government website.
Look up online expat forums. If you've never lived abroad, you'll be comforted to know that expats tend to congregate, both in person and online. You may find multiple groups in your new country or even a specific city. Post questions to forums and ask about where to find a vet. Like co-workers already in situ, these folks can be a gold mine when it comes to finding places to buy pet food and supplies, dog parks, and other four-legged necessities. They have insider tips you may not find elsewhere.
Look to see if there is an organization equivalent to the American Veterinary Medical Association or the American Animal Hospital Association. Many countries have such professional groups. Do they post a membership directory on their website? If not, contact them to ask for help finding a vet in your new city.
Learn As Much As You Can
There is only so much you can do before you arrive at your new home. Nonetheless, making a list of questions will help you find a vet you like and trust. Ask about:
The number of vets and technicians, and their qualifications – do they speak English?
Clinic location and hours
Whether they handle emergencies – if not, who does?
How well-equipped the clinic is when it comes to diagnostic testing
Their fees
Moving abroad with your pet is stressful and distracting. So don't make a final decision just yet. Wait until you can visit in person and meet your prospective vet. Skills and facilities are important, but their pet-side manner counts, too.
Starwood Animal Transport has rebranded to Starwood Pet Travel. We are still the same great company with the best team, just now with a slightly different name.
Subscribe to the Blog
Enjoy our content? Get them sent to your inbox!
Subscribe Now!
Related Posts
5 Ways To Keep Your Pet Calm While Traveling
You adore your dog. Or your cat. You can't imagine leaving home without them. No wonder more and more pet owners are taking ...
Read More