What to Expect When You Visit A Vet in Italy
Published on: May 19, 2022 | Author: Starwood Pet Travel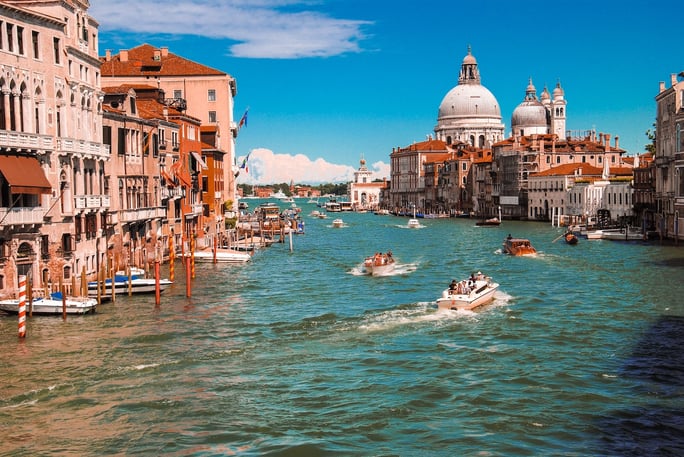 Italians love, love, love their pets. And no wonder – they love all animals. One study showed 65% of folks in France and 75% of UK residents describe themselves as "actively concerned about animal wellbeing," whereas in Italy that number soars to 85%. Pets are not only revered but well-cared-for.
So don't worry about finding a great veterinarian if you will be moving to Italy with your cat or dog. Don't wait until you arrive in Italy to research vets, though. You never know if your pet will need medical attention right away, and you may need to renew prescriptions. It's better to be prepared.
There are numerous ways to find a vet near your new home, and also find out about their qualifications and reputation:
Online research is an obvious option, and you can find plenty of information this way (maybe even in English).

Expat forums are a great resource, because you can definitely converse in English. Even better, you can get true-life insights and recommendations from people who have made the same move with their pets.

If your move to Italy is company-sponsored, contact future co-workers already in place in Italy. Like other expats, they can give you the inside scoop.

Check out the membership directory of the Italian Veterinary Medical Association (ANMVI).
Visiting the vet
Italy's veterinary clinics offer advanced care that meets the expectations of even the most discerning pet parent. Not only are there numerous schools that train pet doctors, animal hospitals provide a comprehensive range of preventive medicine, surgical, and dental care. You can take your pet for a wellness exam, vaccinations, specialized tests, etc. just as you do now. Many Italian vets also include herbal medicine and other alternative treatment techniques in their repertoire.
One thing that may be different when you visit your Italian vet is the amount of information shared with you. If you're used to a doctor that sticks to the basics and skips over the details, prepare to learn much more about your pet's condition. Your Italian vet is likely to over-explain, in direct and graphic detail. That could take some getting used to, but you'll never feel as if you don't know what's happening with your pet's health.
Language
No matter how much information your receive, many pet owners who move overseas with their dog or cat worry about understanding what their new vet has to say. If you don't speak Italian, you can relax. First of all, you'll discover that many Italian vets speak at least some English. However, if you'd be most comfortable with a vet who is fluent in English, you can find one here.
Communicating with your pet won't be a problem, because every vet, no matter their native language, understands meow and woof. But if you would like to be understood a little better, consider learning a few key pet-related words and phrases in Italian.
And while we're on the subject of languages, you know the old saying, "When in Rome . . ." So why not have a little fun teaching your dog a few commands in a foreign language? This is fun even if you aren't planning to move overseas. Practicing new commands is a wonderful bonding experience for pets and their owners, and you'll wind up with an internationally obedient pooch. Very cosmopolitan indeed.
Pet health concerns in Italy
Italy is home to many of the same pests and parasites that can plague pets in the US – fleas, ticks, worms, and so on. Ticks may be a more prevalent problem than you're used to, and some pet health experts recommend carrying a tick removal tool if you plan to do any hiking or other outdoorsy activities with your dog.
Sand flies are a common biting insect found mostly in southern Italy. They are a danger to your dog because they can transmit a parasitic disease called leishmaniasis which can eventually cause kidney failure. Fortunately you'll be able to purchase a special collar to protect your pup.
Depending on where you live or travel in Italy, be aware that people sometimes put out deadly poisons to get rid of unwanted wildlife. Shockingly, because white truffles are so valuable, truffle hunters have been known to poison their competitors' dogs. Keep your pet on a leash or under control, and don't allow them to eat anything you haven't given them.
Note that in certain parts of Italy it can get very hot in the summer. Dogs and cats are even more vulnerable to heat stroke than people, so take extra care to keep your pet cool.
Whether your pet gets sick in Italy, or it's time for their annual exam, you can expect excellent treatment when you take them to the vet.
Starwood Animal Transport has rebranded to Starwood Pet Travel. We are still the same great company with the best team, just now with a slightly different name.
Subscribe to the Blog
Enjoy our content? Get them sent to your inbox!
Subscribe Now!
Related Posts
What to Expect When You Visit a Vet in South Africa
Taking your cat or dog to see a veterinarian in South Africa is really no different than visiting a vet where you live now. ...
Read More