7 Ways to Get Your Pet Ready to Move Overseas
Published on: August 11, 2018 | Author: Starwood Pet Travel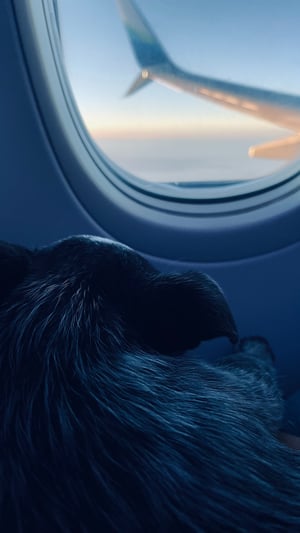 Preparing for an overseas move is much more than just packing up your belongings. It also involves getting your family, including your beloved pet, emotionally prepared for the journey. However, explaining to your furry friend what's happening can be challenging. Organizing your pet for an international move requires careful planning and coordination.

Discover 7 practical tips to assist your beloved furry family member(s) in preparing for their exciting Big Move.
1. Make a timeline
Preparing your pet for an international move is not only time-consuming but also time-sensitive. It is crucial to create a detailed timeline that serves as a checklist to ensure you stay on top of vet visits and necessary paperwork. Failure to follow the specific requirements of each country could result in your furry friend being denied entrance. With a well-organized checklist and calendar, you can ensure that no important task is overlooked during this process.
2. Prioritize your to-do list
Determining the necessary documentation for your pet and getting started on it should be your top priority. Some countries require a rabies titer blood test and a waiting period after the blood draw. Once you have a clear understanding of what is required and the timeline for each task, update your timeline and calendar accordingly. After that, you can add other tasks that don't have specific deadlines.
3. Call us
Our team of pet travel experts at Starwood is well-versed in the intricacies of transporting animals worldwide. We understand the unique challenges involved in choosing the safest and most efficient itinerary for your furry companions. As you embark on a longer journey, these challenges become even more complex. Factors such as weather conditions and airplane size can pose additional obstacles that humans don't have to consider. By entrusting us with your pet's travel arrangements, you can save valuable time and gain peace of mind knowing that their journey is in capable hands.
4. Purchase your pet's travel kennel
Every pet that travels by air must be transported in an airline-approved carrier or crate. These specially designed products adhere to strict safety and durability standards. The most effective way to prepare your dog or cat for their journey is to acquire the crate as soon as possible. This allows them ample time to become acquainted with their new space. By the time departure day arrives, they will feel at ease and comfortable in their travel carrier.
5. Determine what pet stuff to move
When moving abroad, it's important to downsize. Moving household items can be costly, and you may be downsizing to a smaller space. Sorting through your pet's belongings, such as dog beds and cat toys, is necessary. Choose their favorite items that have a familiar scent to help them feel at ease in their new home. Once you've decided on what to bring, separate them into items that can be shipped and those you'll want to take with you.
6. The day before departure
You're almost at the finish line. Exhausted from completing countless tasks to prepare your family for the upcoming move, you're now in the final stretch. Tomorrow is the day your pet has been waiting for - the Big Day. (Families moving to countries that require quarantine often choose to send their pets ahead of them.) Surprisingly, you feel a sense of calm because you're fully prepared.
Just to be absolutely sure, take some time today to double-check all your preparations.
Confirm that your pet's documents are complete.
Make sure you've located your own passport.
Verify that your pet's travel reservations are confirmed.
Set aside extra time today to play with your furry friend. Plenty of exercise will help reduce pre-travel anxiety for both of you. Shower them with love and spend quality time together. No matter how many changes your furry companion has experienced recently, knowing that you're still there for them is what matters most.
7. Travel day
The most crucial thing you can do on the day your furry friend departs is to exude a sense of calm. We understand it's not an easy task, but as the leader, your demeanor sets the tone for your pet. If you remain positive and relaxed, your furry companion will follow suit. It's time for the final pre-flight check, and then it's off to the airport. Before you know it, you'll be reunited with your beloved pet in your new home country.
And once you and your furry family member arrive at your destination, how should you greet them after their international journey? You already know the answer: shower them with kisses and cuddles, followed by some delicious treats!
Starwood Animal Transport has rebranded to Starwood Pet Travel. We are still the same great company with the best team, just now with a slightly different name.
Subscribe to the Blog
Enjoy our content? Get them sent to your inbox!
Subscribe Now!
Related Posts
Can I Take My Pet On Vacation With Me?
Pets are an important part of our lives. According to the ASCPA, somewhere between 37%-47% of American households have a dog, ...
Read More