What to Expect When You Visit a Vet in South Africa
Published on: August 1, 2018 | Author: Starwood Pet Travel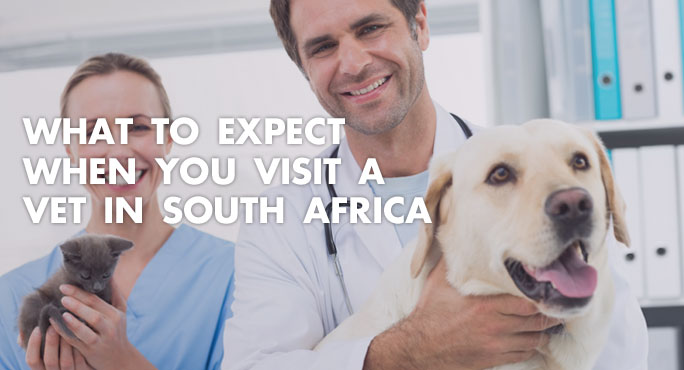 Taking your cat or dog to see a veterinarian in South Africa is really no different than visiting a vet where you live now. Veterinary services here are long-established, as are the education and practice standards vets are expected to meet. And, even though you'll hear Afrikaans and multiple African dialects spoken in South Africa, you won't have any trouble finding a vet that Speaks English. It's also an official language.
Veterinarians in South Africa are well-educated. Animal hospitals and clinics offer the same modern facilities and range of primary care, immunizations, diagnostic work, prescription medications, etc. that you're used to. And there are veterinarians who specialize in specific fields.
The South African Veterinary Council is the country's regulatory agency when it comes to standards of practice and professional conduct. If you are so inclined, you can read their Minimum Standards for Veterinary Shops here.
By the time you arrive in South Africa, your pet will be fully vaccinated. That's part of the pre-trip health regimen every cat or dog must undergo in order to travel to a foreign country. However, every country has somewhat different requirements, so it's important to learn just what vaccinations, treatments, etc. your furry friend will need for South Africa, along with the associated paperwork.
When you visit a vet with your pet for the first time, take along that paperwork, as well as your pet's medical records from home. That will give the vet the best foundation for treating your pooch or kitty going forward. If your dear one has a chronic health issue or takes medication on a regular basis, you'll want to make scheduling that first vet visit a priority. That way, nothing will slip through the cracks.
Finding a new vet in South Africa
Naturally, you will want to find a vet you feel comfortable with to take over care of your precious pet. You can start that search before you ever leave home, if you want. You can look for expat forums online and see what they have to say. You can also check out these directories of veterinarians:
The South African Veterinary Association is the country's professional organization. They provide continuing education for vets, educate the public about responsible pet ownership, and promote animal health and welfare throughout South Africa.
They also have a very active non-profit affiliate that operates Community Veterinary Clinics around the country in low-income or very rural areas where veterinary care is not otherwise available. SAVA members donate their time and expertise at these clinics, to treat pets and livestock and educate people about the importance of animal care, especially spaying and neutering. You can find a vet who is a SAVA member here.
This site allows you to search for top-rated vets by province. You can simply click on the name of your province to see vets located anywhere in that area. Or type something like "Johannesburg" in the search box, and you'll see a list of those who are located in Johannesburg (which is in Gauteng Province).
Feeling at home in your new home
One of your most important tasks upon moving to South Africa will be helping your pup or feline become acclimated to their new home. So many different things to see and smell. And perhaps living accommodations quite different from your current home. Ask your new vet if there are optional additional immunizations or treatments your dog or cat might need, and also about potential dangers to watch out for, such as poisonous plants or wildlife.
Once you and your pet get settled, you can begin exploring your new home in detail. South Africa is an exceptionally beautiful country, so if your four-legged companion is a dog, you'll no doubt want to get out and hike. Here are some great ideas for hiking with your dog around Johannesburg.
Starwood Animal Transport has rebranded to Starwood Pet Travel. We are still the same great company with the best team, just now with a slightly different name.
Subscribe to the Blog
Enjoy our content? Get them sent to your inbox!
Subscribe Now!
Related Posts
What To Expect When You Visit A Vet In Brazil
Moving to a foreign country is no easy feat. The move itself is usually an undertaking of major proportions. And if your ...
Read More