Tips For Summer Pet Travel
Published on: May 25, 2022 | Author: Starwood Pet Travel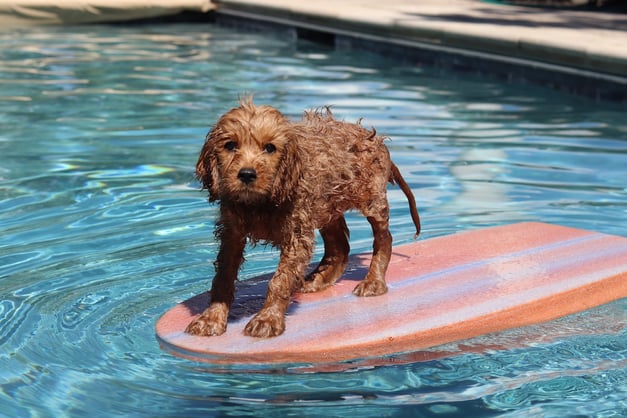 Depending on where you live, you might be hard-pressed to believe that summer will be here before you can believe it. If you're planning a fun vacation out of the country with your pet, or your family will be moving to a foreign country in the next few months, know this: the summer rush is here.
Summer (May through September) is typically the busiest time of year for the pet travel industry. Flights book up quickly, so the sooner you plan your pet's travels, the better chance you will have of meeting your preferred timeline.
Start Right Now
It doesn't really matter where you're headed. Even if you and your pet will be traveling cross-country in the United States or from one part of the world to another, flights fill up quickly for people as well as pets - especially if you're going to a popular destination.
Just as they do with human passengers, airlines make only a certain number of spaces available on each flight for pets. That applies for pets traveling in the cabin as well as accompanied baggage or cargo. Even if your dog or cat won't be flying in-cabin with you, you're probably hoping you'll both be on the same flight(s). Do keep in mind that this is not always possible and is not necessary. However, you still need to plan ahead.
If your pet is traveling in-cabin or as accompanied baggage with you on your own ticket, most airlines require 48-hour notice to book a space for pets. However, during peak periods that will not be nearly enough. The longer you wait to book your pet's flight, the greater the risk that there will be no room left. If you're traveling or moving with more than one pet, early reservations become even more critical.
If your pet is traveling as cargo, the airline booking window typically will not accept pet reservations until 10-14 days prior to departure. However, you still need to ensure your pet is compliant with all country and airline-specific regulations. Do note that just because the airlines won't confirm the flight(s) for pets until closer to travel, does not mean you can plan their entire trip in 2 weeks or less. International pet travel (or even travel to Hawaii) can take months of planning.
Be Patient and Flexible
Pet travel rules and regulations can change regularly for different countries as well as airlines. Just because you moved your pet without a hitch 3 years ago, does not mean the import rules or airline options will be the same now. Since the start of the Covid-19 pandemic, many countries and airlines have increased their restrictions on pet travel, and some airlines have stopped shipping pets entirely.
Some government offices and agencies are still short staffed and are more closely monitoring the number of pets allowed into the country (i.e. London, UK) and quarantine space fills up quickly (think Singapore and Australia). This means that just because you have an ideal travel date in mind for your family and/or your pet, does not mean your pet is guaranteed to travel on that date.
You will need to have some understanding, patience and flexibility surrounding your pet's travels due to a lot of varying factors. While this can be frustrating at times, your pet's health and safety is well worth it, don't you think?
Consider the Weather
With the bright sun and summer heat comes airline embargoes and temperature restrictions. You'll need to closely monitor the weather as your pet's travel date approaches and be prepared that in some cases there could be a delay in your pet's travels. Some airlines place complete embargoes on pet travel at certain airports during certain times of year while others will simply play it by ear. Some airlines also have general temperature restrictions, so if it's too hot at any port of your pet's itinerary, there's a chance the airline won't allow them to fly as a safety precaution.
Be Mindful of Your Pet's Breed
To go along with temperature restrictions, some airlines will not allow certain snub-nosed or brachycephalic breeds to travel during the hot summer months. You'll want to be very careful when planning your snub-nosed pet's travels since these breeds don't always handle the heat very well. A few examples of brachycephalic breeds include: Pug (all breeds), Bulldog (all breeds), Shih-Tzu, Pekingese and Himalayan cats.
Work with a Professional Pet Shipper
You might think you can plan a last minute summer move or summer vacation for your pet without an issue, but that's likely not going to be the case.
No need to scramble, drive yourself crazy or miss out on the best flights in the process. We know things come up, and we're here to deal with them on your pet's behalf. Frankly, it can be a major stress reliever to let a professional pet shipper like Starwood handle your pet's travel arrangements. Wouldn't you rather concentrate on what you should pack or the fun things you want to do with your family and pet(s) after you arrive?
And if it turns out you and your furry companion cannot travel together, our Starwood team will have your back. Not only making sure your four-legged friend gets the best possible flights with the best possible airline, but that they have someone on the ground to monitor the journey and be there if an unexpected delay happens.
The more notice you can give us, the better for everyone. With your fur baby's travel plans in the hands of the pros, you can relax and look forward to your own trip.
Starwood Animal Transport has rebranded to Starwood Pet Travel. We are still the same great company with the best team, just now with a slightly different name.
Subscribe to the Blog
Enjoy our content? Get them sent to your inbox!
Subscribe Now!
Related Posts
How to Juggle Weather Embargoes During Summer Travel with Your Pet
Stranded by the weather. Who knew that the heat you've been craving all winter could throw such a curveball into your summer ...
Read More