What Happens on the Day Your Pet Flies
Published on: September 5, 2017 | Author: Starwood Pet Travel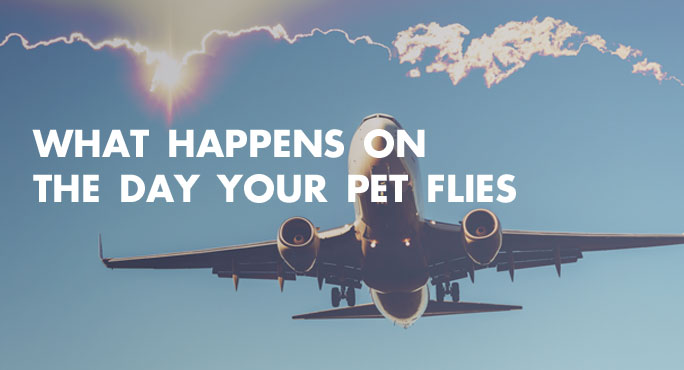 All those weeks or months of planning, and the Big Day is finally here – it's the day your pet flies to his new home. Is your stomach in knots with concern about your pet's trip? Of course not! There's no need for worry, because you've planned ahead carefully for this day. You've been following our blog series on moving to a new home with your pet.
You read up on how to get him ready for his airplane journey. You took our countdown to departure to heart, making a calendar so you could keep track of everything you needed to do, and when. You crossed off all those tasks as you completed them. You're confident. Calm. (Well, sort of calm.)
You made a big deal of introducing your dog or cat to his airline-approved crate. It's no longer new and strange, it's perfectly normal. His special place. Traveling in his home away from home, he'll be confident, too.
You decided what to take with you from your old home to the new for your pet. It wasn't easy scaling back, but you always knew in your heart that your beloved (and spoiled) companion didn't need all those toys. Besides, once you get settled in your new home, you and your Dear One can shop for new toys. Or maybe a new bed. Or a new outfit, if your pup is a canine fashionista.
Yesterday, you did a final review of your preparations. You packed your luggage and your carry-on. Is your pet ready to fly? Check.
It's time for your pre-flight check
You're rarin' to go, excited to get to your destination and get started on the next chapter in your life. However, there are still a few things you need to do:
If your pet is a large dog, you may want to disassemble the kennel for easier transport to the airport. Put the hardware in a Ziploc bag and tape it to the kennel so you'll have everything at hand when you need to reassemble the carrier at the cargo terminal. If anything is missing, the airline may not accept your pet. Attach the water and food dishes per your airline's instruction. Add a Ziploc bag of dry food, if your pet's journey will be long enough to involve a stopover. (Your airline will inform you whether or not to do this.)
If you have time, do a short run or play time with your pooch or kitty before heading to the airport. The exercise will help both of you relax, and a tired pet is more likely to snooze during his journey. You'll want to give your dog a final chance to relieve himself just before you load him into his kennel at the airport.
Check for weather embargoes . If the weather is very hot or very cold, airlines put pet flight on hold. But it's a day-by-day decision. You may have anticipated this potential problem yesterday, but the day your pet is supposed to fly is the only day you can check in with your airline about weather problems. Knowing in advance this could be a problem, you undoubtedly have a contingency plan for your pet. This is just one of many reasons why it's smart to hire a professional animal transport company to assist with your pet's move.
No sedatives! Just a final reminder that dogs and cats who will be traveling by air shouldn't be "flying high" on drugs. Tranquilizers are not acceptable – literally. Airlines and responsible pet transport companies won't allow sedated pets even if they have a reservation. Your furbaby will be much less anxious – and safer – if he has his wits about him than if he is drugged and confused.
Triple-check to be sure you have your pet's travel documents in hand, along with your own passport. If you forget something else, you'll survive, but your pet cannot travel without proper paperwork.
Don't forget to take plenty of selfies with your pet, to document your travel day. The folks back home (not to mention your social media friends and followers) will be anxious to see and read about the details.
Bon voyage! Now all you have to do is sit back and enjoy your flight, thinking about being reunited with your kitty or pup when you land. And all the things you'll need to do tomorrow ­– your first day in your new home with your pet.
Starwood Animal Transport has rebranded to Starwood Pet Travel. We are still the same great company with the best team, just now with a slightly different name.
Subscribe to the Blog
Enjoy our content? Get them sent to your inbox!
Subscribe Now!
Related Posts
FAQs for Moving Your Pet Overseas
Moving your family overseas can seem daunting enough, but what do you when your family includes pets? If this will be your ...
Read More