What to Do the First Day in Your New Country with Your Pet
Published on: May 18, 2023 | Author: Starwood Pet Travel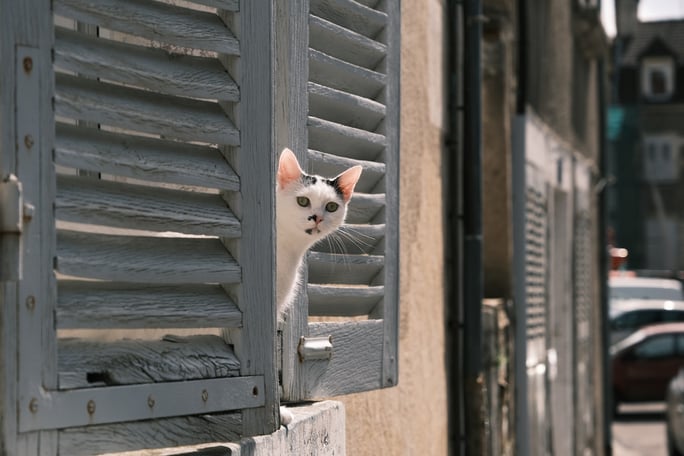 Today you're waking up in a brand new country. Is this a dream? No, you've finally arrived at your destination after extensive planning for your international move. Thankfully, your pet is right by your side so you can take it all in together. What should you do on this first day in your new country?
Deal with the essentials first
Place your pet's travel kennel in a prominent place, so they can continue to use it if they want to. If nothing else, it will help them get the idea that this is their new home.
Find a good spot for food and water, and set out their bowls. Fill up their water, and put a nice treat in the food dish. Or go ahead and feed them, if it's the usual time. However, bear in mind they may have some jet lag, just as you probably do.
Prepare their potty area. If you have a cat, pick a spot for the litter box, set it up, and show them where it is. They can take it from there. If you have a dog, leash them up and take them outside, to show them where you want them to go. If they know a bathroom command, brilliant. Otherwise, you'll have to work with them on this. At least they'll be motivated.
Break out the toys and treats
You're here . . . you made it! Aren't you glad you stashed a couple of their favorite balls or catnip mice in your luggage so you can celebrate with playtime?
Check out the area
Your cat may be indoor-only, or you may have moved to a place where cats are not welcome to wander outdoors. If so, give them the next best thing – a viewing station or two where they can easily supervise the goings-on outside the windows.
If you have a dog, take them on an exploratory walk around the neighborhood. (Don't forget a poop bag, you don't want your new neighbors to turn up their noses at you and your beloved pup!) Did you move to a high-rise with an elevator or lots of stairs? Many dogs are clueless about these things, so spend some time riding or walking up and down with them until they seem comfortable with the new mode of transportation.
You'll need to take care of several practicalities
It's even possible you gave yourself a head start on some of these before leaving your old home:
Find a new vet

Figure out where to get pet supplies

Locate the nearest dog park

Learn the local licensing and pet etiquette rules for dogs or cats

Teach your pet a few foreign language commands
If you didn't already identify a vet and a pet store, make those a priority. For one thing, although you brought a small supply of food and meds for your four-legged friend, those things will run out before you know it. And you never know when you'll need a vet. Having someone you can call or visit right away will give you immeasurable peace of mind.
Expect some behavioral issues
Your pet is relieved you're still a team – somewhere strange, but still together. Nonetheless, your cat may be miffed at the indignities they were forced to endure during their flight, or your dog may be feeling a bit uncertain about all the new sights, sounds, and smells. Acting out is not unusual. Potty accidents, chewing or clawing, barking, and an upset stomach can all be signs of worry or separation anxiety. Be aware, and be positive. If problems persist, talk to your new vet. We have another article about acclimating your pet to their new home.
Just remember to take it easy
Don't overdo it on the first day in your new country. Months of moving prep and yesterday's travel experience have undoubtedly taken a toll. Both you and your pet may be feeling a bit drained, emotionally and physically. Even if you don't have furniture or other homey accouterments, you still have each other (and the rest of your human family).
So concentrate on connecting with your pet and adding in just enough exploration to confirm you really have moved somewhere new. You'll have plenty of time to get the full flavor of your new country in the future.
Starwood Animal Transport has rebranded to Starwood Pet Travel. We are still the same great company with the best team, just now with a slightly different name.
Subscribe to the Blog
Enjoy our content? Get them sent to your inbox!
Subscribe Now!
Related Posts
How to Acclimate Your Pet To Their New Home
Introducing your pet to a new home can be a lesson in patience. Whether you're bringing home a newly-adopted dog or cat, or ...
Read More