How to Get an International Health Certificate for Your Pet
Published on: September 28, 2022 | Author: Starwood Pet Travel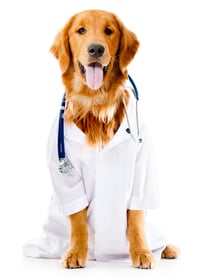 If you're moving with your family, you wouldn't consider leaving your four-legged family members behind. However, they do add to your to-do list, whether you're moving across the United States or internationally. Naturally, one of the questions you'll be asking is, "How do I get an international health certificate for my pet?"

If you're moving with your pet from the USA to another country, you will need an international health certificate for your destination country. The United States Department of Agriculture (USDA)'s Animal and Plant Health Inspection Service (APHIS) has each country's required pet health certificate on the USDA Pet Travel website. You will also need several other documents, depending on your destination country.
How it works
First, you'll need to make sure your pet is well-prepared and has met all of the pet entry requirements for your destination country. This typically involves a microchip, rabies vaccination, other vaccinations, blood testing, or other treatments.
Once you have a travel date confirmed for your pet, you'll need to make an appointment with a USDA-accredited veterinarian for the final exam and paperwork for travel. Not all licensed veterinarians are also USDA-accredited, so you'll need to ask them to make sure. The timing required for this will depend on your destination country. This typically takes place within 10 days prior to travel.
On the day of the exam, you'll bring your pet into the vet's office and they will scan the microchip, perform a clinical exam, and administer any required treatments. As long as your pet is healthy and free from any signs of clinical illness or disease, the vet will then complete and sign the proper international health certificate. Once complete, the certificate and supporting paperwork will need to be sent to the USDA for their official endorsement (signature and stamp). Depending on your destination country and your vet's experience with international paperwork, the documents can either be submitted electronically using VEHCS or can be mailed directly to the nearest USDA office.
Once the USDA receives the paperwork, they will review the documents and if everything is correct, they will place their official signature and stamp on the paperwork. From there, they will either electronically send the paperwork back to the accredited vet or they will mail the endorsed documents back to the vet. You or the vet will need to provide the USDA with a prepaid shipping label to send the documents back.
Please note that the accredited vet will charge their own fee for the final exam, treatments, and completion of the paperwork. The USDA charges its own fee for endorsement of the health certificate. You will also be responsible for paying the shipping fee for the documents.
Once you or your vet receive the endorsed paperwork back from the USDA, you'll need to make sure the original paperwork travels with your pet on the day of departure.
You can save time and frustration by working with a professional pet transport company. They know exactly what paperwork is required for wherever you're headed. They can even help with the final exam and paperwork, which can be a significant time-saver for you.
What information is on the health certificate?
The international health certificates for different countries can vary, but they are all intended to provide the information needed to ensure your pet is compliant with the pet import requirements for that destination.
The health certificates typically ask for the following details:
Pet owner's name, address, and phone number
Destination address, contact, and phone number
Pet details (microchip number, name, age, sex, weight, color, etc.)
Rabies vaccination details (date given, date due, serial/lot #, manufacturer, product)
General or other vaccination details (date given, date due, serial/lot #, manufacturer, product)
Blood test results (if required)
Other treatment details (if required) [Ex. internal and/or external parasite treatments]
The USDA-accredited veterinarian's signature, license number & hospital stamp
Date the exam was completed
Space for endorsement by the USDA
Is a health certificate needed when moving from one state to another?
If your pet is only traveling domestically within the USA, then it will depend on their mode of transportation. Airlines require a domestic health certificate and a current rabies vaccination certificate when pets are flying. If your pet is traveling via car or ground transportation, it's not typically checked but is still good to have. Luckily, USDA endorsement is not required for domestic health certificates, so any licensed vet can examine your pet and complete the domestic health certificate within 10 days prior to travel. Some vets issue an electronic health certificate (certificate of veterinary inspection - CVI) and others might use the APHIS 7001 form.
Is a health certificate required when moving to the US from another country?
Yes. Your pet will need an international health certificate from the country of origin when returning to the United States. This is also usually required for customs clearance in the USA as well. However, a USDA-endorsed health certificate is not required. In this case, you would work with the local government vet to obtain the local health certificate prior to departure. Keep in mind that the vaccination requirements for cats and dogs will depend on the origin country and destination state. You can find more information about this on the USDA and CDC websites.

The key to a stress-free pet move is advance planning. The earlier you get started on your pet's paperwork, obtaining their travel kennel, etc., the smoother the move will be, for you and your pet.
Starwood Animal Transport has rebranded to Starwood Pet Travel. We are still the same great company with the best team, just now with a slightly different name.
Subscribe to the Blog
Enjoy our content? Get them sent to your inbox!
Subscribe Now!
Related Posts
Noah, You Wouldn't Believe This ARK
Several months ago, we wrote a blog article about the planned ARK at New York's John F. Kennedy Airport. It was a preview of ...
Read More