11 Questions to Ask About Moving Your Pet During the Winter
Published on: September 20, 2018 | Author: Starwood Pet Travel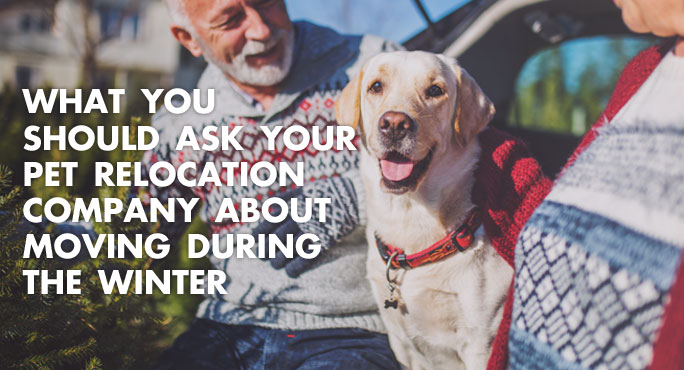 Many of us love winter. The pretty fluffy snow (especially if someone else has to shovel it), the skiing and ice skating, another chance to wear that gorgeous coat you bought last year. But winter brings some serious challenges as well. If you and your family are planning a long-distance move during the winter, those extra seasonal considerations become very important. Even more so if you have a pet.
Relocating cats and dogs across the country or overseas is no picnic, in any season. It might be the most complicated part of your move, and you will need to budget plenty of time to get all of your furry companion's documents in order. Whether your beloved Theo is a feline or a canine, he will need vet exams, vaccinations, a health certificate, an airline-approved crate, and a pet-appropriate itinerary on a pet-friendly airline.
Every country has somewhat different requirements, sometimes including quarantine. Finding the right information and wending your way through the process can feel daunting, even without the added uncertainties of moving during the winter. With so many other details on your mind and tasks to complete, it is far easier and far less stressful to hire a professional pet transport company to handle Theo's part of your family move.
How do you know who will be the best travel partner for your pet? We'll tell you what to ask. But first, let's take a closer look at winter, since that's when you will be moving.
How Can Winter Affect Your Plans?
When temperatures fall below 45o F, airlines around the world will not accept pets for travel. Even a short wait on the tarmac during loading or unloading can be too cold to be safe. But weather changes daily, so you may not know beforehand if a weather embargo will disrupt Theo's itinerary.

Bad weather causes problems for airports, delaying or cancelling flights. Theo could be stranded. Or you could have trouble getting him to the airport on time.

Winter holidays are some of the most over-crowded travel times. Chaos exacerbates anxiety in many pets, and Theo could be at risk of bumping, just like you.
Ask your professional pet relocation expert how they will handle these potential complications on Theo's behalf, should there be a problem. Ask non-winter related questions, too, about the company itself and how they handle specific issues that apply to you:
Are you a member of the International Pet and Animal Transportation Association? (Companies that belong to their premiere trade association are the ones who adhere to the highest professional standards.)

What experience do you have with pets like Theo?

What experience do you have transporting pets to/from my departure and destination cities? What will happen if we don't live near an airport?

I read that snub-nosed dogs and cats like Theo can't fly? What's up with that?

What documents will Theo need for our destination?

What if Theo isn't my only pet?

What happens if Theo has to stay overnight along the way?

What can I do beforehand to get Theo ready to move?
Do you offer any kind of pet travel insurance?

Will I get progress reports once Theo is on his way?

Can you help if I need help getting Theo to or from the airport?
Don't be shy about asking questions. And expect willing, complete answers. Any company that hesitates to help you understand the process or how they work should be a no-go. Keep asking questions until you are satisfied that you have all the information you want. After all, you're choosing someone to be Theo's concierge and advocate. What could be more important than that?
Once you decide, you will be following the lead of thousands of pet parents before you. You'll be serene and confident, knowing your precious Theo and his travel plans are in the best of hands. With that under control, you'll be able to focus on what to pack and what to leave behind. Sorry, but we can't help you with that.
Starwood Animal Transport has rebranded to Starwood Pet Travel. We are still the same great company with the best team, just now with a slightly different name.
Subscribe to the Blog
Enjoy our content? Get them sent to your inbox!
Subscribe Now!
Related Posts
JetBlue Airline Pet Policies
JetBlue strives to make pet travel safe and comfortable for companion animals like all pet-friendly airlines. Their underlying ...
Read More