What to Expect When You Visit A Vet in Ecuador
Published on: July 5, 2018 | Author: Starwood Pet Travel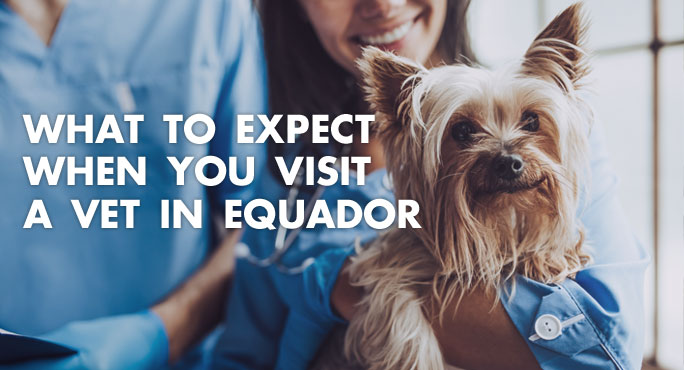 Finding a great veterinarian for your dog or cat is always important. But when you're relocating to a foreign country, finding a good vet takes on even greater meaning. Will there be a language barrier? What are the standards of medical care? Will your vet have a good "pet-side manner"? Let's look at what you might experience when you and your pet visit a vet in Ecuador.
Quality of care
Many veterinarians who practice in South America are actually graduates of American or British veterinary medical schools. So they are well-trained in both general and specialized pet care. Most use the same diagnostic equipment and techniques, medications, vaccinations, etc. you and your pet are already familiar with.
What's different? As you'll see in the examples below, veterinary clinics in Ecuador typically offer much more than medical care – things like grooming and supplies and boarding. And you will love the prices. Top quality pet care, services, and supplies are considerably cheaper than in the US. Many vets even make house calls.
How can you find a vet in Ecuador?
Ask locals or other expats for recommendations. There's nothing like first-hand experience to reveal a clinic's character as well as qualifications. You can also look online, though that may be more frustrating than you expect. If you don't speak Spanish, you may have difficulty deciphering the websites.
But don't worry. You'll find that some well-respected clinics don't even have a website, just a Facebook page or Google Places listing. You can at least find their phone numbers. And when you call, chances are good the vets will speak English even if their staff do not.
To give you a head start on your research, we've listed a few highly-rated veterinary clinics below:
Guayaquil
Patas (Dr. Paws)

Clínica Veterinaria Medical Vet Gye

Veterinary Animal Town
Dr. PET is proud of their personalized service and fully modern facilities and equipment. They treat cats and dogs, offering:
Surgery

24-hour care hospital care

Ultrasound

X-ray

Laboratory

Home visits

Salon services
Quito
All Pets has seven vets on staff and three well-equipped exam rooms, "big enough even for your St. Bernard, Mastiff, or Great Dane." Good to know. Services include:
Cardiology

Dental

Laboratory

Surgery

24/7 emergency service

Grooming
ECUAVET offers pet health care 24/7, as well as home services, grooming, boarding, and pet supplies.
Dogtor's Cat Clinic is "cat and dog friendly," in spite of their name. (They do specialize in feline medicine.) They offer a long list of standard medical services including emergency, surgery, hospitalization, X-ray and ultrasound, a lab, and pharmacy. They also offer care in all these specialties:
Ophthalmology

Oncology

Neurology

Dermatology

Pathology

Dental care
Hospital Veterinaro de Especialidades Sinai offers gestational care for pregnant pets as well as spay/neuter services. They also specialize in geriatric care. The clinic includes a pharmacy, pet shop, grooming salon, and lodging facilities for dogs and cats.
Ibarra
Many American and international veterinary and wildlife organizations work on the ground in countries throughout South America, including Ecuador. As part of that work, their volunteers often help staff local clinics that treat pets as well as wildlife. Clinica Veterinaria in Ibarra is one example, run by Organizacion Save Ecuador.
Cuenca
Clinica Veterinaria Patas (Paws Veterinary Clinic) says you and your four-legged friend will get personalized attention and the best possible care. "In our clinic we know that pets are part of the family, so our main goal is the health and well-being of our companions. You can contact them or learn more via their Facebook page.
Cuenca Animal Clinic also has a Facebook page you can check out to learn about their vets and services.
Pet health starts with you
Ecuador sits right on the equator. Unless you're up in the mountains, it is hot and humid. Even if your kitty or pup is used to warm weather, this may be an adjustment. Take extra steps to keep them cool. It's also a good idea to learn about indigenous flora and fauna that could be dangerous to your pet. If you're properly prepared, moving to Ecuador will be an interesting adventure for you and your furry companion.
Starwood Animal Transport has rebranded to Starwood Pet Travel. We are still the same great company with the best team, just now with a slightly different name.
Subscribe to the Blog
Enjoy our content? Get them sent to your inbox!
Subscribe Now!
Related Posts
What to Expect When You Visit A Vet in Italy
Italians love, love, love their pets. And no wonder – they love all animals. One study showed 65% of folks in France and 75% ...
Read More