2018 Update on Vaccinations For Europe
Published on: January 23, 2018 | Author: Starwood Pet Travel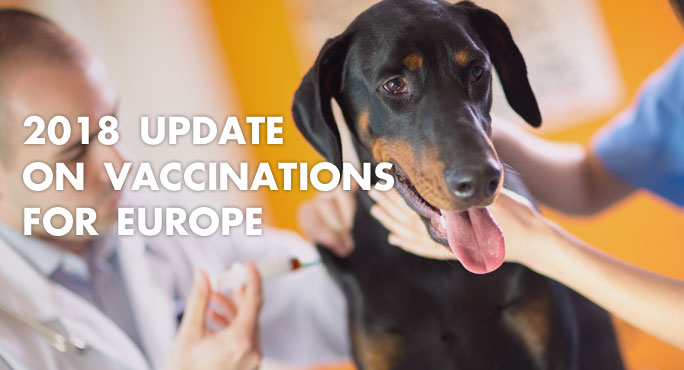 You are your pet's first line of defense against injury and disease. But you're not the only one. If you plan to travel with your pet this year – or you will be moving internationally – it's important to know that every country has specific pet health requirements. Your furry companion will have to prove she meets those requirements before she can enter the country. That includes the proper vaccinations.
Fortunately, taking your pet to a European country is not as complex as it can be for some other places around the world. To facilitate pet movement across borders, all members of the European Union use the same set of rules.
They are most concerned about rabies
Rabies is a deadly disease that can be transmitted from wild animals to domesticated pets and humans. Uncontrolled, it could devastate a country's natural environment and pose a significant public health threat. No country – in Europe or elsewhere – is willing to take a chance that your pet might bring rabies with her.
As the European Commission explains, "The adoption of harmonised rules on travelling with pets has made it easier for EU citizens and their dogs, cats or ferrets to enjoy the freedom of movement within the Union. This significant step was made possible by dramatic advances made in the fight against rabies." If you're headed to Europe from the US or Canada or some other non-EU country, "vaccination against rabies documented in the pet passport or the animal health certificate is the sole requirement for dogs, cats and ferrets."
That said, individual countries may add certain requirements. For example, if you and your dog are going to the UK, Ireland, Malta, Norway, or Finland, she will also need to be treated for Echinococcus (a type of tapeworm), within 48-120 hours of your departure. It is critical that you double-check to see if your destination country requires any extra vaccinations, treatments, or tests.
You can learn about requirements for any country on this USDA web page.
First things first: every traveling pet needs a microchip
A microchip is not a vaccination, even though it is delivered via a "shot" with a syringe. It is a unique identifier that has to appear on all of your pet's travel documents. To enter a European country, your pet's microchip must be ISO-compliant. And it must be implanted before your pet is immunized for rabies. That way, the microchip ID provides a direct, verifiable link between your dog or cat and her vaccination data.
The EU accepts 1-, 2-, and 3-year rabies vaccines. However, if your girl still needs to get a microchip before travel, she will need to be re-immunized for rabies afterward. This can be done at the same time, as long as the microchip is administered first.
Pets coming from outside the EU must wait 21 days after their primary rabies immunization before they can enter an EU member country.
Your pet's personal information, immunization records, and other health details will be recorded on a form known as the non-commercial EU heath certificate. It looks like this. If you're coming from a non-EU country, you'll also need a health certificate from your country of origination. In the US, that's USDA/APHIS Form 7001. Your vet will fill it out and sign it, but this form and the EU health certificate must also be endorsed by your state's USDA Veterinarian (in Canada, the CFIA provides the endorsement).
Official rules aside, every pet needs immunizations
As a responsible, loving pet parent you should always make sure your dog or cat is vaccinated against every infectious disease prevalent in your locale. They should also be properly protected against common pests and parasites. If you're moving or traveling internationally, dangers in your location may be quite different from where you now live. You can look into this in advance, or visit a local veterinarian soon after you arrive to discuss what protections your cat or dog will need.
Vaccinations cannot prevent everything
Personal vigilance is required, too, to keep your pets safe and healthy. That's because the flora and fauna native to your new environment may also be dangerous. That might be anything from shockingly poisonous frogs to beautiful-yet-deadly roadside vegetation. If your pets will spend any time outdoors, you'll want to learn what's what so you can prevent them from coming in contact with anything that could harm them.
We can help
There's more to assembling the pet travel documentation than filling out forms. It can be confusing and time-consuming. If you omit something or miss a timing deadline, your pet could be refused entry upon arrival. Why not let our Starwood pet travel experts handle all the details? Instead of worry and frustration, you'll have peace of mind knowing your pet's passport will be perfectly in order.
Starwood Animal Transport has rebranded to Starwood Pet Travel. We are still the same great company with the best team, just now with a slightly different name.
Subscribe to the Blog
Enjoy our content? Get them sent to your inbox!
Subscribe Now!
Related Posts
Best Dog Beaches In Europe
Pet lovers around the world are traveling more often with pets in tow, especially their dog. And why not? Your best friend is ...
Read More