Moving a Pet to France
Rules and Regulations for International Pet Shipping
What Pet Travel Documents Are Needed to Travel to France?
Every country sets its own rules for importing pets when you move to or visit their country. In France, it is the French Ministry for Agriculture, Food, and Forestry that governs pet importation. The rules differ somewhat, depending on where you live now. For instance, if you and your pet (dog, cat, or ferret) currently reside in another European Union country and your pet has a current EU Pet Passport, you do not need any additional documentation to bring your pet to France.
However, if you currently reside in a non-EU country, there are specific steps you will need to take in order to bring your pet into France. You can consult this page to get the details, but we have outlined all the essentials below. You will be happy to learn that France's pet import requirements are less complex than those of many other countries.
But do not take the requirements lightly. Without proper documentation, your pet could be sent back, quarantined, or even euthanized. If your pet causes or contributes to the spread of transmissible disease, you could be fined or worse.
If your pet will not be traveling with you, you will need to sign a consent form for the person who will accompany or be authorized to transport your pet.
Vaccines
Rabies Vaccinations

Rabies is the only immunization required for dogs, cats, and ferrets to enter France. To be considered valid, the rabies vaccine must be administered after your pet is microchipped. All countries make this distinction because each animal's microchip number is its unique identifier and it has to appear on all documentation.
To enter France, your pet's microchip must be ISO-compliant. Your pet's microchip must be readable and correctly reported on all of your pet's paperwork. If your pet has more than one microchip that is readable then all paperwork must show both microchip numbers.
The first rabies vaccination given after implantation of a microchip (or at the same time) is considered the "primary" vaccination. This definition also applies to a vaccination given after an earlier rabies vaccine has expired. All pets must wait at least 21 days after the rabies vaccination before they can travel to France. Please note that the rabies vaccination for pets traveling to the EU must be greater than 21 days old and less than 1 year old at the time of travel. If your pet's vaccination will be over 1 year, then a new vaccine will be needed at least 21 days prior to travel.
Other Vaccinations



Although other immunizations are not officially required for import, it is recommended that cats and dogs are vaccinated for the following. Do note that if your pet will be boarding, these vaccinations will be required.
Dogs: DHPP (Distemper, Hepatitis, Parainfluenza, Parvovirus), Bordetella (Kennel Cough), Leptospirosis, CIV (Canine Influenza Virus)
Cats: FVRCP (Feline Viral Rhinotracheitis, Calicivirus, Panleukopenia), Feline Leukemia
Blood Tests
If you are moving from a non-listed country (where rabies is a known problem or not reliably controlled), your pet will also have to have a rabies titer blood test to prove their rabies vaccine is active within their body. This blood test must be completed in an approved EU laboratory and must be done at least 30 days after rabies vaccination and at least 3 months prior to travel.
This is not needed when coming from the United States.
Import Permit
France does not require an import permit for dogs, cats, or ferrets that are personal family pets.
Health Certificates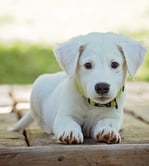 The requirements described below apply only if your dog or cat or ferret will be entering France within 5 days before or after your own arrival date. If the timing difference will be greater than this 5-day window, your pet will need a "commercial" health certificate, which is somewhat different. No worries, though – our Starwood Pet Travel team can easily handle this for you.
You will need a French EU Veterinary Health Certificate that must be endorsed by the official government vet prior to shipment for each pet. It must be filled out and signed by a government-approved (USA Accredited) veterinarian within 10 days prior to travel. Coming from the USA, the APHIS 7001 form is also required for some airlines but does not need USDA endorsement. France will allow the health certificate to be submitted to the USDA electronically but the USDA endorsement must be in original ink. The original endorsed health certificate and original signed rabies certificate must travel with your pet.
What Are the Pet Restrictions for France?
Like many countries, France does not allow the import of certain breeds of dogs, although there are no restrictions for cats. You can get more information about this here.
Banned Breeds
If your dog is one of the following breeds, you may not bring them to France unless they have an official, registered pedigree:
American Staffordshire terrier (formerly Staffordshire terrier) or "pit bulls"

Mastiff or "boerbulls"

Tosa
If your dog is one of these breeds and does have a registered pedigree, you may import them but you will have to follow certain rules set forth for dangerous dogs. This also applies to Rottweilers and dogs that are "similar to Rottweilers," with or without a registered pedigree.
Age Restrictions for France
France does not allow the import of puppies, kittens, or baby ferrets that are younger than 12 weeks and have no rabies vaccination, or those between 12-16 weeks whose rabies vaccine was administered less than 21 days prior to arrival.
Do I Need a Microchip for My Pet to Travel to France?
All dogs, cats, and ferrets must have a microchip that meets ISO standard 11784 or 11785. (The number will be 15 digits.) The microchip must be implanted BEFORE the rabies vaccination. If your pet currently has no microchip, that should be your first order of business, because it is a prerequisite for obtaining documentation. If your pet has a microchip that does meet ISO standards, you have options:
Carry a chip reader that customs officials can use to scan your pet
Notify French customs in advance so they can have an appropriate scanner available
Have your veterinarian implant a second, ISO-compliant microchip. This won't hurt your pet. You will need to include both microchip ID numbers on all of your pet's paperwork.
What Are the Quarantine Requirements for a Pet Traveling to France?
France does not quarantine pets upon arrival, providing they meet all the stated health requirements.
Are There Any Area Specific Pet Requirements in France?
Although France does not have any other pet import restrictions you will need to know about, airlines also have rules about pet travel. Therefore, it is important to consult your airline (or your Starwood rep) to learn if there are additional rules that apply to your pet's journey.
Top Destinations in France
Our France pet shipping services include:
Door-to-door transport
Assistance with health certificates, import certificates, and other travel documents needed for animal transport to France (outlined above)
USDA endorsement and consular legalization (when needed) of all relevant documents where required
Airline-approved flight kennels provided with personalized labels, identification and emergency notification instructions
Customs clearance and delivery to your home
Local pet taxi service to and from the airport, your home, veterinarian, kennel, or groomer – available in major France cities as well as their surrounding areas
Travel consultation and flight reservations
We will inform you of your pet's full itinerary before the trip and we will update you as your pet travels to France.