Moving a Pet to Ireland
Rules and Regulations for International Pet Shipping
What Pet Travel Documents Are Needed to Travel to Ireland?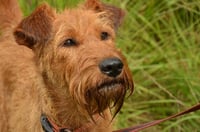 If your family is relocating to the Emerald Isle, your pet cat, dog, or ferret will be welcome to join you. However, pets require personal documentation, just as humans need a passport. Every country sets its own rules for pets to visit or relocate, so just to clarify, the following information pertains to the Republic of Ireland, not Northern Ireland, which is part of the United Kingdom.
Pet Travel Documents & Requirements
Although each country's pet import requirements may differ, they are also similar in many ways. The details depend on where you live now. Ireland is part of the European Union, so if your family currently resides in another EU country and your pet already has a current EU Pet Passport, you won't need any other paperwork to bring your pet into Ireland.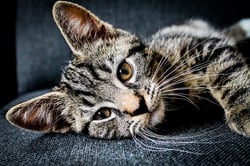 What happens if you live outside the European Union? You will have to follow specific steps to obtain the paperwork your pet needs to move to Ireland. As already noted, the details will depend on where you now live. If you are moving from the United States, this USDA web page outlines everything required to relocate your pet to Ireland. To make it easier for you, all the essential information is included below.
Read through everything carefully, because it is essential to follow the rules to the letter. If your pet arrives in Ireland with incomplete or incorrect documentation, they could be quarantined, sent home, or even euthanized. The Irish are delighted to welcome family pets, but they want no part of any pests or diseases that your four-legged friend might bring.
If your pet will be traveling separately from you, you will also need to sign an authorization form for whomever will accompany or transport your pet.
Be sure to check with your airline, too, because some carriers have pet travel requirements in addition to the destination country's rules. For instance, flights departing from the US may require your pet to have a USDA APHIS 7001 (international health certificate) in addition to the EU form required by Ireland.
Rabies Vaccinations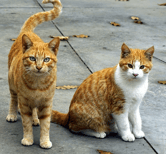 Ireland requires all pets to be vaccinated against rabies before they arrive. The vaccine must be administered AFTER the microchip is implanted/scanned. The rabies vaccination for pets traveling to the EU must be greater than 21 days old and less than 1 year old at the time of travel. If your pet's vaccination will be over 1 year, then a new vaccine will be needed at least 21 days prior to travel.
All European Union countries require microchips to be ISO-compliant. So if your pet has another type of microchip, they will need to get a second one (and both numbers will have to appear on the documentation). If your pet's microchip is the right type but was implanted before the rabies vaccination, they will need to get a new rabies vaccine so that the immunization can be officially tied to that microchip number.
Ireland requires all pets to wait at least 21 days after receiving their rabies vaccination before entering the country.
Other Vaccinations
Ireland does not require pets to have any vaccinations other than rabies. However, we recommend that you ask your new Irish veterinarian about locally-specific immunizations or preventative treatments your pet should get.
It is recommended that cats and dogs are vaccinated for the following. Do note that if your pet will be boarding, these vaccinations will be required.
Dogs: DHPP (Distemper, Hepatitis, Parainfluenza, Parvovirus), Bordetella (Kennel Cough), Leptospirosis, CIV (Canine Influenza Virus)
Cats: FVRCP (Feline Viral Rhinotracheitis, Calicivirus, Panleukopenia), Feline Leukemia
Blood Tests
Ireland does not require any additional blood tests for cats, dogs, or ferrets unless your pet is traveling from an "unlisted" country.
If your pet is traveling from an "unlisted" country, then a rabies titer blood test will be required. The rabies titer test must be completed at least 30 days after their rabies vaccination and at least 3 months before traveling to the EU. This test must be completed by an authorized (USDA-Accredited) vet and the sample must be sent to an EU approved laboratory.
Tapeworm Treatment
Unlike most EU countries, Ireland does require dogs to be treated for tapeworms prior to entering the country. Your dog must be treated by a USDA-accredited vet between 1-5 days before their arrival in Ireland, using a product labeled effective against tapeworms (Echinococcus multilocaris). The preferred product is praziquantel. This can be done either before or after your dog's health certificate is endorsed by the USDA, but it must be reported on the health certificate.
Health Certificates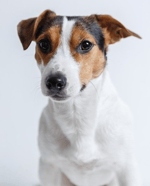 The requirements outlined below apply to pets entering Ireland within 5 days before or after your own arrival date, as long as you have fewer than 5 pets total. This is the case for most families. If you and your pet(s) will be traveling on the same flight or if you will be traveling separately but within the 5-day window noted, the appropriate health certificates can be found on the USDA website.
If you will be traveling with more than 5 pets, or if your pet(s) will arrive in Ireland outside the 5-day window noted above, then you must use a "commercial" health certificate. It doesn't matter whether you're making the arrangements yourself or our Starwood Pet Travel team is handling the details for you. The commercial health certificate can only be completed within 48 hours prior to your pet's departure.
The health certificate must be filled out and signed by a USDA-accredited veterinarian and then endorsed (counter-signed and stamped or embossed) by the USDA APHIS Veterinary Medical Officer in your state. Belgium will allow the accredited vet to complete/sign the health certificate electronically, but the USDA must use a real-ink signature and emboss the paperwork. This document must be completed within 10 days prior to your pet's arrival in Ireland.
Import Permit
Ireland does not require a separate import permit for pets.
What Are the Pet Restrictions for Ireland?
Banned Breeds
Although many countries ban certain dog breeds (and sometimes cats, too), Ireland does not impose an outright ban. Instead, they list "restricted" dogs that must be muzzled when in public, held on a "strong" leash (no longer than 2 meters or 6.5 feet), and handled by someone who is at least 16 years old. These are the restricted breeds:
American Pit Bull Terrier
Bull Mastiff
Doberman Pinscher
English Bull Terrier
German Shepherd (Alsatian)
Japanese Akita
Japanese Tosa
Rhodesian Ridgeback
Rottweiler
Staffordshire Bull Terrier
Any mix of the above breeds
Age Restrictions
Ireland will not allow you to import kittens, puppies, or baby ferrets that are less than 15 weeks old and whose rabies immunization is less than 21 days old at the time of entry.
Do I Need a Microchip for My Pet to Travel to Ireland?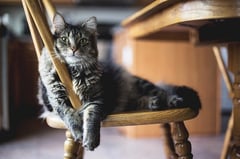 All dogs, cats, and ferrets must be implanted with a microchip that meets ISO standard 11784 or 11785. (The number will be 15 digits.) The microchip must be implanted BEFORE the rabies vaccination. If your pet has a microchip that is not ISO-compliant, you have three choices:
Have your veterinarian implant another microchip that does meet ISO standards, and is not harmful. Both microchip numbers must be listed on your pet's records.
Carry a chip reader that customs officials can use to scan your pet, or
Notify Irish customs ahead of time so they can have the right type of scanner available
What Are the Quarantine Requirements for a Pet Traveling to Ireland?
As long as your pet(s) have all the required import/health documentation, they will not be quarantined in Ireland.
Top Destinations in Ireland
Our Ireland pet shipping services include:
Door-to-door transport
Assistance with health certificates, import certificates, and other travel documents needed for animal transport to Ireland (outlined above)
USDA endorsement and consular legalization (when needed) of all relevant documents where required
Airline-approved flight kennels provided with personalized labels, identification

and

emergency notification instructions
Customs clearance and delivery to your home
Local pet taxi service to and from the airport, your home, veterinarian, kennel, or groomer – available in major Ireland cities as well as their surrounding areas
Travel consultation and flight reservations
We will inform you of your pet's full itinerary before the trip and we will update you as your pet travels to Ireland.