Delta Tightens Travel Rules for Service/Support Animals
Published on: December 20, 2018 | Author: Starwood Pet Travel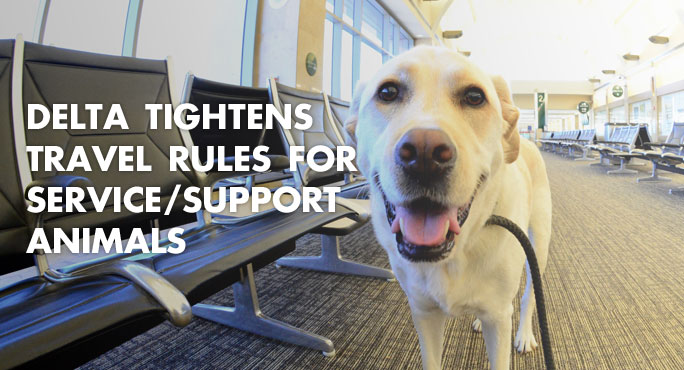 As of December 18, 2018, Delta Airlines has tightened rules that govern service and support animals allowed to travel in the passenger cabin. There are two key changes:
No service or support animals younger than 4 months will be allowed on any flight.

No emotional support animals will be allowed on flights longer than 8 hours.
Starwood Animal Transport agrees with this decision
A lot of people are abusing the system to get their pets transported cheaper. Service and emotional support animals travel for free, whereas owners must pay a fee for in-cabin pets. People are claiming that their pets are support animals, but a lot of those animals don't have any training. We are glad to see the airlines get tougher on this because the abuse is hurting people who really do need service/support animals to be by their side.
In July, Delta changed its policy to limit passengers to one emotional support animal, and they removed pit bull type dogs from their list of allowed emotional support animals.
Why the changes?
Delta says the minimum age requirement for puppies and kittens was added to match rules set by the Centers for Disease Control, which say that animals four months and older must be immunized against rabies before they can travel.
The move to restrict allowable emotional support animals is an effort to improve passenger and crew safety, after an increasing number of in-air incidents in which animals have urinated, defecated, or bitten another passenger. The airline, which transports about 700 assistance animals per day, says it recorded 84% more of these problems in 2016 and 2017 than in previous years.
The new policies were developed with the help of a 15-member advisory board made up of disabled frequent fliers.
Delta's new rules, in summary
Delta says they understand that both types of animals provide invaluable services, and that service and support animals are still welcome in the aircraft cabin – as long as they meet the new standards.
Many airlines have recently revised their rules as well as how they define "service" and "emotional support" animals. In Delta's Case, the definitions now read as follows:
"Trained service animals receive training to assist those with visual impairment, deafness or hard of hearing, diabetes, seizures, mobility limitations or other needs."

"Emotional support animals assist those with emotional, psychiatric, cognitive or psychological disabilities."
The airline assumes service/support animals to be dogs or cats. Any other type of animal must receive prior approval. In addition to pit bull type dogs, Delta no longer allows ferrets, hedgehogs, reptiles, spiders, or any animal with hooves or tusks.
Passengers with service animals must carry the animal's Veterinary Health Form or Immunization Record with them at all times. Delta also asks, but does not require, that they fill out the airline's Trained Service Animal form. Passengers with emotional service animals must submit an Emotional Support Animal application along with an Accessibility Service request at least 48 hours in advance of departure. They are also required to carry the animal's paperwork with them.
You can read more details about Delta's service and support animal rules here.
Starwood Animal Transport has rebranded to Starwood Pet Travel. We are still the same great company with the best team, just now with a slightly different name.
Subscribe to the Blog
Enjoy our content? Get them sent to your inbox!
Subscribe Now!
Related Posts
5 Ways To Keep Your Pet Calm While Traveling
You adore your dog. Or your cat. You can't imagine leaving home without them. No wonder more and more pet owners are taking ...
Read More