How to Find Pet Cafés in a New Country
Published on: October 19, 2022 | Author: Starwood Pet Travel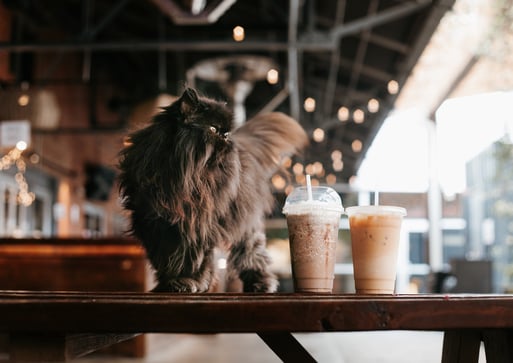 When we think of pet travel, we usually envision moving with our pet across the country or to a foreign land. Naturally, you'll want to know if there are pet-friendly cafés where your four-legged companion can join you for a latte, a cuppa, or a glass of wine and a meal – at least outdoors, at a sidewalk table. But have you heard? Now there are indoor animal cafés, too.
Animal cafés are all the rage, all around the world. This craze started in Taiwan, nearly twenty years ago, with a teahouse called Cat Flower Garden, populated with pet-able felines. Japanese tourists were smitten with the kittens and took the idea home with them. The word spread.
There are many reasons people long for a furry cuddle
The Independent notes that "Out of the 13.5 million people in the UK who have a pet, 24% of us own a cat – and it's no secret that as a nation we love cats." They go on to say, "Owning a pet makes us healthier and happier, but for many of us, long hours at work, tight budgets, and small flats mean it's just not feasible.
What if pet travel isn't in the cards for your own beloved dog or cat – at least not yet?
You may be traveling alone, headed to Singapore or Dubai or who-knows-where on a scouting trip, ahead of a planned whole-family move.
What if you're a pet-less traveler? Nothing soothes the strain and confusion of dealing with a new culture better than petting a friendly furry animal that transcends any language barrier. With luck, your new neighbor may have an obliging pet. But wouldn't it be lovely if you could find animal cafés in your new country for those times when you need a "fur fix"?
What if you're an adoring dog owner but miss having a purring kitty in your lap? You can get all the furry attention you could want at a cat café.
How does it work?
Animal cafés are different from other types of coffee shops and wine bars. Some are very basic – along with your usual order of coffee or tea and a bagel or biscuits, you can pet one of the multiple resident felines. On the other hand, some cat cafés go all out, with cat-oriented décor and menu items such as catnip tea.
Be aware that animal cafés are overwhelmingly popular in many areas. So you cannot just drop in, you have to book a reservation in advance. For instance, at Lady Dinah's Cat Emporium in East London's Shoreditch High Street, bookings are made in advance. Depending on the establishment, you can book a limited-time visit or an all-day feline encounter.
For many of us, all this might seem counter-intuitive. After all, aren't food establishments supposed to prohibit animals? Most café owners say they are diligent about observing public health regulations. Some even serve up food and felines in different areas. And all are careful to evaluate kitties for compatibility with humans and other cats before including them and to be sure all cats are properly vaccinated and healthy.
With all the benefits attributed to petting dogs, cats, and other furry friends, animal cafés are giving new meaning to the term "pet" travel. In fact, one thing virtually all of these new businesses have in common is promoting adoptable pets. While some have rescued cats to permanently join their "staff," others give patrons a chance to meet and fall in love with their next personal companion.
Not all that into cats? No worries.
Felines may be the top dog at most animal cafés, but you can pet almost anything if you find the right place. Dogs, pigs, rabbits. In fact, Brunel University London offers students a rabbit cuddle every Friday.
Where can you pet a pet?
Aside from multiple outlets in London, in the UK you can find pet cafés in Newcastle, Nottingham, Edinburgh, Birmingham, Dublin, and Llandudno. (For the non-British, that's in Wales.) There are dozens of cafés across the US, from California to New York, and on other continents from Paris and Vienna in Europe to Singapore – and of course Taiwan and Japan.
Just ask around. With all the media attention animal cafés have received – and their increasing numbers – anyone you meet on the street might be able to direct you to the nearest one. If not, ask your new neighbors, or new co-workers. And if that doesn't work, try an online search for "cat café (in your new city)." You may be shocked at the number of names that turn up.
Starwood Animal Transport has rebranded to Starwood Pet Travel. We are still the same great company with the best team, just now with a slightly different name.
Subscribe to the Blog
Enjoy our content? Get them sent to your inbox!
Subscribe Now!
Related Posts
Can Pets Fly Alone?
You may be wondering if pets can fly alone and the answer is: YES! It is not always possible for your pet to fly in-cabin with ...
Read More