Choose a Professional Animal Transport Company For Your Pet's Safety
Published on: April 20, 2018 | Author: Starwood Pet Travel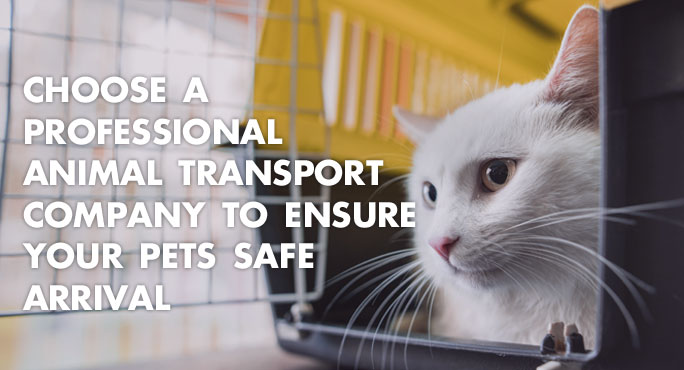 Traveling by air with your pet is not a simple process. You may be a frequent flyer yourself, but the rules and requirements for animals are not the same as for people. Mistakes can lead to frustration and, occasionally, heartache as we've seen in the news recently. Choosing a professional animal transport company to manage your pet's travel is the most prudent step you can take to ensure her safe arrival.
It's important to remember that hundreds of thousands of animals travel safely by air every year, all around the world. That said, we know your pet's comfort and safety are your primary concerns. Putting experienced professionals in charge of her journey will bring you peace of mind.
Why is it so complicated?
In the last couple of years, we've seen a huge increase in the number of people flying with their pets. They're traveling for fun, or they're moving across the country or internationally. It's not surprising that many pet owners are confused or unaware of the rules. For example, if you're used to carrying your kitty or petite dog around with you in your purse or tote, it seems only natural to carry them on board.
However, sometimes in-cabin pet "seating" is not the best choice – for you or your pet. Frankly, it can be a big hassle. It's not like riding in the car, where your pet can emerge from her carrier to stretch her little legs and have a look around. Even the carrier itself has to meet specific airline standards, including size (and under-seat dimensions are not all the same).
Often, it is not even possible. Certain airlines and specific flights are a no-go for in-cabin pets, no matter where you're headed. Some airlines don't allow pets at all. And among those that do, some are much more pet-friendly than others. How are you to know the right choices to make?
There's a lot more to pet travel than hopping on and off the plane
And if you don't speak the language, the potential for misunderstandings and mistakes is even greater. Some destinations – the United Kingdom for instance – require your pet to travel as manifest cargo, under the auspices of a professional pet transport company. Even when you have a choice, though, there are good reasons to "go pro" instead of trying to make arrangements on your own.
We can arrange and "bird-dog" the entire process
It can be surprisingly difficult to find accurate, up-to-date information about what you need to do and when. Online "resources" are frequently wrong. Things can change at any time, and the word doesn't always spread efficiently, even to government offices.
As international pet transport professionals, we always have the latest information. We can plan accordingly, and if something changes at the last minute, we can adjust as necessary to keep your pet's travel on track.
We know the flight regulations and the most pet-appropriate routes and airlines
Is your dog really big? Your pet snub-nosed? Or getting up there in years? These issues pose special challenges, but a pet travel pro understands and can resolve potential problems smoothly and safely.
We can handle time-consuming "auxiliary" needs such as quarantine reservations or boarding
Just getting your pet to and from the airport can be a time-consuming adventure in frustration. Wrestling with carriers, waiting around (often for hours) to check in your pet or clear her through Customs. Will you have to transport her to a quarantine facility? All this while trying to get yourself and your family and luggage checked-in to depart and gathered up again at your destination.
It's so much easier to let someone else chauffeur and guide your pet through these processes. Someone who knows the ropes and whose only commitment is your pet.
We know what documentation your pet will need
That varies by country, and in some cases the list of requirements is long. Your pet may need tests, vaccinations or other treatments. There are forms to be filled out – and perhaps endorsed by government officials. We can work directly with your vet and other authorities to get everything done exactly right and on time.
It all comes down to peace of mind
Arranging for your pet's travel will be very time-consuming. By allowing a trusted professional to honcho all that, you can stay focused on all the rest of your moving or vacation plans.
We take our responsibility for your pet's welfare very seriously. After all, we're pet owners, too. It's not only our business, it's a labor of love. Of course, we know you'll still worry as long as your furry companion is out of your sight, but we'll keep you posted on her progress till you can once again be paw-in-hand at your destination.
Starwood Animal Transport has rebranded to Starwood Pet Travel. We are still the same great company with the best team, just now with a slightly different name.
Subscribe to the Blog
Enjoy our content? Get them sent to your inbox!
Subscribe Now!
Related Posts
3 Things Your Pet Travel Insurance Should Cover
When preparing to travel with your pet, it's easy to overlook the importance of pet travel insurance. While the likelihood of ...
Read More