How to Bring Your Cat When You Move Abroad
Published on: July 22, 2019 | Author: Starwood Pet Travel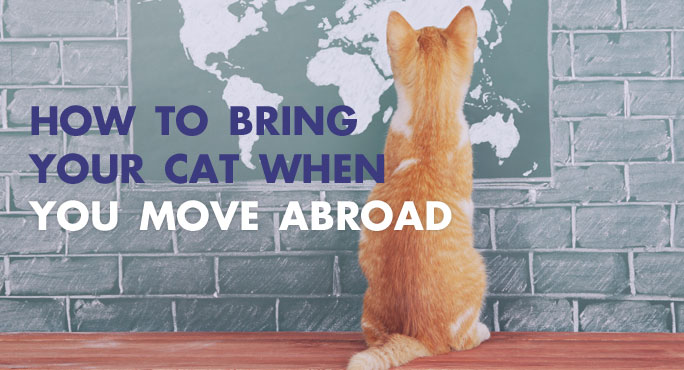 Moving to a foreign country means a trip for the entire family, and that includes the four-legged members. Your kitty doesn't know it yet, but she's about to become an international traveler. So, in addition to planning the human side of your move, you will have to map out her journey, too. The key to a smooth feline move is advance planning, so start as early as possible.
Is your cat allowed?
This may seem a strange question to pet owners in the UK, the US, or many other locations, but it is a serious consideration for some moves. Countries such as Singapore, for example, don't allow cats in certain housing areas, and any landlord anywhere may not necessarily allow pets. You need to know where you will live before you can be sure your kitty is welcome.
Also, many countries won't accept incoming pet cats that have wild heritage, such as Bengal or Savannah cat crosses. Most of us have common domestic breed cats, but if you don't, be sure to check on this.
Your cat will need a passport
The European Union issues a document that is literally called a Pet Passport and looks very much like your own passport. This single travel document contain her identification and also a record of her health-related information detailing her vaccinations and so on. If you live in the US, your cat's "passport" will be comprised of a handful of documents you'll need to keep together. These will include USDA Form 7001, the international health certificate.
Exactly what documents Fluffy will need depends on your destination country. Every country has its own requirements for vaccinations, tests and/or treatments as well as paperwork. The list may be short, but it might also be extensive. Rabies vaccination and a microchip are about the only universal requirements.
Understand how rabies affects your plans
Only a few countries around the world are considered rabies-free. That list includes the UK, Australia, New Zealand, and Singapore, among others. It also includes the State of Hawaii, although the rest of the United States is considered rabies-controlled instead. If you're moving from a rabies-free area, you may be able to avoid the quarantine that some countries impose on incoming pets.
If you're moving from the US or another "rabies-controlled" country, you may also be able to avoid or reduce your kitty's quarantine stay by ensuring you follow strict pre-travel protocols that prove she is not carrying the disease. In addition to rabies vaccination, this involves a blood test that confirms the vaccine is working properly in her body. It takes six months for the test to "percolate" in the lab before results are known. Not all countries require this test, but because it takes so long, you will want to ask about it right away.
Yet another reason to start planning early to bring your cat abroad? It can be surprisingly difficult to uncover the information you need to organize Fluffy's move. A few countries make it easy, by posting clear, detailed information on their government website. The USDA APHIS site also provides country-specific information for exporting pets from the US. The best way to be confident you are getting accurate, up to date information is to consult with an accredited international pet transport company.
We are the professionals. We have to know every detail and be able to think ahead about every eventuality. When you team up with us to handle Fluffy's travel arrangements, you will have peace of mind knowing that this critical part of your family's move is under control. You won't have to puzzle through the confusing (and sometimes contradictory) country or airline regulations. And you won't have to devote time to figuring out the most efficient travel itinerary for your kitty. Besides, some airlines and countries require you to use a professional pet shipper.
Tranquilizers are out. So what's the alternative?
You are not allowed to sedate your cat prior to air travel. These drugs can cause more harm than good, putting her at risk of injury and causing confusion that may frighten her. Instead, purchase her airline-approved carrier right away so she can get used to it. Encourage her to play, eat, and sleep in it. By departure day it will feel like a familiar "home" to her, helping relieving her anxiety.
With advance planning, Fluffy will travel as comfortably as possible and arrive safe and sound. Instead of giving you her famous icy stare and twitching tail of discontent, she will climb into your lap and thank you for all your work with a resounding purr. Home again, at last.
Starwood Animal Transport has rebranded to Starwood Pet Travel. We are still the same great company with the best team, just now with a slightly different name.
Subscribe to the Blog
Enjoy our content? Get them sent to your inbox!
Subscribe Now!
Related Posts
What To Consider When Moving a Pet Overseas
As pet ownership continues to rise worldwide, our love and devotion for our furry companions knows no bounds. They are not ...
Read More