What Are Common International Pet Import Requirements?
Published on: March 25, 2015 | Author: Starwood Pet Travel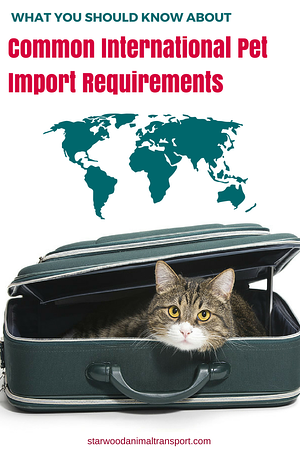 If you're working for an employer with international offices or jobsites or heading to another country for a long-term personal adventure, your move won't be complete without your pets. There are a lot of countries around the world, and each one has its own set of requirements that govern international travel with pets.
That can add considerable complexity to your plans when they include furry family members. Nonetheless, there are some common pet import requirements regardless where you're headed.
Don't get caught off-guard.
Whether you are traveling from Chicago to South Africa or from Australia to Houston, advance planning is essential, for every aspect of your trip but it's nothing short of critical to ensure smooth international travel with pets.
Timing requirements can be very tight. In addition to timeframes mandated by the importing country, airlines have their own requirements, such as how many days in advance you have to submit your pet's paperwork before they can travel. Yet the process of obtaining all the proper paperwork for international travel with pets can take months in some cases. You'll need:
Original health certificate issued by a licensed vet. That could be your vet, but it might have to be a different federally-accredited veterinarian. Your pet's health certificate has to be signed within 10 days of his or her travel date. Some countries require official validation from the USDA for your pet's health certificate, which may (or not) require another exam, but sometimes you can group multiple pets on this certificate. Some airlines require USDA authentication even if the importing country does not.
Signed rabies vaccination certificate. This certificate must be at least 30 days old, but for international travel it cannot be more than a year old. So if your pet has a 3-year rabies vaccination they may need a booster anyway, even though their original shot is still valid here. Check the date to be sure.
Typically, you'll also need import permits. Depending on where you're going, your pet may have to be vaccinated for diseases not common in the US.
If quarantine is required, you'll need to make reservations at a quarantine kennel in advance, so your pet can be immediately transported there upon arrival. Island nations, Hawaii and the territory of Guam have especially strict quarantine rules because they are so vulnerable to accidental import of new diseases that can affect animals, plants and/or people.
You can contact your destination country's embassy to get an accurate list of their import requirements. There is a tremendous amount of misinformation available on the internet, so double- or triple-check anything you read before you rely on it. An easier alternative that will give you far greater peace of mind is to consult a professional pet transport company. They can help you sift fact from fiction or, better yet, just handle everything for you.
Just as countries have their own rules, so do individual international air carriers.
The most common US carriers that handle international travel with pets are Delta, American and United (formerly Continental). The rules vary according to where your pet will ride on the plane – with you in the cabin, with you as "excess baggage" or as manifest cargo on your flight or separately.
Be aware that weather issues can mean all bets are off when it comes to your carefully planned pet itinerary. This can be supremely annoying and inconvenient, but these rules exist to protect your pet from extreme heat or cold. Ask about this early on, so you can plan accordingly.
Be aware, too, that weekend travel for pets often does not work. Some countries require a veterinarian to personally check in your pet, and this service is rarely available on weekends.
Are you returning to the US?
Whether you're returning with pets after an out-of-country absence or you're traveling into the US from another country, you must deal with the TSA in addition to US Customs. The TSA requires pets traveling as manifest cargo to "be tendered at their foreign airport by a 'Regulated Agent' or 'IATA-Approved Agent'." That isn't you.
Theoretically, this doesn't apply if your dog or cat is traveling with you in the cabin or with you as excess baggage. However, many airlines now require pets coming into the US to be shipped as manifest cargo. Don't assume that just because you had an "easy out" experience carrying your chihuahua in a purse-carrier you'll have the same ease returning. The Centers for Disease Control has paperwork rules, too – and if your pet looks sick or like it might have a communicable disease, it could be denied entry.
Worried about international travel for your older four legged friend? Learn about the safety of international travel for your older pet.
Starwood Animal Transport has rebranded to Starwood Pet Travel. We are still the same great company with the best team, just now with a slightly different name.
Subscribe to the Blog
Enjoy our content? Get them sent to your inbox!
Subscribe Now!
Related Posts
Update on Pet Import Requirements for South Africa
If you and your family are relocating to South Africa, chances are good that you're moving from someplace far away. That means ...
Read More