Pilots N Paws: The Group That's Saving Pets' Lives
Published on: September 4, 2015 | Author: Starwood Pet Travel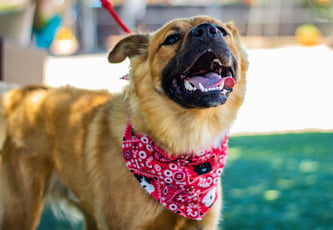 For millions of pet owners around the country, there is a heightened sense of pride that comes with being able to say, "My dog (or cat) is a rescue!" Not only did you adopt a fabulous, furry family member you love with all your heart, but you also saved the life of an innocent cat or dog for whom things were looking pretty bleak.
But do you know where your rescue pet originally came from? For many cats and dogs (and other types of pets, too), rescue comes with a plane ticket – reservations on a very special airline devoted entirely to helping unwanted pets find their forever home.
It's a matter of geography
Virtually everyone is aware of the fact that there is an overpopulation of dogs and cats in many parts of the country. Every year, more than 2.7 million unwanted pets in the US are euthanized because there is no room for them and no one to care for them.
That points up the need for increased spaying and neutering, but it doesn't help animals already here and in need of a family to call their own. And often that prospective adopting family or foster home or rescue group is many hours – or several states – away. Although thousands of volunteers dedicate themselves to providing ground transportation for rescue animals, sometimes that just isn't practical.
Enter a very special group – Pilots N Paws
The all-volunteer organization was started several years ago by a woman who was facing a very long drive to pick up her prospective rescue dog and a pilot friend who offered to give the pup an airlift instead. In the intervening years, Pilots N Paws has flown more than 50,000 rescue animals to a better life and they now have more than 4,000 volunteer pilots.
Pilots N Paws operates nationally. It serves as a bulletin board-style brokerage service, providing a website where rescue groups, animal shelters, and pet foster families can connect with volunteer pilots and plane owners who want to help transport animals. It's up to the individuals involved to make specific arrangements.
Typically, it works like this: a local foster family takes in a cat or dog whose time is running out at the shelter, caring for them temporarily while searching for a no-kill shelter or a permanent home for the animal. When one is located, they then post the details on PNP's website, and available pilots can offer their services. Although volunteers usually transport one or a few animals at a time, Pilots N Paws also helped airlift 171 animals rescued after the 2010 Gulf Coast oil spill.
They say those who use their site, "develop friendships and relationships and get to know one another because we are all working for a common goal."
Pilots N Paws isn't alone
Animal Rescue Flight, called ARF, is another non-profit that links pilots and volunteers interested in lending their time and special skills to help save animals in need. Unlike Pilots N Paws, ARF actually steps in to "promote, plan and perform" the entire itinerary for each animal's transport.
ARF was created by pilots who wanted to spread the word about low-cost spaying and neutering programs that can help reduce the population of unwanted dogs and cats. They always carry their public message as they carry pets - from overcrowded "kill shelters" that euthanize cats and dogs who aren't adopted quickly enough to other parts of the country where qualified families are waiting to adopt them. In 2010, ARF was awarded the ASCPA's Presidential Service Award for its work.
So just think – your wonderful rescue dog or cat may have taken flight to connect with you. No wonder it seems like a match made in heaven.
None of these organizations or individual pilots charge a fee for their services. Considering the cost of owning and operating an airplane, this is clearly a labor of love. An enthusiastic wag of the tail and a loud, long purr to all of them.
Starwood Animal Transport has rebranded to Starwood Pet Travel. We are still the same great company with the best team, just now with a slightly different name.
Subscribe to the Blog
Enjoy our content? Get them sent to your inbox!
Subscribe Now!
Related Posts
3 Things Your Pet Travel Insurance Should Cover
When preparing to travel with your pet, it's easy to overlook the importance of pet travel insurance. While the likelihood of ...
Read More