Gifts for Your Pet - and What NOT to Give Them
Published on: November 30, 2022 | Author: Starwood Pet Travel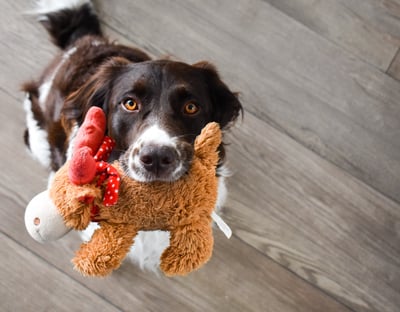 We know you probably purchased gifts for your pet this holiday season. Millions of pet owners in the US alone spent an estimated $62 billion (yep, that's a b) on their pets, between food, medical care, and loads of toys and other goodies. But did you fail to find that ultimate, purr-fect gift?
No worries, any occasion is a great excuse to indulge your pet, not to mention your inner pet parent. In fact, who needs an excuse? Any day is a good day to show your pet love with a present.
We know you skipped Valentine's Day, simply because traditional Valentine's gifts are so obviously not appropriate for pets. Candy? Especially chocolates? While you might swoon with delight at the prospect of melt-in-your-mouth truffles, chocolate poses a serious danger to dogs. And flowers? Some pets do love to sniff a fragrant bouquet, but if your cat or dog likes to taste as well as sniff, flowers are verboten. Besides, Valentine's Day is all about love, and we know you give your pet loads of that every day, all year long.
What's on your pet's wish list?
Whether the occasion is your pet's birthday, St. Patrick's Day, Halloween, Christmas, New Years', or "just because," we've got some great gift ideas that'll have your four-legged friend wagging and purring.
Does your dog always appear in public dressed to the nines? Then how 'bout a new outfit? Depending on where you live, it might still be winter, so a stylish raincoat or sweater and some waterproof boots would be in order. A quilted dog jacket with a faux fur-lined hood, for example. Pet stores and online sources abound with doggie gear for every holiday, special occasion, and season.
Whether your pet is a picture of sartorial splendor, or they eschew human accouterments, they're bound to love many of these goodies:
A memory foam dog bed. Memory foam is all the rage for snoozing humans, surely you'll want to indulge your pet, too.
A training bone toy that makes pups search for the treats.
A multi-level cat tree, with plenty of scratch-able surfaces and hanging toys they can swat at with great feline abandon.
Pet pillows that double as throw pillows on your own couch, chair, or bed. (Why not, your pet sleeps there anyway, right?)
A kitty snuggle sack – they'll go nuts for the one with the cover that makes the irresistible sound of a paper bag crinkling. If they like to play with food, they'll love playing with their bed.
Dog treats you can order customized with your own pooch's photo on the package. (OK, we admit this one's for you - even the most arrogant pet doesn't care if their picture is on the bag.)
A cat toy that appears to be a mouse on the loose underneath the fabric cover. Why can't I catch that thing?!
Felt "fortune cookies" filled with catnip.
Multiple variations of interactive feeders and puzzles for cats and dogs, to keep their minds busy and bellies filled.
In warmer climates, pets can keep cool with a pressure-activated gel mat. The cool gel is soothing for pets with joint pain, too.
A mint-flavored, tough-as-nails rubber ball for busy chewers.
Look at it this way: what do pets like best? Playing, eating, and sleeping. This list has you covered in all three areas, so you're bound to choose a gift your pet (and you) will love.
Pet gift no-nos
Candy and flowers aren't the only things you should avoid giving your pet. Holidays and special occasions usually include special meals. But no table "gifts," please. Bones, fat, sugar and any number of other surprising ingredients can harm your dog or cat, causing everything from mild stomach upset to serious organ disease. Learn more about what foods are proper for your pets to consume in our blogs on the best cat foods and the best dog foods.
Most bones are also dangerous because they can splinter and become a choking hazard. And they're not the only problem. Those adorable decorations on pet toys are strictly for your benefit – all that cuteness entices you to buy. But give those toys a pet reality check before bestowing them on Fluffy or Fido. Cut off anything glued on such as "eyes," and anything that dangles or is made of yarn, string, ribbon, etc. These things are all choking and digestive tract hazards.
Reconsider pet clothing in the same light – bells and other accessories that could be easily chewed off aren't a good idea.
Surprise yourself as well as your pet.
No time to shop for your pet's next gift? BarkBox and MeowBox are a busy pet parent's dream come true. These subscription services send your pet gift boxes containing an assortment of toys, gadgets, and treats tailored to your cat or dog. You can choose the frequency of the shipments. The question is, who will have more fun opening the boxes?
Starwood Animal Transport has rebranded to Starwood Pet Travel. We are still the same great company with the best team, just now with a slightly different name.
Subscribe to the Blog
Enjoy our content? Get them sent to your inbox!
Subscribe Now!
Related Posts
17 Holiday Gifts For The Pet Lovers In Your Life
Some people on your holiday gift list might be tough to shop for, but not pet lovers! We're obsessed with pets, whether ...
Read More