Air Canada Pilot Diverts Flight To Save French Bulldog
Published on: September 21, 2015 | Author: Starwood Pet Travel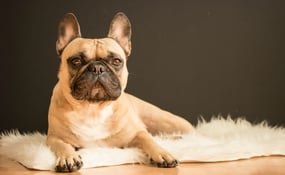 For German Kontorovich, moving internationally with his dog Simba was more exciting than expected. Perhaps you saw their story on the news.
Seven-year-old Simba, a super-cute black and white French bulldog, was relocating from Tel Aviv, Israel to Canada with his Fur Dad, who will be studying in Toronto. It was supposed to be a non-stop flight. Simba was properly outfitted with a sturdy, roomy kennel for his ride in the cargo hold, and German Kontorovich was seated above in the cabin. Everything was going according to plan.
Pet-friendly policies put Simba first.
Just before the Air Canada flight was poised to head out over the Atlantic for the long overseas stretch toward Toronto, the pilot noticed the heating system for the pet section of the cargo hold was malfunctioning. The temperature was dropping. Normally that wouldn't matter, but the pilot knew he was carrying a dog in that hold.
"As soon as the crew became aware of the temperature issue, the Captain grew rightfully concerned for the dog's comfort and well-being," noted an Air Canada spokesperson later. "With the altitude it can become very uncomfortable, and possibly the situation could have been life threatening if the flight had continued."
The pilot didn't hesitate. He banked right and headed for Frankfurt, Germany instead. Why Frankfurt? Air Canada says it was the ideal choice because of its proximity and the fact there are multiple Air Canada flights (plus flights by their air travel partner Lufthansa) to Canada each day. The airport is also known for turning aircraft quickly, meaning there would be little wasted time on the ground.
Flight 85 landed and Simba was re-boarded onto a different flight. Despite the diversion, passengers arrived in Toronto just 75 minutes late.
Air Canada lost money and time but gained tail wags.
One industry expert suggested landing fees and extra fuel probably totaled $10,000, but noted it was the airline's mechanical problem that triggered the need to divert. And no one was complaining. After all, an Air Canada spokesperson pointed out, the captain is responsible for all lives on board, whether human or animal.
Besides, the PR value of Air Canada's pet-friendly procedures could give them "Most Favored" status with other pets owners planning an international relocation with their furry family members. There's a lot of business at stake here – US-based airlines alone transport more than two million pets and other animals each year, and there are numerous pet-friendly carriers based in other countries.
Air Canada says overall reaction to Simba's extra excursion was positive, particularly once people understood the dog was in potential danger but safe as a result of the diversion. One passenger summed it up by saying simply, "It was definitely the right thing to do." Simba's owner certainly agrees. Finally reunited with his precious pooch at Pearson International Airport in Toronto, German Kontorovich said, "It's my dog, it's like my child. It's everything to me." He said he could tell the pilot was a dog person, too.
So there were big smiles all around in Toronto. We couldn't see in the televised video, but we're sure little Simba was wagging his tail, too.
Flying soon with your pet?
Ground crews notify pilots when animals will be in the cargo hold, but it's a smart idea to alert flight attendants yourself, if you're on the same flight. Some airlines will even allow you to observe the loading and unloading process, for the added peace of mind of seeing your pets safely stowed and retrieved.
Starwood Animal Transport has rebranded to Starwood Pet Travel. We are still the same great company with the best team, just now with a slightly different name.
Subscribe to the Blog
Enjoy our content? Get them sent to your inbox!
Subscribe Now!
Related Posts
FAQs for Moving Your Pet Overseas
Moving your family overseas can seem daunting enough, but what do you when your family includes pets? If this will be your ...
Read More