5 Essential Tips to Make Moving with Multiple Pets a Breeze
Published on: August 31, 2022 | Author: Starwood Pet Travel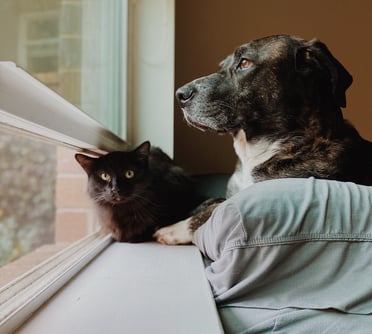 Moving into a new home is already such a stressful process, but moving with pets can create even more bumps in the road. Pets transition to new environments much differently than people do. As you move, you're able to prepare, see your new home prior to the move, and organize yourself before you begin. Pets, on the other hand, aren't able to prepare themselves for this big change in their lives resulting in them having a hard time adjusting. Thankfully, these next five tips will help you prepare for your move and keep your pets' transition as seamless as possible.
Plan Your Schedule
It goes without saying that moving into a new home, especially into a new state or town, is a long process that involves lots of planning. Having a proper timeline and plan of action will help you, your family, and your pets get adjusted without too much stress. Preparing movers ahead of time will benefit you in the long run. You can avoid scrambling to pack and decluttering on short notice. Typically, closing dates for homes are set well in advance – sometimes by two or three months. Once your closing date is scheduled, planning a garage sale is a great next step. Give yourself time to go through all your things and choose what you want to let go of. Having a yard sale or garage sale a month or so before you move is ideal. This way, you have time to donate or give away the items that don't sell and you're not pressed for time.
Utilizing a storage unit can also help ease the stress of moving. When you arrive at your new home, schedule the movers to bring certain boxes to a storage unit so your house doesn't become overfilled with boxes. Then, you can go to the storage unit and pick up more boxes as you unpack. With this method, you will have plenty of time to go through your belongings and slowly unpack them to make the moving process less overwhelming for your entire family. As for your pets, make sure you leave their favorite toys, beds, etc. out of boxes to create a less stressful move for them. When moving with multiple pets, it's crucial that you allow them to keep their favorite things with them to ensure a sense of comfort throughout the entire process.
Bring the Right Supplies
Packing everything your pet needs during the move can be difficult. As mentioned, it's important to have on hand a few of their favorite things if you're traveling by car. In the event they become anxious, you can use their favorite toy or blanket to comfort them. You should also pack their food, water, treats, and a collapsible bowl so they can eat and drink on the go. If you're going to use a crate to transport your pet, make sure it's ready for use. You may want to clean it and add a toy and/or blanket your pet enjoys. If not, there are many different ways to keep your pets safe in the car, such as seat belt harnesses or pet car seats. You know your pet best and what supplies will ensure a stress-free trip. Trust your instincts and prepare for mishaps.
You'll be better prepared to deal with the stress associated with a move that involves pets and family if you ensure that you have everything you need, as well. Pets aren't the only ones that need sustenance during a long trip. Bring snacks and drinks that you and your family enjoy to avoid making unnecessary stops along the way—especially if you have a long drive ahead. It's also a good idea to bring some extra clothes in case something happens and your movers are delayed. If your drive takes multiple days, bring your toiletries and essentials for hotels to avoid unnecessary spending.
Prioritize Your Pet's Safety
When traveling with pets, safety should be your number one priority. Transporting your pets on an airplane can present challenges. The good news is that it's easy to do so safely with Starwood Pet Travel. Leaving your pet in someone else's care can be tough, especially if you have multiple pets. However, when your pets are flown with Starwood, you'll be able to see updates as they reach their destination. You can also arrange for home delivery, airport pickup, or a meet & greet at a central location. Leaving your pet in the hands of professionals will ultimately lead to a safer travel experience for them. Your pet will be in an IATA-approved travel kennel and is sure to arrive safely at their destination. One important thing to note is that if you have a large number of pets, they might need to be on separate flights depending on the size and capacity of the aircraft. But not to worry, you can follow each pet along their travel journey with updates and choose the right travel package that meets your needs and that of your pets, too.
Driving with your pets can be difficult as well, which is why Starwood offers this service in addition to flying. With 15 hubs for pet ground transportation, you can meet your pet in your new city, or pick them up along the way to finish out the trip with you. No matter which travel method you choose, your pet's safety should be your top priority, as helping them feel secure and comfortable will alleviate stress for both you and them.
Stay Organized
Organization during a move can be hard to achieve. From budgeting to packing, to getting settled in, there's so much to consider. Using a personal loan to help cover any costs associated with moving will keep your budget in check and allow you to pay off those expenses over time. In terms of budgeting, it's also crucial to keep track of your spending as you go through the process of moving. This can include the movers you hired, the new furniture or decor items you've purchased, and of course, costs associated with transporting your pet and getting them acclimated to their new environment.
As far as packing goes, establish a labeling system to ensure that none of your belongings are misplaced during your move. Whether you label each box by room or in the order that you want to unpack them is up to you, but it's important to have some kind of consistent organization system in place to keep it all straight. Labeling boxes by room and writing down how many boxes you've packed for each room is a quick way to keep track of what you have and avoid anything going missing. Another pro tip is to color code your boxes. This way, movers will know exactly which boxes have to go in which rooms so you aren't left searching your whole house for something that should be in your kitchen. Using color-coded labels on boxes and writing in the correct room is sure to keep all your things organized. What does this have to do with your animals? Well, the more organized you are throughout the packing and moving process, the less time your pets have to stay locked away. They can roam free throughout the house if you can maintain order. This can help relieve pre-moving anxiety they will likely experience due to all of the unusual commotion.
Help Pets Transition into Your New Home
New environments can be tricky for pets. Helping them get acclimated to your new home should be one of the first things you do upon moving. Unpacking the areas where your pets will spend the majority of their time is a good starting point. If the rooms where your pets will spend their time are filled with boxes, it'll be hard for them to get adjusted. One thing you can do to alleviate the stress of the adjustment is to surround them with familiar things. For example, rather than purchasing a new bed for your pet, consider bringing along their old bed so they have something familiar from your old home to comfort them.
It's also important to not leave them home alone for extended periods of time until they've had time to adjust to the new house. By giving your pets some extra love and attention as they get acquainted with their new surroundings, they'll begin to feel comfortable in their new home and come to enjoy it. You can also ease this transition by allowing them to explore. Give them some time to roam around outside. Doing so can help them become more familiar with their surroundings and learn the smells of other animals in the area. When it comes to their routine, try to maintain it as much as possible to avoid introducing so many changes at once.
Who says moving with pets has to be stressful? Whether you have two or eight animals, you can ensure a seamless and stress-free move by following the suggestions above. If you endeavor to be patient and roll with the punches, everyone involved in the move can have an enjoyable experience.
Starwood Animal Transport has rebranded to Starwood Pet Travel. We are still the same great company with the best team, just now with a slightly different name.
Subscribe to the Blog
Enjoy our content? Get them sent to your inbox!
Subscribe Now!
Related Posts
Moving Overseas in the New Year? How To Have a Safe Move with Your Pet
We heard you're moving to a new country in the new year. How exciting! But there's so much to do and think about before you ...
Read More