Can My Pets Travel Together On A Plane?
Published on: December 2, 2015 | Author: Starwood Pet Travel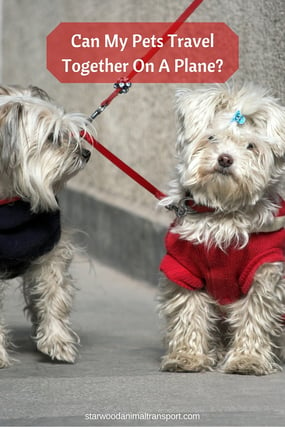 **Content updated on October 19, 2021.
We know that you consider your pets to be part of the family. When you have multiple cats and/or dogs, they usually come to think of each other as family, too. So if you're planning a move that includes air travel for your pets, you might wonder if they can travel together on the plane, to help reassure one another.
The answer is maybe.
Are you talking about "together" as in traveling in the same crate?
The US Department of Agriculture (USDA) sets the basic guidelines for domestic pet travel. So if your pets aren't leaving the country, they can travel together in the same carrier if:
They are the same species (dog or cat).
They are less than six months old.
They weigh less than 20 lbs each.
Otherwise, the rule is one animal per kennel. If your pets will be traveling outside the US, you'll need to research the specific rules for your airline. Like other details of pet travel, each airline sets their own policies.
In-cabin rules generally allow only one pet per carrier per person. If you're traveling with another person you should each be able to bring one pet per carrier on board. It's important to note that all airlines restrict the total number of pet kennels they will accept on any given flight, either in the cabin or in the cargo hold.
There are different rules for pets traveling with you in-cabin or as checked baggage versus traveling separately as cargo. You will need to check both your preferred airline's pet policies as well as your destination's requirements for importing pets. Not all destinations or airlines will allow pets to travel in-cabin or as checked baggage - some require all pets entering the country to be booked separately as manifest cargo.
Here are some specific airline policies regarding pets traveling together (in-cabin or as checked baggage):
American Airlines
One pet per kennel is allowed as a carry-on if the pet is at least 8 weeks old. American only accepts up to 2 checked pets for active-duty U.S. military and U.S. State Department Foreign Service personnel traveling on official orders. They must be in separate kennels unless they are between 8 weeks and 6 months old, similar size and less than 20 lbs. each and must be the same species. Pets traveling separately from their owners as cargo, have to follow different guidelines. You can view their full policies here.
Delta
One pet per kennel is permitted for a carry-on with the following exceptions:
If your dog or cat has an un-weaned litter and the little ones are between 10 weeks and 6 months old, they can travel in the kennel with their mother. There is no limit on the number of kittens or puppies in the litter.
You may carry two kittens or two puppies together if they are between 10 weeks and 6 months old, the same size and they get along well with each other.
Delta is only accepting pets as checked baggage for active U.S Military or Active U.S State Department Foreign Service Officers (FSO) & their spouses with active transfer orders. They will only accept 2 checked pets per flight. Delta is not accepting any pets traveling as cargo effective April 1, 2020, until further notice. To view the full policies, click here.
United Airlines
You can take one pet per kennel in-cabin but if you want to bring an additional pet, you must buy an extra ticket for them. Pets must be at least 2 months old for domestic flights and at least 4 months old for international flights.
United has suspended all PetSafe (cargo) and military pet transportation until further notice. You can view the full policies here.
KLM
You may bring one in-cabin pet per carrier as long as they are at least 10 weeks old. Both your pet and their travel bag or kennel can weigh no more than 8 kg. You can travel with up to 3 pets as checked baggage under your own ticket. They can be in the the same kennel if they weigh no more than 14 kg each, and they are either 2 adult cats or dogs of similar size, OR if there are 3 kittens or puppies up to 6 months old from the same litter. Please click here for KLM's full pet policies.
Qantas
Pets cannot travel in-cabin on Qantas flights, either domestically within Australia or internationally except for some service dogs. Pets must travel as cargo. Only some domestic flight may allow pets to travel as accompanied baggage, but there are limitations and restrictions. Your pets will need separate crates unless they are the same species, similar in size and weight and are used to being kenneled together. They will allow either two puppies or kittens over six months in the same kennel or three puppies or kittens under six months old. No more than 3 pets can be in one crate at a time. Each pet must weigh less than 14 kg (30 lbs) each. You can review the full policies here.
Lufthansa
Lufthansa will allow smaller dogs and cats weighing less than 8 kg to travel in-cabin under certain conditions. Pets weighing more than 8 kg can travel as excess baggage under certain conditions as well. A passenger can take up to 2 pets in-cabin or 2 as excess baggage or one pet in-cabin and one as excess baggage. The limit is one pet per kennel with the following exceptions:
Two young animals of similar size and a at least 12 weeks old OR two fully grown animals of similar size OR a mother animal with one young animal (0–6 weeks) still dependent on the mother are permitted in the same kennel.
If there are several animals in the same kennel then they must all be able to stand up, lie down and turn in their natural positions, must be familiar with each other and the maximum total weight of the pets + travel kennel is less than 8 kg.
You can take a look at Lufthansa's full pet policies here.
Pets Traveling as Cargo
Your pets may be placed near each other in the cargo hold whether you are on the same plane or not.
While most pets traveling in the cargo hold are required to be in separate travel carriers, many airlines will make an effort to load them next to one another during the flight. It may help calm your furry family members when they know their brother or sister is nearby. You can make this request on the day of departure if you are making your own arrangements. If you work with Starwood, we always request pets in the same family to be near each other on the flight(s) when possible.
Starwood Animal Transport has rebranded to Starwood Pet Travel. We are still the same great company with the best team, just now with a slightly different name.
Subscribe to the Blog
Enjoy our content? Get them sent to your inbox!
Subscribe Now!
Related Posts
Pet Policies For Pet-Friendly Airlines
The pet policies for major airlines can vary based on a variety of factors including your destination, the weather, the size ...
Read More