Can My Dog Fly With Their Favorite Toy?
Published on: July 28, 2022 | Author: Starwood Pet Travel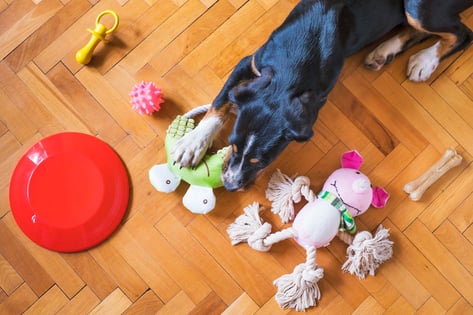 Just as­ Linus, the famous Peanuts comic strip character, loves his blanket, many dogs have a favorite toy. It brings them both joy and comfort. If you and your dog are about to embark on an airplane trip, making your dog comfortable in their travel kennel is an obvious concern. So how 'bout that favorite toy? Can they take it with them in their kennel?
Unfortunately, the answer is no. Loose objects, even a soft toy, can become hazards in the confined space. Additionally, you don't want to risk your dog chewing it to shreds or it getting lost along the way. But there are other steps you can take toward making your dog more comfortable in their travel carrier.
Get the kennel well in advance
Any dog traveling by air must be in a kennel compliant with IATA (International Air Transport Association). This is true for all airlines. IATA specifications ensure the kennel is sturdy, well-ventilated and secure enough to protect your dog throughout their journey. That includes transport to and from the plane as well as on board.
You must purchase the correct size kennel for your dog. Don't guess, measure them. The kennel must be tall enough inside for them to sit or stand without their head (or ears, if they are erect) touching the ceiling of the carrier. The general rule of thumb is that your dog should have at least 2-3 inches of head room while standing or sitting inside the kennel. The kennel must also be roomy enough so they can easily turn around and lie down comfortably.
If your pooch is tiny, and your airline allows them to travel in the cabin with you, you have two kennel options. You can use a hard-sided carrier or a soft, shoulder-bag style. (Hint: the latter will be more comfortable for you, too, as you carry your pup around the airport.) Make sure you check with your airline on the in-cabin pet and kennel requirements since not all kennels are created equal and the sizing under the seat in front of you can vary.
Getting your dog's travel carrier well in advance should be a top priority. That way, they will have the most time to get familiar with it. This is fundamental to making your dog more comfortable in their travel carrier.
Familiarize your dog to their kennel
Every dog is different, and you know your pup best. Even if they are crate-trained and don't mind confined spaces, their travel kennel will be a new confined space. And some dogs are afraid of being closed-in. Either way, your dog will be least stressed if it smells like home to them. So, buy it early and start the introduction process. Leave the door open, and invite them to explore the carrier. You can motivate them with snacks, meal times or toys. Sit next to the crate with them, so they associate it positively with you.
If your dog is leery of confined spaces to begin with, this process is all the more critical. Start with the top half of the kennel removed, so it seems more like a bed than a box. At first, you may have to sit in it yourself while handing out treats to reassure them it's an OK place. Encourage them to sit and snooze in it, then introduce the cover later on.
Provide a soft bed
Even though loose objects (like toys and bones) are not allowed, you are required to provide absorbent bedding in your dog's carrier. This can include a crate pad (no more than 3 inches thick), pee-pee pad and a thin blanket, t-shirt or towel that smells like home. That's in case of an accident, but softer flooring will make your dog's carrier feel less like a carton and more like a bed. This is your big opportunity to give them something that complies with the rules and gives him a sense of home.
You may have read that shredded newspaper is a good choice. Maybe for hamsters, but your dog deserves better. The link can rub into your dog's fur and can potentially be ingested. So we advise against newspaper.
Get them used to new sights and sounds
It's not just the kennel that will be new to your dog. Their trip will include sights, sounds and people they have probably never encountered before. That can be scary, but you can help them "practice" these environmental issues beforehand. Take them for rides in the car in the travel kennel. Walk them around areas where there are loud noises and confusion or other animals. You can even try driving them through the car wash inside their kennel as well.
The more things you do to show your dog that their new kennel and environmental changes are perfectly normal, the more successful you'll be at making your dog comfortable in their travel kennel.
Starwood Animal Transport has rebranded to Starwood Pet Travel. We are still the same great company with the best team, just now with a slightly different name.
Subscribe to the Blog
Enjoy our content? Get them sent to your inbox!
Subscribe Now!
Related Posts
International Air Transport Association (IATA) Crate Specifications
If you're planning a long-distance move – across the country or out of the country – your pets will probably be traveling by ...
Read More