Where to Take Your Dog For A Hike in Johannesburg, SA
Published on: June 25, 2018 | Author: Starwood Pet Travel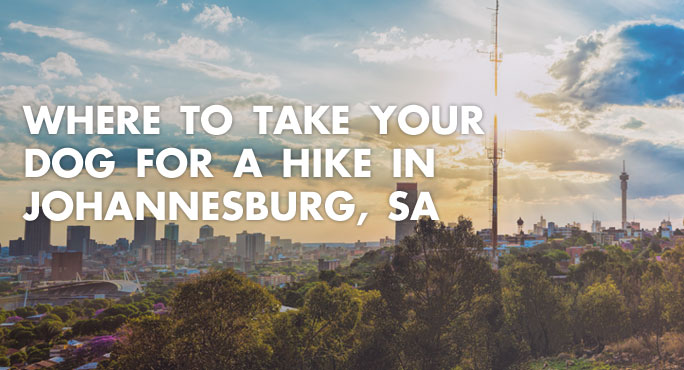 Johannesburg, South Africa. Whether you're headed there to visit, or you and your family are moving to Joburg for business or personal reasons, you will find plenty to do and see. This cosmopolitan city is South Africa's largest, so it offers plenty of urban delights. But what if you want to take your dog for a hike that doesn't involve concrete sidewalks and window shopping?
Tail-wagging opportunities abound in Johannesburg
As a newcomer, you should be aware that many of the parks and other walking areas in and around Joburg charge a fee, which may vary by season. The City of Johannesburg also warns that crime may be an issue in some parks, so they suggest visiting as a group or taking a guided tour. Don't let that deter you and your dog from exploring, though. In fact, it's an added incentive to make new human and canine friends. Then you can form your own hiking group.
Where should you go?
Huddle Park Golf and Recreation has easy walking trails you can wander from 2.5 to 5 kilometers. It's open year round. And if your family includes at least two humans and two pooches, you can purchase an unlimited dog-walking membership.

Lonehill Koppie (near Lonehill Park) features multiple small streams, if you're looking for an outdoorsy hike in the city.

Sandton Field and Study Centre is an off-leash haven in the northern suburbs for dogs who just want to run free for a while.

Walkhaven Dog Park is a farm that is all things dog – grasslands for romping, ponds for swimming, plus a dog-friendly restaurant and bar. Free for Fido, but a small fee for you. It's right near the Cradle of Humankind, which is a UNESCO-listed archeological area.

The Wilds is a National Monument, located right in the middle of the city. It is spectacular, considered by many to be Joburg's "secret garden." You can visit on your own 7 days a week during business hours, or sign up to take a formal tour.
If you and your canine love to run together, watch for the Parkrun events in Johannesburg. These timed 5K runs take place all over the country, usually each week on Saturday mornings. They're free for everyone – and another great way to meet new like-minded friends.
Venturing farther afield
You may never exhaust all the dog-friendly hiking options around Johannesburg. But there may come a time when you and your four-legged hiking partner want to see the sights (or sniff the smells) somewhere else in this vast country. The sights are certainly well worth seeing, although your dear dog will have to skip any safari adventures. You'll find lots of good suggestions here.
Post-hike refreshment around town
Of course, after all that hiking and sniffing you and your intrepid pooch will be feeling a bit peckish and ready for a sit-down and stay. At least long enough to enjoy some food and beverage. There are lots of places the two of you can do together in Johannesburg, including:
Arbour Café & Courtyard, a French bistro that features yummy galettes and

crêpes for you, fresh water and a friendly pet for your pup.

Delta Café, which serves up breakfast and brunch for people, plus treats for dogs from their shop.

Vovo Telo, a must-visit for coffee, baked goods and other artisanal specialties.

Voodoo Lily, a fun café in the suburb of Birdhaven with a menu that includes kid- and dog-friendly items. Relax with a glass of wine to toast the day's excellent hike. (Sorry, no vino for you, Fido.)
Mind your petiquette
Taking your pup out in public in and around Johannesburg requires the same good manners as you would use anywhere. Here, dogs are expected to be quiet – no annoying howling or barking. And they're expected to be nice. If your dog injures someone, you may be liable for a fine (or even jail time). So keep her on leash and under your control – unless you're at a designated off-leash dog park.
And be nice to other dogs you may come in contact with. In Johannesburg, it is against the law to harass, provoke, or harm a dog.
Starwood Animal Transport has rebranded to Starwood Pet Travel. We are still the same great company with the best team, just now with a slightly different name.
Subscribe to the Blog
Enjoy our content? Get them sent to your inbox!
Subscribe Now!
Related Posts
Tips for a Fun (and Safe) Time at the Beach with Your Dog
Whether you're taking the holiday of a lifetime to tour European beaches with your dog, or you're enjoying the sand and surf ...
Read More