Update on Pet Import Requirements for South Africa
Published on: May 30, 2018 | Author: Starwood Pet Travel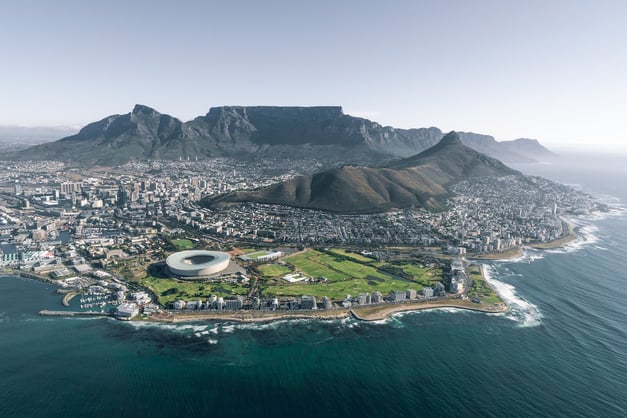 If you and your family are relocating to South Africa, chances are good that you're moving from someplace far away. That means you and your pet are likely to encounter flora, fauna, and other conditions that are very different from whatever you're used to. With that in mind, what vaccinations will your family pet need to enter South Africa?
The requirements below are based off your pet traveling from the USA to South Africa. If your pet is departing from a different country then these requirements may vary.
General Requirements:
A microchip that meets ISO standard. This unique identifier must appear on all your pet's documents, which means it has to be implanted before your dog or cat receives any vaccinations, treatments, etc.

A rabies vaccination administered between 12 months and 30 days before export to South Africa. If your pet's rabies vaccination will be older than 12 months at the time of travel, then they'll need a booster at least 30 days prior in order to comply.
Other vaccinations listed below
Blood Testing for Dogs Only - Dog must be tested for the following within 30 days prior to export and these tests can only be done via an approved laboratory. South Africa will only accept a

negative

result for these tests. If your dog is not tested properly or their results indicate a problem, they will be refused entry into the country.

Brucella canis: Serum agglutination
Trypanosmoa evansi: BOTH Card agglutination test AND Giemsa blood smear. Both tests MUST be performed at an OIE Reference Laboratory.
Babesia gibsoni: BOTH Immunoflouresence antibody test AND Giemsa blood smear
Dirofilaria immitis: Microfilarial filtration test
Leishmaniosis: Indirect fluorescent antibody test OR ELISA test OR Direct agglutination test OR Western blot/membrane immunoassay

Dogs Only - Dirofilaria immitis (heartworm) treatment: from the date of negative testing, until export, at the required intervals.
Dogs Only - Leishmania and Babesia gibsoni treatment using an effective acaricide with insect repellent (ticks & flies) within 30 days prior to export. (Example product: K9 Advantix II)
Import Permit
International Health certificate with USDA endorsement
6-month supply of heartworm preventive treatment must travel with your pet
The USDA notes that "any dog that arrives in South Africa with test results that do NOT comply with South African requirements stands a very high chance of being returned to the country of origin or euthanized. Noncompliant animals will not be brought into quarantine as was done in the past. The U.S. government takes this warning very seriously."
Other Vaccinations
While other vaccinations are not mandatory for import for cats and dogs, they are strongly recommended to protect against diseases that are widespread and have serious effects. Failure to vaccinate your pet "will leave them susceptible to a range of life-threatening infectious diseases." As a loving pet parent, that's the last thing you want. So before you head to South Africa, talk to your vet to make sure your pet is fully protected against the following:
Recommended vaccines for dogs:
DHPP (Distemper, Hepatitis, Parainfluenza, Parvovirus)
Bordetella (Kennel Cough)

Leptospirosis

CIV (Canine Influenza Virus)
Recommended vaccines for cats:
FVRCP (Feline Viral Rhinotracheitis, Calicivirus, Panleukopenia)

FeLV (Feline Leukemia)
Hire a Professional to Help
All pets arriving in South Africa must travel by plane, as manifest cargo. They are typically able to fly into Cape Town or Johannesburg. Frankly, the flight arrangements can be as complex as gathering all the proper paperwork. With that in mind, perhaps the best thing you can do for your beloved furry companion is to let our Starwood pet travel pros handle all the details.
Why bog yourself down with unnecessary frustration and worry when you have so many other moving tasks to take care of? You'll save time and stress, confident your Dear One will travel safely and comfortably and move smoothly through South Africa customs on arrival. Talk about peace of mind!
Starwood Animal Transport has rebranded to Starwood Pet Travel. We are still the same great company with the best team, just now with a slightly different name.
Subscribe to the Blog
Enjoy our content? Get them sent to your inbox!
Subscribe Now!
Related Posts
Update on Vaccinations: New Zealand/Australia
If you're planning an international move, you have to understand that things change. Countries such as New Zealand and ...
Read More