Country Dog to City Dog: Socializing Your Dog for Their New Home
Published on: October 11, 2022 | Author: Starwood Pet Travel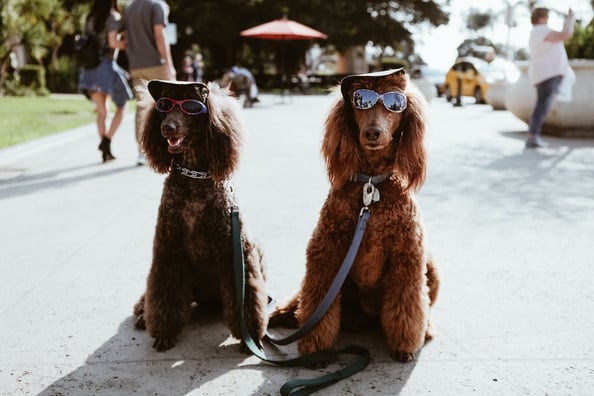 When we move from one locale to another, one of our concerns is always learning the "lay of the land" and making new friends. The more foreign your new location, the more difficult this may be. When you move with your dog, they will have to learn new ways as well. Socializing your dog in a new setting requires viewing that setting from a four-legged perspective.
If you're moving from a big city like London or Chicago to a more rural area, your dog will have plenty of new sights and sounds to explore. But they're probably used to being under your control and looking to you for guidance whenever you're out and about. You can easily teach them how to use a doggie door when they need to go outside to do their business. And they'll love being able to play with you (or alone) if you have a fenced-in backyard.
But what if you're moving from the country to the city? Successfully socializing your dog is going to take more advanced planning.
Going Urban
Just how "country" is your dog? Suburban dogs may be used to semi-city conditions – at least some urban sounds, vehicle congestion, and people. But they may not have any experience with a tiny yard. Or living with no yard at all. Potty time and exercise will both require advance planning – especially if you'll be living in a high-rise. If your pooch is pint-sized, finding dog parks or other places they can stretch their legs won't be as critical as it would be for a bigger dog.
But exercise is vital for every dog's health. So look at it this way – if you have to take your golden retriever for a brisk walk or run twice a day, you'll be doing yourself a favor, too. If need be, find a dog walker you can rely on to help.
Is your dog used to running loose? They might be if they're a true country dog, but they'll have to give that up. It's too easy for dogs to get lost or hurt in the city. If your dog is used to a quiet, rural setting, they may become frightened or confused by the chaotic sounds and bustle of a city. Before you move, try taking them to places where they can gradually get used to more movement and noise. And consider the fact that if they are truly terrified, they may not be happy no matter how you try to help them adjust.
Are they used to having a long leash that allows maximum exploring while still under your control? They may have to give that up, too. Crowded sidewalks are places where it's easy to get tangled up. Some cities around the world specify maximum leash length – usually not more than six feet, though you may prefer even less.
In fact, you may want to retrain your pup from heeling at your side to walking in front of you. Single-file helps when it's crowded, and you can stop them from picking up anything undesirable (to you). If she hasn't mastered the command "leave it," now is a good time to start on that. You can also keep your newly-urban dog safer by teaching them to sit any time you stop walking. That way, they won't step in front of a car or cyclist while you're waiting for the light to change.
Remember that not everyone is as excited to meet your dog as they may be to meet them. Some people are afraid of dogs. And in some cultures, dogs are considered inherently dirty. So follow Rule #1 for socializing your dog: never allow them to approach another person, or their dog, without first asking permission.
Research the rules in your new home
Learn the legal requirements for dog owners where you're headed. Things like licensing, leash laws, and where dogs are and are not allowed in public. Learn what is considered proper pet and pet owner etiquette there, too. One thing you can be sure of: scooping poop is universally appreciated. It's the law in many places.
Country dog or city dog, good sense and good manners are welcome, all around the world. Start now to prepare your pup for their new life. And don't forget their mental health. If they will be cooped up in an apartment during the day, they will want plenty of toys to keep them busy. After all, socializing your dog means helping them adjust to their indoor surroundings as well as the outdoors.
Starwood Animal Transport has rebranded to Starwood Pet Travel. We are still the same great company with the best team, just now with a slightly different name.
Subscribe to the Blog
Enjoy our content? Get them sent to your inbox!
Subscribe Now!
Related Posts
Everything You Need to Know About Leptospirosis In Small Dogs
It can be concerning once our little pup shows signs of depression, extreme tiredness, jaundice, or abnormal bleeding in the ...
Read More