Where to Take Your Dog For A Hike in France
Published on: June 1, 2018 | Author: Starwood Pet Travel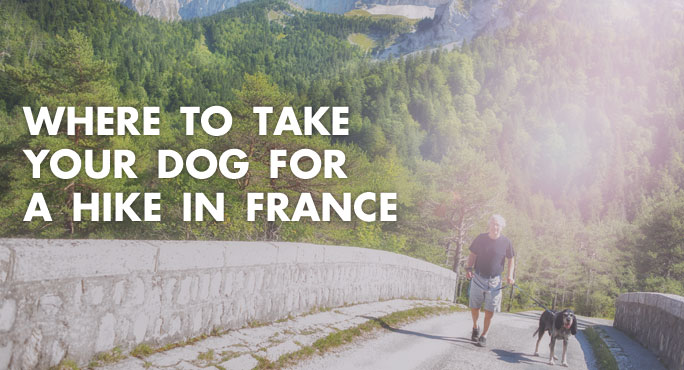 What's better than a holiday trip to France? A holiday trip to France with your dog! If you and your canine companion have your heart set on seeing the sights across this historic and diverse country, you'll want to get in some hiking. There are so many opportunities, the hardest part will be picking where to go.
On the other hand, if you and your furry hiking buddy are moving to France (or another European country), you can look forward to adventurous exploring for years to come. French poodle or not, your pooch will be welcome in France. A "hike" can be any excuse to get outdoors for some fresh air and new vistas of the French countryside. Whatever your preferences, there are paths and parks just right for any age or exuberance level – yours or your pup's.
So where should you take your dog for a hike (or a stroll) in France?
Wineries!
Wineries the world over are notoriously dog-friendly. And though no responsible pet parent would offer up a sip to their canine, as the human component in the family you surely want to get better acquainted with France's most iconic industry. With some shady respite and a bowl of cool water, your BFF will be happy to join you. Perhaps for a stroll through the vineyards.
Urban adventures
Ambling city streets while window-shopping isn't exactly hiking, but Paris and other cities throughout France offer a wealth of dog-friendly cafés to give you sustenance along the way. And Paris is loaded with dog-friendly parks every tourist should experience, including the Jardin du Luxembourg, Jardin du Palais Royal, Tuileries Gardens, and the Bois de Vincennes.
The mountains
What immediately comes to mind when we think of mountains in France? The Alps! Go in summer when the snow has melted, and you'll find a hiker's paradise for people and pets. The Alps feature both rugged mountains and pastoral landscapes. You can take in the stunning views while your pup gets his fill of Alpine smells and sounds. You'll also find ample dog-friendly hotels and restaurants.
Bear in mind that France is replete with mountains. You and your furry friend could talk a walk through the Jura Mountains, at Quatre Lacs (Four Lakes). Take a picnic lunch to enjoy along the way as you explore this easy 3-hour trek.
The Loire Valley
The King's Path is another days-long hiking opportunity. If you're short on time, do the part that skirts the Cher River and runs through the Amboise forest to the Loire.
Or head to Monts d'Ardèche Regional Natural Park, which was officially designated in April of 2011. The park is huge and offers all sorts of sports activities in addition to walking through its mountains and forests. Perhaps your pooch would like canoeing.
The coast
France has miles of wonderful beaches where you can frolic with your dog. And when you're ready to hike along the ever-changing coastline, consider the Normandy Coastal Path, which offers 180 miles of amazing scenery and places to stop and explore. It runs from Mont St. Michel to Cherbourg.
Pick up the pace
Want to cover more ground and get even more exercise? Biking is big in France (you know, the Tour de France and all that), and there are myriad routes suitable for biking with your dog, even if you're a purely casual cyclist.
Know before you go
If you're just visiting or newly-relocated to France, there are rules you need to know about hiking with your dog. For example, while dogs are welcome in the vast majority of places, they are not allowed into any of the country's nature reserves. Not even on leash. Fail to comply, and you could pay with a heavy fine.
Some places also restrict dog visits during certain times of the year. In summer, dogs are not allowed on stretches of beach where life guards are in attendance. "Guarded" beaches are the most heavily used by people, so the ban aims to avoid over-congestion or potential conflicts. You and your pup are welcome in "unguarded" spots -- and you'll have more fun with more room to yourself anyway.
If you'll be hiking with your dog any time between September and March, note that this is hunting season in France. Keep your pup leashed, and keep your eyes open for snares or traps.
Whether you're looking for a day trip or you're up for a week-long excursion, finding fabulous places to hike with your dog in France easy. For impromptu suggestions (and to learn about any local restrictions), just ask at the tourist information center.
Starwood Animal Transport has rebranded to Starwood Pet Travel. We are still the same great company with the best team, just now with a slightly different name.
Subscribe to the Blog
Enjoy our content? Get them sent to your inbox!
Subscribe Now!
Related Posts
Things to Do in Dublin with Your Dog
Moving to a foreign country can be the adventure of a lifetime, but it's also a lot of work, with a lot of concerns - ...
Read More