What Is Good Pet Etiquette in France?
Published on: June 19, 2019 | Author: Starwood Pet Travel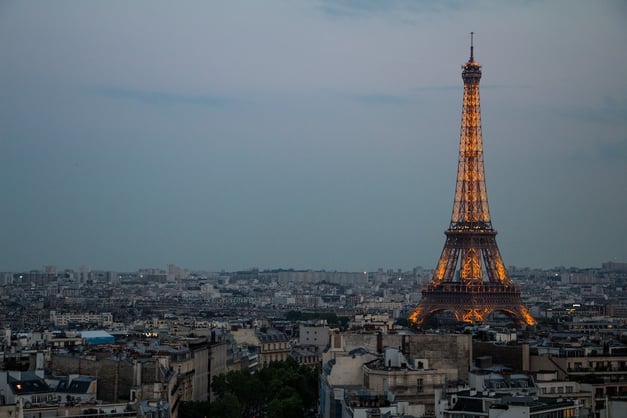 So you and your pet are moving to France. That's excellent news. Whether your precious Fifi is a petite, purse-sized poodle or a 60-pound Great Dane, les chiens are très chic in France. And, yes, cats are well-loved, too. But for obvious reasons, dogs are more likely to be seen in public where best behavior is a must. So what do the French expect when it comes to pet etiquette?
General Pet Etiquette
Generally speaking, dogs are welcome in more places around France than you might be used to if you are moving from someplace such as the US or UK. Some city parks allow dogs, and many beaches and lakes welcome them even during the summer high season. Around town, outdoor cafés are dog-friendly, but your pup can often accompany you inside as well. This is also true for many shops, though not grocery stores.
Getting around with your pooch is easier as well. That said, however, you should check in advance about local rules if you're headed to a new region or town because things do differ. Your dog can ride on the country's splendid trains, except for the Eurostar, no matter their size. Note that you may have to purchase a separate (but discounted) ticket for your dog if they're too big to ride in your lap. They will have to be confined in a carrier or wear a leash and muzzle.
In Paris, you and your dog can hop the metro, a bus, the RER (this is a short-distance train), a tram or the funicular railway if they're small. If you have a bigger dog, you'll have to stick to the metro and RER.
Your local Mairie (town hall) can provide information on licensing your pet as well as other local rules regarding where dogs can go, etc. Many often post dog-related regulations on the wall outside, where they are easy to find.
France bans or puts special restrictions on dog breeds considered dangerous. Among other things, these dogs must wear a muzzle and remain on leash at all times when out in public, and they are usually not allowed on public transport.
Dogs may be popular in France, but dog poop is not. And no amount of costly French perfume will make up for failing to pick up after your dog. You know the drill – carry a bag, and use it. S'il vous plait!
Traveling with your pet in France
France is a pretty big and very diverse country. So, from Mont St. Michel to Marseille, you and your dog will never run out of fun things to do. For example, bikes are very popular in France. You could take a cross-country bicycle tour, starting in the Alps and winding up on the west coast. Or simply take some short excursions to see the sights. Your dog could ride in a basket up front, or learn to run alongside.
Is hiking more your thing than biking? France beckons with all manner of terrain for easy-going walks in the countryside or steep and strenuous mountain workouts. On bike or foot, with a loaf of French bread, a jug of wine, and your by your side, you're ready to picnic whenever you stop. (Best to take a bottle of water and some dog treats as well, though.)
Or maybe you're a city-dweller, living in Paris. Dogs are allowed only in some ParCreating A Great Play Date For Your Dog In Franceisian parks, but that doesn't mean you can't get out and have fun. Join a social dog walking group, or head to dog-friendly locales where you and your dog can find like-minded friends and arrange future doggie play dates.
Keeping your pet safe
No matter where you live or travel within France, be aware that insect pests can be dangerous. Fleas and ticks can carry disease, so be sure your dog is up to date on their preventative medication for fleas and ticks. If you'll be in the southern part of the country, sandflies can also be problematic, because they can spread a potentially fatal disease called leishmaniasis. Ask your vet about getting your dog vaccinated against this disease.
Also, know that hunting season in France (locally known as La Chasse) runs from fall until February. This is a good time to indulge your inner urbanite or at least stay away from countryside and forested areas where you might be mistaken for deer.
Armed with good sense and good pet etiquette, you and your dog will truly love living in France.
Starwood Animal Transport has rebranded to Starwood Pet Travel. We are still the same great company with the best team, just now with a slightly different name.
Subscribe to the Blog
Enjoy our content? Get them sent to your inbox!
Subscribe Now!
Related Posts
What Time of Year is Best for Moving My Pet to Another Country?
The decision to move overseas doesn't always come with a choice of timing. If your employer says you are being transferred, ...
Read More