How to Ride Your Bike Safely With Your Pet in France
Published on: June 9, 2017 | Author: Starwood Pet Travel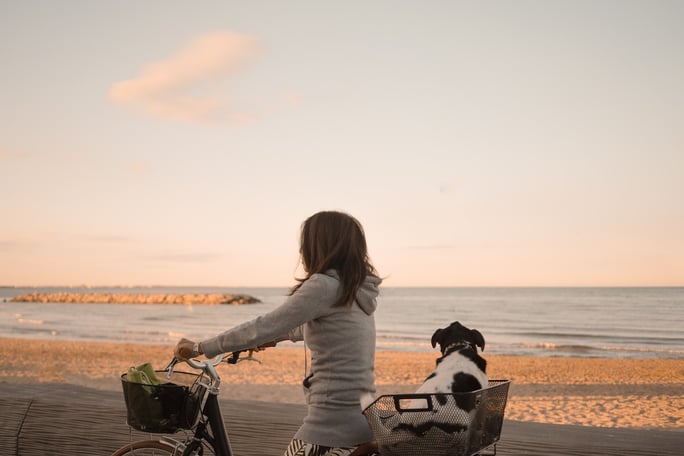 Bike riding in France. It's one of the most popular travel experiences, so naturally, you'd like to take your pet along for the ride. But is it safe to bike with your dog in France? Mais oui!
Where should you go?
Everywhere in France is worth visiting, but you'll probably have to pare down your itinerary. The Telegraph produced an excellent, detailed guide to biking in France that offers tips about the various regions as well as how to use the train or even air travel to get to destinations too far for your ride (or your timeframe).
Their tips aren't dog-specific, but France is one of the most dog-friendly countries in the world. Whether you plan on camping along your route or checking into more luxurious accommodations, you shouldn't have much trouble finding places to stay. A number of lodging facilities are bike-friendly, too, offering early breakfast, bike lock-ups, etc. You may want to travel to your desired region and then pick a hotel to use as a home base, taking short trips from there each day.
The Telegraph particularly recommends France's numerous voies vertes – greenways created just for cyclists. Some offer a smooth surface, and some are rougher, but all are free of motorized vehicles. No tough climbs, either.
It's easy to take your bike on French trains ­– not always on the TGV high-speed trains, however, and never on the Metro in Paris. But you will want to check which trains your four-legged biker is allowed to ride, if you decide to go that route.
Are you both ready to roll?
Terrain plays a big role in bike safety, even when your pet isn't part of the equation. The steeper or less smooth the ride, the harder it is. The same goes for distance, of course. Over-tiring yourself will take all the fun out of your trip, and over-tiring your dog could be very dangerous for them.
You'll need to prep your pup – and hone your biking-with-dog skills, if necessary. If you've ever traveled with your pet via plane, you know how important it is to familiarize them with their kennel ahead of time. The same applies to biking because familiarity brings comfort and confidence. They may be used to walking with you, but the bike is a different story. Not all pets are thrilled with this concept, and even those that live to run need to learn some new rules of the road.
The Dog Outdoors offers excellent tips for cycling with your dog – with an emphasis on safety – along with some good reminders about on-the-road etiquette and pet etiquette. If you're going to be biking around France with your dog, why not teach them some French commands?
Hydration is critical for both you and your dog. En route, you'll want to carry:
Plenty of bottled water – and a portable dish, unless your pooch has perfected catching squirts from the bottle
A first aid kit with basic supplies for dogs as well as humans
Equally critical is protection from the sun. Carry sunscreen, and use it on your dog as well as yourself. It can get quite hot in some parts of France during the summer, so learn how to keep your pup cool and comfortable. Pay particular attention to their paws – if you're biking on pavement, check to be sure it's not so hot it burns their pads. Consider taking shorter rides, earlier or later in the day.
What if your pooch is petite?
Some dogs just aren't cut out for biking. Snub-nosed breeds have a tough time breathing under the best of circumstances, and extended running (or heat) is asking too much of them. Some dogs (surely not yours!) are overweight, making the extra exertion too dangerous. And some are just too short or too tiny. No reason to leave them behind, though. You can chauffeur them – using a basket up front or an attached dog carrier behind. This Yorkshire terrier got to ride all the way across France.
At some point, perhaps your furry friend will grow tired of cycling and wish for the company of four-legged playmates. As the pet parent, it's up to you to help orchestrate things. Here are some tips on helping create a truly Magnifique play date for your pooch while in France.
Starwood Animal Transport has rebranded to Starwood Pet Travel. We are still the same great company with the best team, just now with a slightly different name.
Subscribe to the Blog
Enjoy our content? Get them sent to your inbox!
Subscribe Now!
Related Posts
7 Ways to Keep Your Pet Cool in the Summer
As much as we love basking in the sun during summer, it can become unbearable for humans and pets alike. The scorching heat ...
Read More