Can My Pet Travel By Train?
Published on: June 8, 2022 | Author: Starwood Pet Travel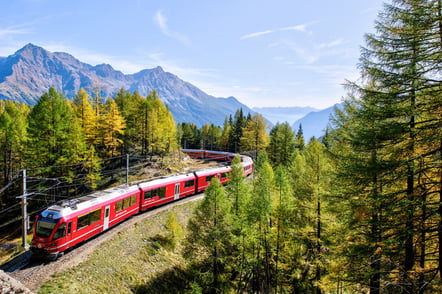 We know that pet owners who are moving or just traveling want to take their pets along with them. However, your mode of transportation can sometimes make that difficult. You may be wondering if your pet can travel by train. The answer is: maybe.
It will of course depend on what type of pet you have, where you are traveling from and where you are traveling to.
Here are a few examples of trains around the world that will accept pets as well as some of their rules.
Amtrak
If you're in the USA, Amtrak will allow cats and dogs onboard, with some restrictions.
You may bring your small dogs or cat as long as both your pet and their carrier are under 20 lbs (9 kg). Keep in mind that this is only allowed if your trip is less than 7 hours long.
If you're traveling to or from Canada, then pets are not allowed on Adirondack, Maple Leaf, Amtrak Cascades, Auto Train, Keystone Service, Pennsylvanian, San Joaquins, Capitol Corridor or Thruway Connecting Services.
There's a limit on the number of pets allowed per train as well as other regulations so make sure you reserve early and follow all instructions. Similar to in-cabin plane travel, all pets must be in an approved soft or hard travel kennel that has plenty of ventilation and enough room for them to stand, sit, lie down and spin around comfortably. There is also an additional fee for bringing a pet.
Legitimate service animals are not considered pets and are allowed on all Amtrak services.
The full requirements can be found on Amtrak's website using the link(s) above.
VIA Rail Canada
VIA Rail Canada offers a few options if you're considering bringing a pet along with you. Small cats and dogs can travel in the cars with their owners as long as they can fit inside an approved travel carrier. The weight of your pet and their carrier cannot exceed 22 lbs (10 kg) and the dimensions must be under 10.5" (27 cm) x 15.5" (40 cm) x 21.5" (55 cm).
You will need to provide at least two days' notice that you are bringing an animal with you when making your reservation. Pets and their carrier are considered additional luggage so there will be an additional fee.
Your pet must remain in their carrier and under the seat in front of you while on the train and should not be left unattended at any time. When in the stations, any pet not inside the carrier must wear a muzzle and be on a leash.
Some regions and provinces will not accept Pit Bulls so VIA Rail will not accept this breed on any of their trains.
All service and guide dogs can travel onboard but certain rules apply.
National Rail UK
The National Rail in the UK will allow up to two dogs, cats or other small animals per passenger free of charge. If you are trying to bring more than 2 pets, then you will be charged an additional fee. However, they can be removed or asked to leave if they endanger or inconvenience other passengers or staff.
Dogs must be contained in a travel carrier (if small enough) or always kept on a leash or harness during the entire trip. Cats, birds and small animals need to be kept in a travel carrier that is the appropriate size and prevents escape. The travel carrier cannot take up space on seats that need to be available to other human passengers.
The sleeper service trains will not allow animals in the restaurant cars unless it is an assistance dog. The Caledonian Sleeper will allow dogs to travel with their owner but they are subject to a "heavy duty clean" fee and booking must be made in advance.
It's important to note that "Railway Byelaw 16 allows the train company to refuse carriage or entry to any animal, except assistance animals. If your dog or other animal causes a nuisance or inconvenience to other customers, you may be asked to remove it from the train or railway premises by the Train Company or Rail Service Company staff."
SNCF Trains: TGV, Intercités or TER
If you're traveling within Europe, you can likely take your pet with you! You can take your pet on nearly any kind of train except Eurostar and are allowed up to 2 pets per passenger. Take note that this only applies to small domestic animals, muzzled dogs and guide dogs for the blind.
If you have a small pet weighing less than 13 lbs (6 kg), then they need to be in a travel carrier no bigger than 17" (45 cm) x 11" (30 cm) x 9" (25 cm) and there is an additional fee. If your pet weighs more than 13 lbs (6 kg), then they need to wear a muzzle and travel at your feet for the duration of your trip. There is an additional fee that is priced differently for larger dogs. If you have a guide dog then they will need to be at your feet on the train and you don't have to use a muzzle if they don't normally wear one. There is no charge for bringing a guide dog onboard.
Do your research beforehand if you are traveling abroad and ensure that your pet has the proper health paperwork including proof of microchip, rabies vaccination, pet passport and/or health certificate.
Keep in mind that not every European country has the same pet policies for trains, so you need to double check when making your reservation. For example: Italy does not allow pets except for guide dogs for the blind and your dog must be identified according to "EC Reg. No. 998/2003" and vaccinated for rabies. Pets who do not live in the EU must have a pet passport to travel within Europe.
Public Transport, Victoria
While some parts of Australia do not allow pets on trains, Victoria will allow some pets on public transport.
Some service animals can travel for free on all public transport services but rules apply. Some small animals may travel with you on metropolitan trains as long as they are in an approved carrier. Dogs are allowed to travel on metropolitan trains as long as they are on leash and wearing a muzzle. You are required to clean up after your pet, make sure they don't sit on seats or block any aisles or doors, keep them under control and should not travel on weekdays between 7 am to 9 am or between 4 pm and 6 pm.
V/Line trains will allow one small animal per passenger as long as they are in an approved travel carrier. Your pet cannot be placed on seats or blocking aisles or doors. You should avoid traveling with your pet on weekdays during peak hours (between 7 am to 9 am or between 4 pm and 6 pm) and may not bring any dangerous animals onboard.
Even if you aren't able to bring your pet with you on all trains in Australia, here are some fun historic train rides you can bring your dog on.
Starwood Animal Transport has rebranded to Starwood Pet Travel. We are still the same great company with the best team, just now with a slightly different name.
Subscribe to the Blog
Enjoy our content? Get them sent to your inbox!
Subscribe Now!
Related Posts
How to Crate Train Your Pet for Airplane Travel
It may not be something that you've thought about, but if you're planning to relocate at some point or do some plane traveling ...
Read More