Pet Cafes in Tokyo
Published on: June 27, 2018 | Author: Starwood Pet Travel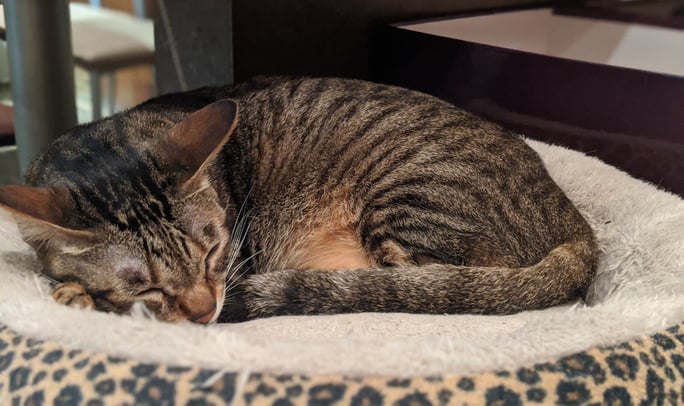 Pet cafés have sprung up in cities all around the world in recent years. It's yet another sign of how attracted we humans are to furry pups and kitties. We can't seem to get enough of those adorable faces and soft fur. Japan was an "early adopter" of the pet café phenomenon, and the trend continues to grow there. Tokyo, being the capital city, is naturally at the forefront of this craze.
So if you want to visit a pet café in Tokyo, you will have plenty of choices. And here's the thing: if you're in the mood to pet some type of pet other than a dog or cat, you'll still have a surprising number of choices. Depending on the species of animal(s) being "served up" at the café (in the kindest way, of course), some of these establishments invite you to BYOD along to join in the fun. (That's Bring Your Own Dog.)
Hello, kitty
It all started with cats, in Tokyo. You can now find a cat café in nearly every neighborhood – sometimes several. One of the snazziest is Cat Cafe MoCHA, where you'll find about 30 felines living it up in an elegant atmosphere. They may not notice the stunning view of Shibuya, but you surely will.
Woof, dogs on staff here
Tiny dogs are very popular in Japan, but big dogs are big, too. You can find both at Tokyo's assortment of dog cafés. You can be assured of a tail-wagging greeting. A few suggestions:
Dog Heart from Aquamarine, near Yoyogi-Koen Station in Shibuya

Café Bar A Plus, in Asakusa

Café Russ-Kich, in Setagaya
Love both dogs and cats? You'll want to visit Wan-nyan Café & Pet Hotel NeoNeo in Itabashi – cat action is on the first floor, and dogs on two. Your dog is welcome, but not to mingle with the kitties. Taking your pup along is one way to help them make new friends in Japan. In fact, why not teach your dog some Japanese commands? Good manners are essential here, and if you know a little of the lingo, you'll be able to communicate with local dogs at the cafés.
Birds, goats, and bunnies – oh, my!
But, wait. Who said pet cafés are only for cat and dog lovers? What if you're hankering to smooth some feathers? Or have a rabbit hop into your lap? Here are a few places you can go to get your exotic pet fix:
Hutch Asakusa, a self-styled "bunny theme park" with a wide variety of rabbits on hand

a.g.f, which stands for (we are not making this up) "Rabbit and Grow Fat"

Torinoiru Café, in Asakusa, where you'll find around 100 different birds, including parakeets, owls, and falcons (yep, you can pet the tame and friendly falcons)

Owl no Mori (Forest of Owls), which features 17 different species of owls – hold one close, or just watch them fly around

Sakuragaoka Café, where you can watch the goats as you dine
And then there is Kingyozaka, a café devoted to goldfish. Why not? This is Japan, after all.
Why are pet cafés so popular in Tokyo?
Tokyo may be a huge city, but its population is also huge. Overall, Japan is a small country, so the Japanese are very efficient at conserving space. In other words, many people live in small apartments or condos. They may love animals and dearly want a pet, but there simply is no room. Or pets are not allowed, due to neighborly concerns about noise or sanitation.
And what if you're traveling to Tokyo, but had to leave your own beloved pet back home? You miss them terribly, but you can get a surrogate pet fix at a pet café. These places provide a comfortable, inviting atmosphere in which people can watch and interact with animals. How long you can stay and how much interaction you can have depends on the fee you're willing to pay.
In many cases, the café aspect is minimal. Food and beverage in some of these places are available via vending machines, which are ubiquitous in Tokyo. (On the other hand, some pet cafés do offer full traditional Japanese or even Western menu options as well as tea, coffee, wine, or beer.)
One thing almost all pet cafés in Tokyo have in common is strict animal care standards. Pets and visiting humans may have free range to interact with one another, but there are rules. And the animals also have private, quiet time away from the hubbub.
So if you're in the mood for calm, head for one of Tokyo's cat cafés. If you're feeling more rambunctious, go for the dogs. And if you're looking for something truly wacky, choose a place that features an "alternative animal." Typical Tokyo.
Starwood Animal Transport has rebranded to Starwood Pet Travel. We are still the same great company with the best team, just now with a slightly different name.
Subscribe to the Blog
Enjoy our content? Get them sent to your inbox!
Subscribe Now!
Related Posts
What's good pet etiquette in Malaysia?
In today's mobile, global world, pet travel often involves moving from one country to another. Sometimes the move brings ...
Read More