How to Bring Your Dog When You Move Abroad
Published on: October 4, 2022 | Author: Starwood Pet Travel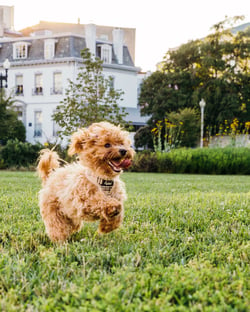 You're moving abroad? Brilliant. Your dog will be thrilled – after all, they're always up for a new adventure. You'd better start planning, though, if you want to bring your dog abroad. There's a lot to do before you leave.
How will you get there?
You'll probably have to bring your dog abroad via airplane. You could book a stateroom on an ocean liner, but that's probably not feasible. Conceivably they could travel by car, say if you're headed from the US to Canada or Mexico or from the British Isles to Europe. Realistically, however, air transport makes the most sense. It's definitely the fastest. And when it comes to pet travel, greater efficiency equals greater comfort. We know you want your beloved Biscuit to be as comfortable as possible.
You could literally bring them on the plane with you if they're a petite breed. Not all airlines or destination countries allow this, however, so be sure to check first. If you carry them with you, you'll need some extra supplies – a leash, a portable water dish, and perhaps a snack. And you'll want to find out in advance where the airport's pet "rest area" is located.
You'll need reservations
Just like people, pets traveling on planes need a reservation. Airlines that transport pets allow only a certain number per flight, and your pet's reservation ensures your airline has planned space for them in their pressurized and temperature-controlled hold.
They may also need quarantine reservations. Yes, the Q-word strikes terror into the hearts of pet parents who don't want to be separated from their fur babies for even a few days. But you need to be prepared for this eventuality. Many countries no longer have mandatory quarantine, and some will waive or reduce quarantine if your dog is compliant with the import requirements. The health and quarantine requirements for pets will depend on which country your dog is moving from and to.
You'll need paperwork
Perhaps lots of it. Think of it as your dog's pet passport. So many pets travel internationally these days, the European Union has actually created a formal Pet Passport. In countries that do not issue pet passports, an international health certificate will be needed. Some countries will also require other documents like vaccination certificates, blood test results, an import permit and customs paperwork. The exact list of paperwork required will depend on your destination country. Your pet shipping company can assist with making sure you have what you need.
You'll need a proper travel carrier
For your pet's safety and comfort, your dog will need an airline-approved travel kennel. These are easy to find, but it is essential that you purchase the correct size. Not too big and not too small. You will need to measure your dog to ensure the proper fit. Get the kennel as soon as you can, so they'll have time to become familiar with it. They will be calmer in transit if the carrier is a familiar, safe space.
If you're carrying your pup onboard, you can choose a soft-sided carrier instead. But be aware that pets ride underneath the seat in front of you, and the dimensions of this space varies from one airline to another and among different model planes.
Compare here to there
Some countries are significantly different from one another, whereas some have less obvious differences. Advance research will help you know what to expect for your dog in their new homeland. Will there be dog parks to play in? Where will they be allowed to go in public? Is the local climate conducive to their breed? Where will you find a new vet and a trusty pet supply store?
Make all this easier on yourself
Are you feeling overwhelmed by everything it takes to bring your dog abroad? No need. With a pet travel professional on your side, you can get it all done with ease. Your biggest worry will be figuring out how to reward your dear dog for being such a good pup on their journey.
Starwood Animal Transport has rebranded to Starwood Pet Travel. We are still the same great company with the best team, just now with a slightly different name.
Subscribe to the Blog
Enjoy our content? Get them sent to your inbox!
Subscribe Now!
Related Posts
How to Keep Your Dog Out of Trouble When Moving to Hong Kong
There is one thing you can always count on when you move to another country – any country – the rules are different from those ...
Read More